7 days from
£946
* Current p/p indicative rate.
Overview
Highlights
Dates & Prices
Itinerary
Map
Ship
What's Included
Isolated in the Indian Ocean and the only mid-ocean islands of granite formation to be found on earth, the Seychelles archipelago is often mentioned in the same breath as the lost 'Garden of Eden.'
The highest peaks of a submerged mountain range that broke apart from the supercontinent of Gondwana millions of years ago, the Seychelles' inner islands are the most ancient islands on earth - no other mid-ocean isles of granite formation can be found anywhere else. This curious geological feature was one of several curiosities about the islands that led the famed British General, Charles Gordon, to declare Seychelles the site of the biblical Garden of Eden.
Situated some 1,500 kilometers east of mainland Africa, and northeast of the island of Madagascar, this tiny island group boasts a population of just 90,000 inhabitants, with a warm, tropical climate all year-round and some of the most stunningly beautiful beaches in the world.
Mahé, the largest island, is home to the majority of the population and represents the archipelago's commercial and transportation hub, with the country's only international airport linking the islands to the rest of the globe. The island is characterised by its towering granite peaks, lush mist forests and dozens of striking coves and beaches.
The second largest island, Praslin, is home to the legendary Vallée de Mai, the UNESCO World Heritage Site where the Coco de Mer grows in abundance. This double coconut, which curiously resembles the shape of a woman's pelvis, was another facet of General Gordon's theory about Seychelles as the Garden of Eden - he believed it to be the real forbidden fruit.
La Digue, the third-most populous island, moves at an even slower pace: bicycles remain the most common mode of transportation, for both its residents and visiting tourists. The huge granite boulders that adorn the coastline at Anse Source D'Argent have led some to believe that it could very well be the most photographed beach in the world.
While Mahé, Praslin and La Digue may be the principal islands, dozens of smaller 'satellite' isles nearby offer further opportunity to explore and admire. Every island has a character and charm all of its own, with colorful individual histories and unique natural features, some with steep granite cliffs and others comprising pristine coral atolls. Together, they make up a surprisingly diverse destination of great natural beauty, rare flora and fauna that have been cocooned in isolation for millions of years, and a friendly multi-cultural people eager to welcome you to their shores.
Your safety and comfort are our highest priority. In the event of adverse conditions, all itineraries are subject to change at the captain's discretion.
Be sure to bring plenty of coral reef safe sun-screen, a cap or hat and sunglasses - Seychelles is generally warm and sunny throughout the year and the sun's rays can be especially impactful onboard the vessel,
due to the reflection from the sea.
Bring suitable footwear for walking on deck and on the beach, as well as in shallow water (some island visits require embarking & disembarking from dinghies in shallow water).
There are numerous opportunities to dive on most days of the itinerary, and we can also conduct introductory dives for novices and PADI Open Water certification courses. Contact us for dive rates and
equipment rental fees.
• Diving and snorkelling in the Seychelles reveal the best of the magical underwater world that the Indian Ocean has to offer. Unique granite boulder formations, coral reefs and wrecks are home to colourful tropical fish, turtles, sharks, rays and many other species. Some of the best dive sites in Seychelles' inner islands are easily accessible on our cruises. Each vessel is certified as a PADI dive resort, and has a dedicated PADI dive instructor onboard to accommodate the needs of both seasoned and novice divers alike. • All of our cruises include complimentary equipment for kayaking and snorkelling (masks and fins). We also offer the opportunity to enjoy traditional bottom-line fishing in certain areas, with our chef ready to prepare fresh Seychelles-style sashimi or grilled fish in the event of a successful catch. • For Sailing enthusiasts Sea Star and Sea Bird feature a modern furling system. • Each day onboard presents a new opportunity to explore isolated bays and coves, colourful marine parks, and protected nature reserves or uninhabited islands. Spotting the incredibly rare Magpie Robin and other endemic birds, visiting the UNESCO World Heritage Site of Vallee de Mai, or getting up close and personal with a giant tortoise, are just a few of the many special experiences that await on the islands we visit.
show reverse itinerary
Day 1 - Praslin
Embarkation at 10.30hrs from Anse Possesion, Praslin, followed by the Captain's welcome briefing. Spend the day at leisure with different water activities in this scenic cove, named for the stone of possession placed in this area by French explorers to stake their claim to the island more than 200 years ago. Final embarkation is at 1700hrs followed by a sunset sail to Curieuse Bay. In the evening, introduce yourself to Creole cuisine with a welcome barbecue onboard.
Day 2 - Curieuse
In the morning disembark at Curieuse for a visit of this virtually uninhabited island. Experience the island's vast mangrove forests and its giant tortoise farm, along with the historic ruins of this former leper colony. After a barbecue lunch on the island, enjoy an array of water sports or simply relax and enjoy the island's beautiful beach and turquoise waters.
Day 3 - La Digue
A morning sail brings the vessel to La Digue, a sleepy island community where ox-carts and bicycles still remain the most common mode of transportation throughout the island. La Digue is home to the endemic Seychelles Paradise Flycatcher, and is perhaps most famous for its massive granite boulder formations at Anse Source d'Argent, which is thought to be the most photographed beach on earth. Explore the entire island by bicycle, perhaps stopping by Union Estate, a sprawling network of traditional island activities, including a copra mill, vanilla plantation, and shipyard
Day 4 - Praslin
Sail to Praslin, Seychelles' second-largest inhabited island, for disembarkation to the famous World Heritage Site, the Vallee de Mai Nature Reserve. This ancient forest is home to the curiously shaped double coconut, the coco de mer, as well as the Black Parrot, unique to Praslin. Explore the valley's eerie pathways beneath its canopy of massive palms, before returning onboard for afternoon opportunities to dive, snorkel or enjoy other water sports.
Day 5 - Cousin
Sail towards Cousin island off the coast of Praslin, for a morning visit of this strictly protected nature reserve, famed for its sea bird colonies and also as a sanctuary for Seychelles' rare endemic land birds and other native species. After lunch, the afternoon is yours to spend at leisure or to take advantage of snorkelling and diving opportunities off the isle of Praslin.
Day 6 - Anse Lazio
Sail to Anse Lazio, one of the most beautiful beaches in Praslin, and arguably, all of Seychelles – the perfect place for a day of swimming, snorkelling and other water sports, or supreme relaxation in one of the most stunning settings in the world. In the evening, enjoy a sunset sail back to Curieuse Bay to soak in the world's only granitic ocean islands one last evening.
Day 7 - Praslin
Disembarkation at Anse Possession, Praslin at 08.30hrs.
Please Note:
Itineraries are subject to change.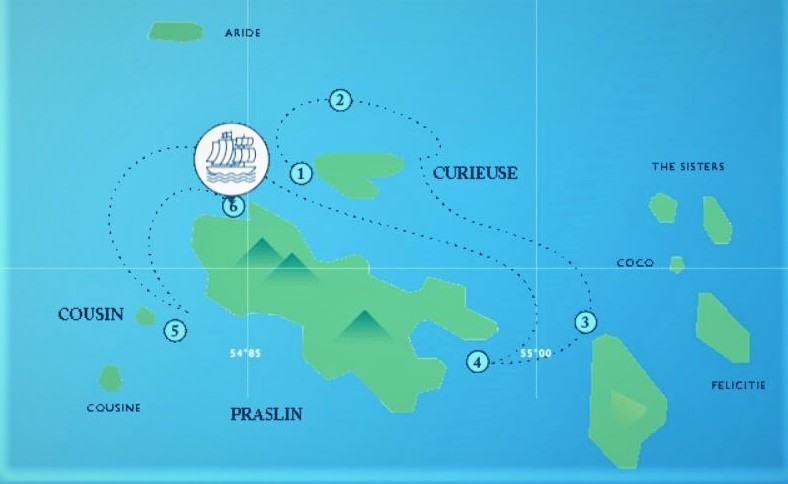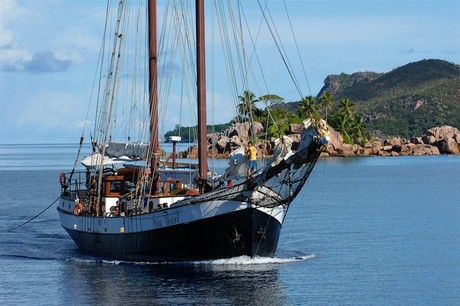 | | |
| --- | --- |
| Sea Pearl | 35 metres |
| Sea Shell | 37 metres |
| Crew | 8 |
This beautiful wooden sailing vessel was built in Holland in 1920. Completely rebuilt and refurbished she now sails the islands of the Seychelles, providing an active and traditional experience.
ACCOMMODATION
Air-conditioned Dining Salon
TV, DVD, stereo, ice-machine, washing machine, dryer
Upper Sun Deck and Bow Net for sun bathing
Covered Back Deck Lounge
These are sister ships, deck plan shows Sea Shell, Sea Pearl has a different lay out.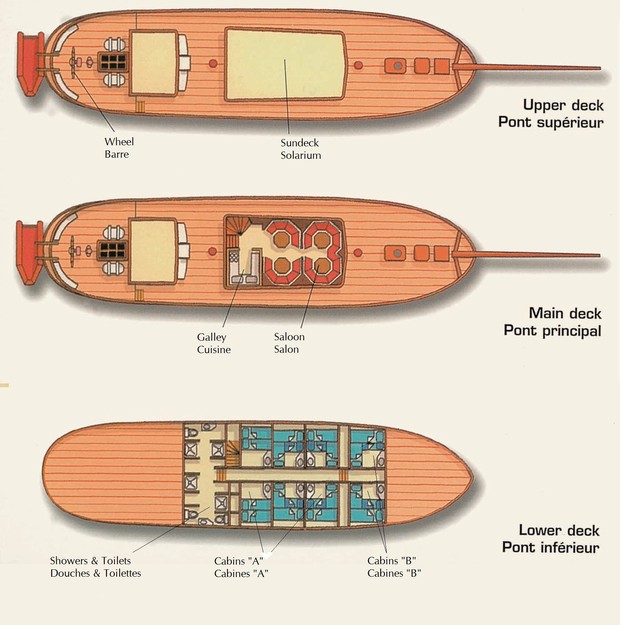 Includes
• Accommodation on board
• Friendly service from a 8/9x crew complement including captain, engineer, deckhands, dive instructor and stewardesses
• Full board meals (breakfast, lunch, afternoon tea and dinner) prepared by a dedicated chef. (Please note that table water and tea/coffee are included with all meals.) Bottled water, soft drinks, beer, wine and spirits are all available on board. Price list available on request. We serve a combination of International and authentic Creole cuisine. Please contact us for special dietary needs.
• Snorkeling, kayaking and bottom-line fishing equipment
Overview
Highlights
Dates & Prices
Itinerary
Map
Ship
What's Included