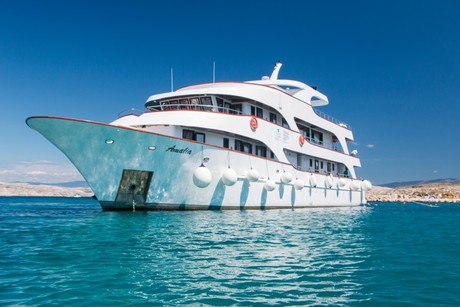 Croatian Premium Ships
Vessel Type: Small Ship
Lenght: from 38 meters to 41 meters
Passenger Capacity: 32 to 42
Premium superior vessels are recently built mini deluxe vessels featuring similar comfort, but are smaller in size – 38 to 41m in length. Air-conditioned cabins are 8 to 14m2 in size with double or twin beds, hair dryer and safety deposit box. Included services: buffet breakfasts, three course lunches, Captain's dinner, English speaking tour manager on board, three guided tours, daily cabin service, mid-week fresh set of towels and bed linen, luggage handling.
Spalato
Lenght - 36.7m, Width - 7.6m, Built in 2011/2012. Boat is equipped with swim platform (stairs leading from sitting area at the backof the boat on main deck).
Amalia
Length - 37.4m, Width - 8.2m, Built in 2013. All cabins are airconditioned.
Seagull
Length - 35m, Width - 7m, Built in 1983, refurbushed in 2014.
Majestic
Length - 37m, Width - 7.6m
Moonlight
Length - 37.4m, Width - 8.2m, built in 2017. All cabins are airconditioned.
Dream
Length - 40.1m, Width - 8m, built in 2017. TOP DECK - total 1 cabin (double/twin beds). MAIN DECK - total 11 cabins (2 cabins with double bed, 8 cabins with doble/twin beds, 1 cabin can be triple) + 1 additional cabin available for guide only. UNDER DECK- total 8 cabins (with doble/twin beds)
Lupus Mare
Length - 42.5m, Width - 8.9m, built in 2011.
Pictures shown below are from various ships in fleet, actual layout of cabins and ship may differ.
Please Note: the deckplan below is an example only and may vary from your ship.
You may be interested in...
Explore the stunning Dalmatian coastline and islands without having to unpack every day. Spend your mornings admiring the spectacular scenery, enjoying swimming in crystal clear Adriatic sea and your afternoons ......
click here to read more.
Join a very comfortable and modern small ship on this classic cruise of Croatia's Adriatic coast. We will some charming islands, historical cities, picturesque small ports and a few hidden ......
click here to read more.
A classic cruise along the Croatian Coastline from Split to Dubrovnik. The small ports and harbours of southern Croatia only permit small vessels of up to 50 metres in length, ......
click here to read more.