7 days from
£1157
* Current p/p indicative rate.
Overview
Highlights
Dates & Prices
Itinerary
Map
Ship
What's Included
This unusual journey uses the excellent fast ferry catamarans that run between Split, Dubrovnik and the islands of Hvar and Korcula in the summer. Departing every day from the beginning of June to October you can book this trip alone, as a couple or as a group. We have picked excellent centrally located hotels and you will have plenty of free time to explore.
You will start with two night in Split - home to the extraordinary Diocletian's Palace, before taking a ferry to beautiful Hvar, one of the loveliest of the small ports. You will then take another short ferry to the beautiful town of Korcula, birthplace of Marco Polo and sometimes considered a mini-Dubrovnik. Finally you arrive in Dubrovnik for our final 2 nights.
Once you arrive in Split you will be transported to your hotel, and from there to the ferry port. and at each destination you will be met by someone who will help you to your hotel.
You will be able to explore the towns and ports in your own time, but we also provide a hop-on, hop-off city tour in Split, a private walking tour around the Old Town in Hvar and a private walking tour around Dubrovnik's Old Town as well as optional excursions to Montenegro or to experience wine tasting on the Peljesac Peninsula.
HOTELS:
First-class:
Split: Marul Hotel or similar
Hvar: Amfora Grand Beach Resort or similar
Korcula: De La Ville or similar
Dubrovnik: Lapad Hotel or similar
Superior first-class:
Split: Park Hotel or similar
Hvar: Adriana Spa & Hotel or similar
Korcula: Hotel Korsal sea view or similar
Dubrovnik: Hotel More or similar
Centrally located first class or superior first-class hotels: 2 nights in Split 1 night on Hvar Island 1 night on Korcula Island 2 nights in Dubrovnik
show reverse itinerary
Day 1 Arrive in Split
Upon arrival in Split, you are met and transferred to your hotel. Your time is free to explore Split on your own.
Day 2 Split
Explore the vibrant Mediterranean town of Split with an exciting hop-on, hop-off sightseeing tour! There are two routes with more than ten stops to enjoy sightseeing at your own pace. (B)
Day 3 Split to Hvar Island
This morning, board a catamaran to Hvar. Upon arrival walk from the harbour to your hotel (hotel provides porterage). The rest of the day is free to explore on your own. Don't miss the Groda Piazza, the arsenal, the first public theatre in Europe, the cathedral of St. Stephen, the Franciscan monastery, and the Fortica Espanjola fortress. (B)
Day 4 Hvar to Korcula
Today, walk to the Hvar harbor from where you will board the catamaran to Korcula island. Upon arrival, you will be met and transferred to your hotel. Your time here is free to explore the medieval town of Korcula. (B)
Day 5 Korcula to Dubrovnik
Another catamaran sets sail and whisks you to Dubrovnik, the Pearl of the Adriatic. Upon arrival, a private transfer takes you to your hotel. You are free to explore Dubrovnik on your own. (B)
Day 6 Dubrovnik
Today is free at leisure. You may consider taking an optional excursion to Montenegro, experience wine tasting on the Peljesac peninsula, or take a private tour to the medieval fortresses of Korcula and Ston. (B)
Day 7 Dubrovnik
Your independent journey ends today. You are transferred to Dubrovnik airport or you can continue your vacation by joining our escorted tour "Jewels of Croatia", or one of our Adriatic cruises. (B)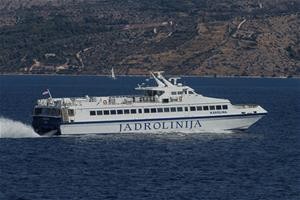 These ferries run between Split, Hvar, Korcula and Dubrovnik every day between May-October. They carry 100-350 passengers and have toilet facilities and a small cafe.
Includes
Private arrival transfer from Split Airport to the hotel
Centrally located first class or superior first-class hotels:
2 nights in Split
1 night on Hvar Island
1 night on Korcula Island
2 nights in Dubrovnik
Daily breakfast
Hotel taxes and service charges
Hop-on, hop-off city tour in Split
Private walking tour around the Old Town in Hvar
Private walking Tour around Dubrovnik's Old Town
Catamaran from Split to Hvar
Catamaran from Hvar to Korcula
Catamaran Korcula to Dubrovnik
Private transfer to Dubrovnik Airport
Overview
Highlights
Dates & Prices
Itinerary
Map
Ship
What's Included