8 days from
£4259
* Current p/p indicative rate.
Overview
Highlights
Dates & Prices
Itinerary
Map
Ship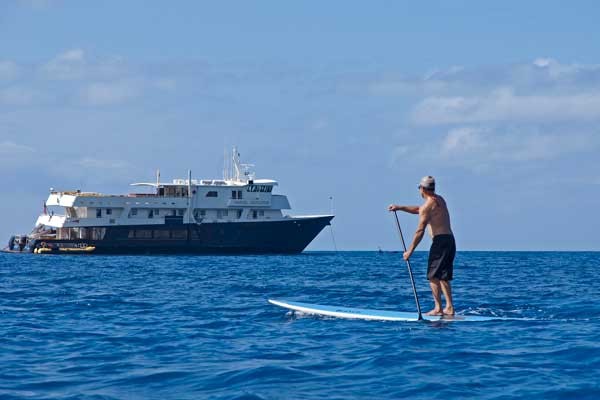 Your inclusive exploration, aboard a 36-guest yacht, carries you among the islands of Moloka'i, Lana'i, Maui, and Hawai'i. Cruise along shore and watch marine life gracefully leap around your skiff; "talk story" with locals; enjoy exclusivity; and spend time at play—kayaking, paddle boarding, hiking, and snorkeling. Onboard, relax on deck, mingle in the lounge, or chat up the captain. Many of our crew members are from the islands—so they know its secrets and keep it authentic—and uncover the islands' natural gifts in a way only accessible on an small ship cruise adventure. Immerse yourself in aloha, and experience the islands from a different perspective.
• Night snorkel with Giant Pacific Manta rays • Marine life search in the Humpback National Marine Sanctuary • Evening pa'ina (feast) and Hawaiian jam session with Moloka'i locals • Snorkel among coral gardens and at a sea turtle habitat • Visit Moloka'i's ancient Hālawa Valley • Discover island history at the Lāna'i Culture and Heritage Center • Unparalleled snorkeling, kayaking, paddle boarding, and skiff exploration
show reverse itinerary
Day 1: Moloka'i – Embarkation
Welcome to Hawaii! You'll be transferred to our hospitality area on Moloka'i. Later, the Captain and crew greet you with smiles and champagne as you board the awaiting Safari Explorer. This evening, settle in and enjoy dinner aboard the yacht, before a presentation about your week ahead
Day 2: Moloka'i
A warm Aloha spirit gives you a sense of Hawaii long ago. No stop lights, no high-rises, just a welcome slower pace. "Talk story" with locals and experience their land and traditions as few visitors ever do. You'll hear legends and lore, then take in a cultural lessons in taro patches and poi making, or hike to a towering waterfall in Halawa's cathedral valley—one of the island's most historic places. At the Moloka'i Museum, discover the history of this ancient homeland as you enjoy an evening pa'ina (feast), complete with a home-style Hawaiian jam session.
Day 3: Lana'i
Gear up for a day of play on the "Private Island." Thousand foot sea cliffs line the shore and ancient volcanic plugs sit both above and below the water surface as host to a wide diversity of marine life. Snorkel, paddle board, kayak, and explore by skiff. Enjoy a short hike to the island's spatter and cinder cone. Learn about the islands plantation days with a visit to the quaint Lana'i Culture and Heritage Center.
Day 4: Olowalu / West Maui
In ancient times, Olowalu was considered a place of refuge. Today, it delivers a treat of snorkeling among coral gardens teaming with underwater life and a known sea turtle habitat. The Humpback National Marine Sanctuary—located between Lana'i, Moloka'i, and Maui—provides front-row seats as you cruise through these productive marine breeding grounds searching for dolphins, whales, and other marine life.
Day 5: Captain's Choice Exploration
Leave it to your Captain and crew to seek out and unveil the best opportunities the islands hold in store today. Dramatic volcanic backdrops, marine life sightings, and chances for snorkeling, kayaking, and paddle boarding are all possible!
Day 6: Honomalino Bay
Fringed by coconut palms, Honomalino Bay offers a morning of snorkeling, paddle boarding, and kayaking. The bay reveals a diversity of colorful corals, sponges, and tropical fishes. Lava tubes, kayaking, and skiff tours fill out your last day of ultimate adventure—in an area known to be favored by marine mammals. This evening you'll anchor at an offshore location for a thrilling night snorkel with Giant Pacific Manta rays.
Day 7: Kailua-Kona
Skiff to Kealakekua Bay, where Captain Cook was slain in 1779, for some of the island's best snorkeling. At Kailua-Kona, stroll through town at your own pace, and uncover the charm of this historic town. This evening, celebrate with the Captain's Dinner and photographic recap of your adventure.
Day 8: Hawai'i, the Big Island – Disembark
As the Safari Explorer docks at Kawaihae Harbor, you'll be transferred to the Kona Airport or you may like to stay and explore independently.
Please Note:
Due to the nature of our explorations, itineraries are guidelines and will change in order to maximize wildlife and natural encounters. Variations in itinerary and the order of days may occur.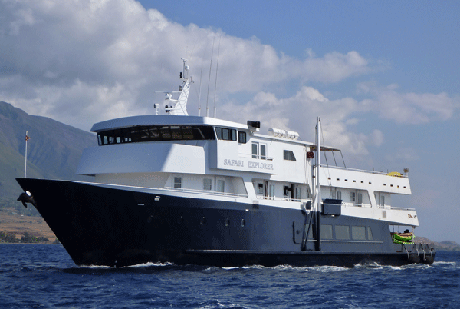 Vessel Type: Small Ship
Length: 145 ft
Passenger Capacity: 36
Built / refurbished: 1998 / 2008
The Safari Explorer, our flagship, is a 36-guest luxury yacht perfectly designed for "luxury in the pursuit of adventure." Features include an intimate Wine Library and spa area including a large on-deck hot tub (Alaska), sauna, fitness equipment, yoga classes, and a complimentary massage.
Aboard the yacht, three public decks provide plenty of room for mingling, relaxing, and enjoying the fresh air. And a full-beam swim step makes for easy access in the water. Adventure equipment onboard includes kayaks and stand-up paddle boards; inflatable skiffs; hiking poles; fishing poles and tackle; yoga mats; and hydrophones for listening to below-surface sounds.
There are six stateroom categories aboard the Safari Explorer:  Single; Master; Commander; Captain; Admiral; and Commodore Suite. Depending on the stateroom, singles, doubles or triples can be accommodated.
Common to all Safari Explorer staterooms are:  Heated tile floors in bathroom; Tempur-Pedic® memory foam mattresses; Flat-screen TV/DVD; iPod docking station; and View windows (no portholes).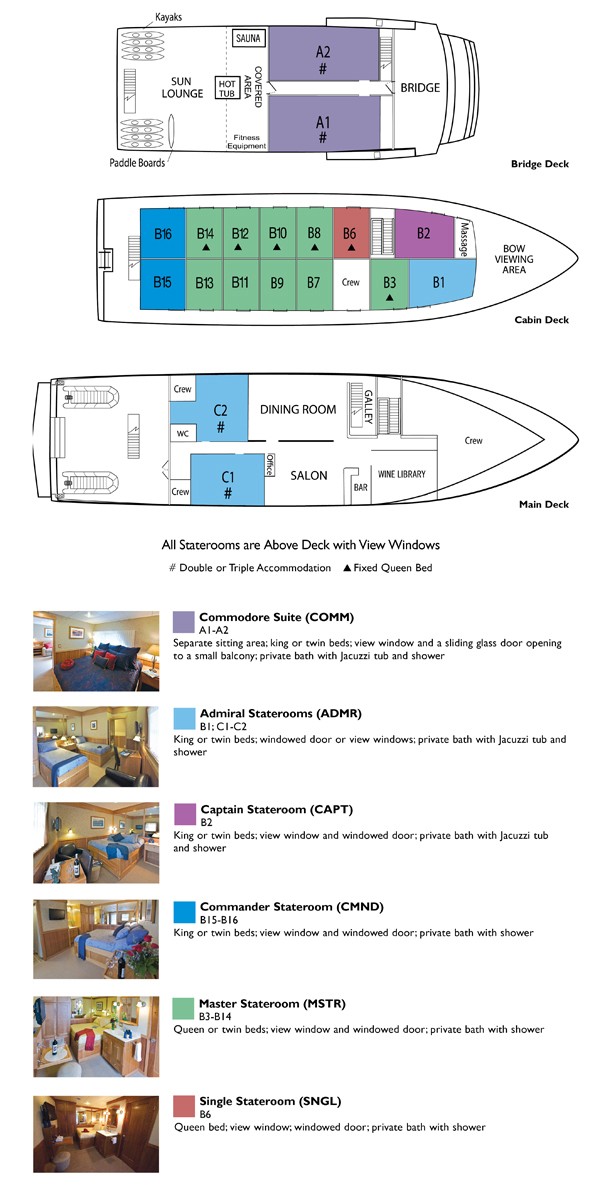 Overview
Highlights
Dates & Prices
Itinerary
Map
Ship