8 days from
£2451.0
* Current p/p indicative rate.
Overview
Highlights
Dates & Prices
Itinerary
Map
Ships
Enjoy a harmonious balance between conventional cruising and private yachting, along with an exciting voyage of discovery, unraveling the wonders of Classical Greece. The beautiful Cyclades, Kea, Santorini, Mykonos and the neighboring UNESCO-protected archaeological isle of Delos. Crete, the largest and southern most Greek island. The crystal blue waters of the island of Kythira, a hidden gem of the Aegean sea. The Peloponnese with Monemvasia and Nafplion historical treasures. Hydra, an off-the-beaten track island with her picturesque harbor. Each day you will discover a new port of call, a hidden cove with crystal blue waters to cool you, a glimpse of ancient history to amaze you and rich cultural diversity to intrigue you.
Kythira: A hidden gem. Kythira is an island of Greece, historically part of the Ionian Islands. It lies opposite the eastern tip of the Peloponnese peninsula. In Ancient Greek Mythology, Kythira was considered to be the island of celestial Aphrodite, the Goddess of love.
Greek Night under Santorini island. Our Greek-night dinner is followed by the famous and much-loved Greek night on board. Greek dance is a very old tradition, being referred to by authors such as Plato, Aristotle, Plutarch and Lucian.There are different styles and interpretations from all of the islands and surrounding mainland areas. Each region formed its own choreography and style to fit in with their own ways. For example, island dances have more of a different smooth flow to them. Be tempted and follow the rhythm!
Hydra's quaint port. Hydra Island, one of the most unspoiled and interesting of
the Greek islands, is a small rocky island in the Argosaronic Gulf, south east out of the Athens port of Piraeus and within sight of the southern Peloponnese mainland. It's very cosmopolitan, safe and one of the easiest of the Greek islands to access. Best of all, the entire island is a preserved national monument and has retained all its 17th & 18th century charm and quaintness.
show reverse itinerary
Day 1 (Friday) Marina Zeas (Piraeus) - Kea
2:00-3:00 pm embarkation from Marina Zea. Depart via Cape Sounion to Kea. Leisure time to explore Kea's tiny port, Korrisia after dinner. Departure in the early hours for Delos. Overnight at sea.
Day 2 (Saturday) Delos (anchorage) - Mykonos
Optional morning tour to the unique archaeological site of Delos, antiquity's most sacred island. On to the port of Mykonos, with a swim stop on the way. Free afternoon and evening to enjoy the island's cosmopolitan lifestyle. Overnight in Mykonos.
Day 3 (Sunday) Santorini
Noon arrival in Santorini's famous port of Fira. Experience the stunning natural drama of the volcanic caldera. Optional tour to archaeological sites and typical villages with unique views over the Aegean Sea. Overnight sailing to Crete.
Day 4 (Monday) Rethymnon/Crete
Morning arrival at Crete's famous and lively port of Rethymnon. Optional tour to the ancient city of Knossos near Heraklion. Late departure for Kythira. Overnight at sea.
Day 5 (Tuesday) Kythira
Late morning swim stop and afternoon arrival to Kythira, a less known island gem now fast becoming a favourite among visitors to Greece. Evening at leisure to visit the picturesque main town of Chora and experience the subdued charms of this peaceful island. Overnight in Kythira.
Day 6 (Wednesday) Monemvasia - Nafplion
Early morning sailing to Monemvasia. Discover a remarkable medieval fortified town, with time at leisure to explore the uniquely preserved Byzantine and Venetian architecture and experience the beauty of the natural setting. The famous Greek poet Yiannis Ritsos, described his birthplace Monemvasia as a "stone ship" about to set sail, calling you for immediate boarding for a journey through time. This uniquely preserved medieval town is carved into the majestic grey rock like a sculpture. Depart for Nafplion in the early afternoon, with a swim stop on the way. Evening arrival at Nafplion. The old quarter is charming, with narrow streets and characteristic period architecture. Also, impressive medieval fortifications can be seen in the port and crowning the hills above. Overnight in Nafplion.
Day 7 (Thursday) Nafplion - Hydra
Optional tour to Mycenae, the powerful walled palace of Agamemnon, the Homeric Achaean king. Early afternoon departure for the island of Hydra. Afternoon arrival at Hydra and time at leisure to explore this picturesque port town. Late evening departure for Marina Zeas, Piraeus.
Day 8 (Friday) Marina Zeas (Piraeus)
Arrival in the early hours at Marina Zea, Piraeus. Disembarkation after breakfast at 8:00-9:00 am.
Please Note:
Itineraries are subject to change.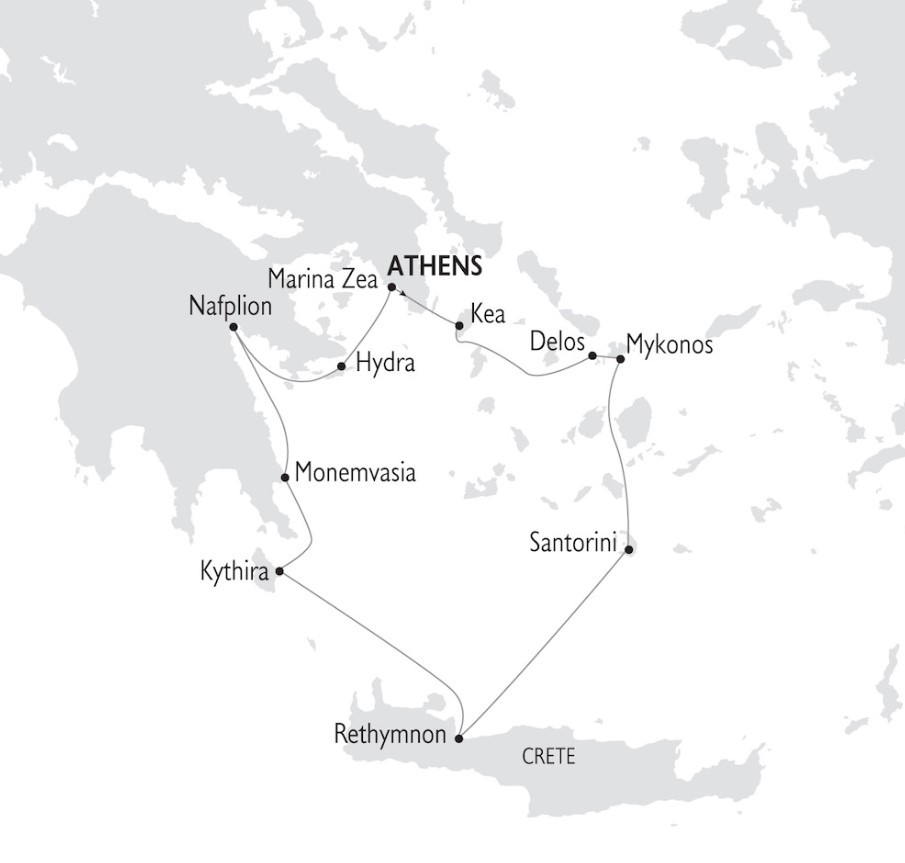 Overview
Highlights
Dates & Prices
Itinerary
Map
Ship