5 days from
£3854
* Current p/p indicative rate.
Overview
Highlights
Dates & Prices
Itinerary
Map
Ship
Promotions
This 4 night luxury cruise on the Aria Amazon begins in the remote colonial city of Iquitos, Peru and transport guests in exceptional comfort deep into the Amazon rainforest, along the Ucayali River, the Amazon's largest tributary, as well as the four other rivers, each one rich in vibrant wildlife with thriving rainforests. Go piranha fishing, trek into the dense jungle in search of Amazon monkeys, three-toed sloths, crown headed hoatzin birds, toucans, macaws and giant water lilies.
Come back to the comfort of our skiffs to cruise up close to view Taricaya turtles and spectacled caimans in their natural habitat while pink dolphins, at play, challenge your photography skills. As the Aria Amazon journeys towards the confluence of the Ucayali and the Marañon Rivers, considered the birthplace of the Amazon, learn from our experienced, English speaking naturalist guides about the diverse Amazon wildlife and birds of Pacaya-Samiria National Reserve.
• Low Water Season (June through October) vs. High Water Season (November Through May)
If seeing glorious Amazon rainforest at its lushest and getting up close to lots of birds and mammals (and enjoying slightly cooler temperatures) sounds most attractive, then December to May might be your best choice.
If jungle hikes and spotting exotic migratory birds perched on trees between flights across Amazonia appeals most to you, while still having the chance to see capuchin monkeys, kinkajou, and other mammals, and going on great fishing expeditions, you might be happier choosing the warmer, low water season.
• See the Amazon River's rare pink dolphins • Venture deep into the Amazon rainforest among its extraordinary array of mammals and birds • Explore within the five million pristine acres of Pacaya Samiria Reserve, a protected wildlife area teeming with lifelong mating pairs of blue-and-yellow macaw, flocks of snowy egrets, laughing falcons and Amazon kingfishers in the air, squirrel monkeys frolicking in the trees and pink dolphins poking their dorsal fins above the river water while colossal Victoria Regia water lilies float along the surface • Interact with local people in their villages, living largely as they have for centuries
show reverse itinerary
DAY 1 Iquitos – Nauta – Embarkation – Marañon River
We will meet at Iquitos International Airport then journey together by air-conditioned vehicle through the Peruvian countryside to arrive at our Nauta Lounge in time for lunch, or we will serve a box lunch en route depending on the flight arrival time. In the afternoon, we will set off on your first skiff excursion along the Marañon River. At 6:00pm, we will board the ARIA AMAZON. Settle into your generously proportioned suite as you begin one of life's greatest adventures. Following a routine safety drill and introduction to our naturalist guides, we gather for innovative Amazonian cuisine created by our Executive Chef Pedro Miguel Schiaffino, whose restaurant, Malabar, is the one of Lima's top ranked dining experiences.
DAY 2 Ucayali River – Pacaya River
Boarding our skiffs, we start the day like Amazon River dwellers, cruising along the Ucayali River. As these farmers and fishermen go about their business, we search for pink river dolphins in these pristine waters. Later in the day, we return to the skiffs, to ride along the black waters of the Pacaya River at dusk, searching for the mysterious wildlife that come out after dark and with extraordinary stargazing.
DAY 3 Pacaya River – Ucayali River – Tapiche River
The rewards of our early start today are plentiful, including a breakfast picnic accompanied by jungle symphony and fishing along the black waters of the Pacaya River. After lunch, we venture out by skiffs on the Ucayali River alongside the banana boats transporting jungle products to the port of Requena, keeping an eye out for pink river dolphins.
DAY 4 Clavero Lake – San Jose De Sarapanga Forest
Choose to go jungle walking, canoeing, kayaking or swimming on the black water Yarapa or Clavero River in the morning. Come afternoon, take a short jungle walk in the San Jose de Sarapanga forest and see the unforgettable giant water lilies. This evening before dinner, we will gather to introduce you to some of the crewmembers whom you may not have met, working "behind the scenes" to ensure your countless exceptional experiences aboard the ARIA AMAZON.
DAY 5 Arrival In Iquitos – Manatee Rescue Center – Transfer To The Airport
This morning, we will visit the local fresh market with your guides who can identify the day's catch by the fishermen of Amazonia and the region's exotic fruits. Return to the ARIA for breakfast and to pack up. Before saying goodbye, we visit the Manatee Rescue Center, a kind of animal orphanage for Amazonian manatees to rescue, rehabilitate and release them back into the wild. We will also visit San Juan craft market on route to the airport. Lunch or box lunch is included, depending on the exact departure flight time, which can vary. Other activities may be included as well, according to our recommended flight schedule. Note: All itineraries are subject to change, due to weather and other conditions.
Please Note:
This itinerary is based on the High Water Season (November-May), it varies slightly for the Low Water Season (June–October). All itineraries are subject to change, due to weather and other conditions. All times indicated are approximate, and are also subject to change.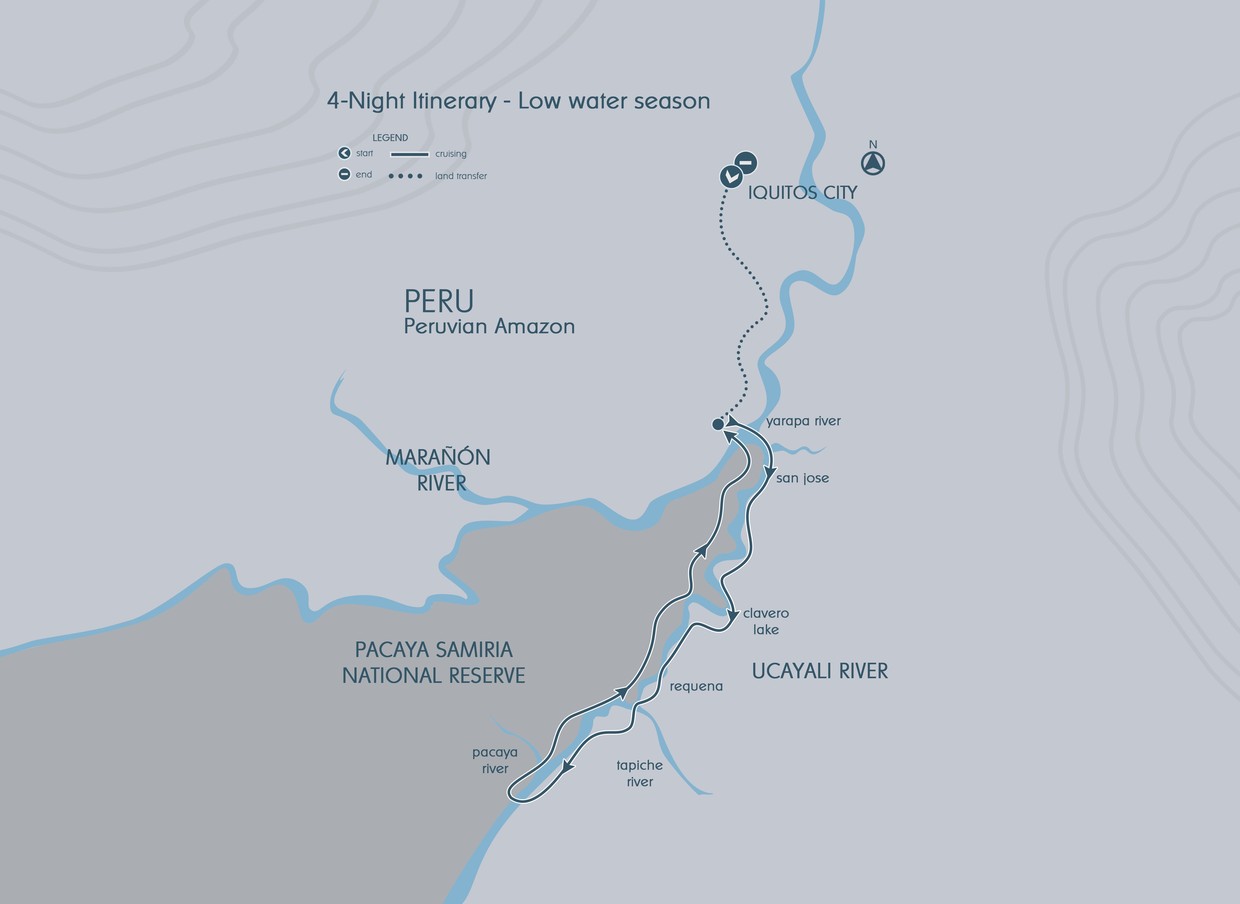 | | |
| --- | --- |
| Length | 45 Metres |
| Built | 2011 |
| Cabins | 16 |
| Crew | 27 |
The 147-foot-long Aria Amazon was entirely custom built by Peruvian architect Jordi Puigto to offer an extraordinary level of comfort for our guests and was launched in April 2011.
The Aria Amazon can accommodate a maximum of 32 cruise ship guests plus crew. This luxury cruise ship is the perfect size to sail along the Amazon River, providing extremely comfortable lounge, outdoor jacuzzi, exercise room, dining and sleeping accommodations and modern navigation technologies and standards for cruise ship travel and safety on the water.
The Aria Amazon's sixteen oversized Design Suites, feature en suite sitting areas and generous outward-facing picture-windows with panoramic Amazon river views. Each of the handsomely decorated, air-conditioned suites measure around 240 square feet and can be either twin beds or converted to a Californian king-sized bed. Each cabin has a sitting area and a well appointed bathroom, complete with all necessities, plus a shower that has hot water around the clock, a hairdryer, and a basket of luxury toiletries. The fine Peruvian linens, with a thread count in the hundreds, sooth you to sleep with a sense of elegant luxury. And there is an internal communication system, to facilitate announcements. All cabins also have safe deposit boxes for your valuables with instructions for their use.
The Aria has 24 staff and crew, including a cruise director and four English-speaking naturalist guides. Shpi facilities incldue an Indoor Bar-Lounge, Dining Room, Outside Lounge, Outdoor Jacuzzi, Exercise Room, Observation Deck, Boutique, Four 8-Passenger Skiffs.
Design Suite Specifications
16 luxuriously-appointed 250 square feet (23.2 sq m) Design Suites, two pairs of interconnecting suites at 500 sq ft (46.4 sq m)
Deluxe ensuite bathrooms with spacious walk-in shower and round-the-clock hot water
Pampering natural organic hair and bath amenities
Premium California King size beds, twin bed configuration available
Floor-to-ceiling panoramic windows for all suites
Lounge area with daybed
Large closets with chest of drawers and electronic safe
Intercom system
Full air-conditioning in all-suites
Professional hairdryer
Bed dimensions
California King size bed: 2.1m (w) x 2m (l)
Single Twin Size bed: 1.05m (w) x 2m (l)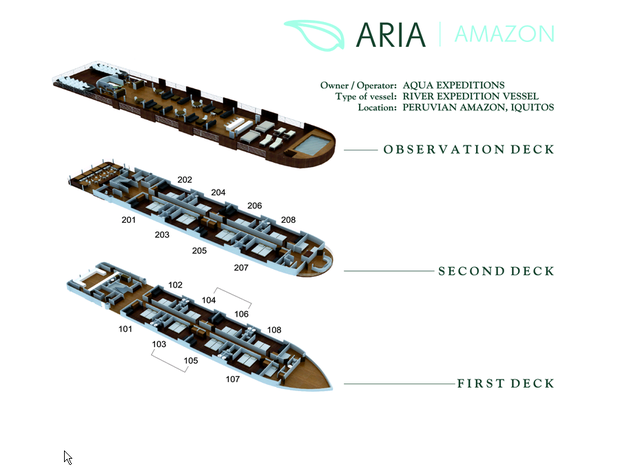 Book before 31 December, 2020 and save £1 GBP
No single supplement on most (not all) departures - Please check with us which departures it applies to
Next departure on 06 July, 2020.
Overview
Highlights
Dates & Prices
Itinerary
Map
Ship
Promotions