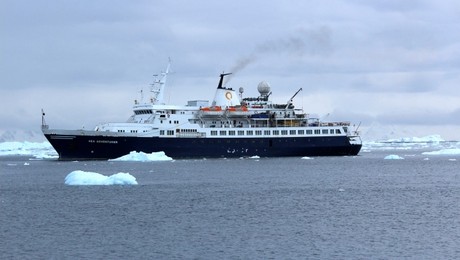 Sea Adventurer
Vessel Type: Comfortable Expedition
Length: 90 metres
Passenger Capacity: 118
Built / refurbished: 1975 / 1998
The 118-passenger Sea Adventurer, (formerly the Clipper Adventurer) is among the very few vessels in the world specifically constructed for expedition voyages to the remote polar regions. Her ice-strengthened hull permits her to glide easily and safely through ice-strewn waters that are not accessible to conventional cruise vessels.
She has advanced communications and navigation equipment, and newly installed, state-of-the-art Sperry Gyrofin stabilizers. In 1998 the Adventurer had a $13 million conversion done in Scandinavia. She is a handsome expedition vessel, done in the style of great ocean liners when ships were ships. With lots of varnished wood, brass, and wooden decks, the ship has all new outside cabins, with lower beds and private facilities.
There is a Main Lounge, bar, Clipper Club, library/card room, gymnasium and gift shop. A multi-national staff serves American and Continental cuisine. The ship has a fleet of 10 Zodiacs and a special loading platform. An ice class rating of A-1 allows the Clipper Adventurer to go to places larger cruise ships can only dream of, and she does it in comfort and style unsurpassed by other vessels her size.
Cabins: All cabins have a window with outside view. Each has private facilities.
Cabins and amenities
61 outside cabins with exterior views and private facilities.
Decks 4 and 5 have exterior access, with outside seating.
Window-lined dining room on Deck 4 with unreserved seating.
Lounge/Presentation Room.
2 bars.
Library.
Gift shop.
4 hour beverage station.
Ship-to-shore satellite communications with email, and wireless, Internet access.
Clinic with licensed doctor.
Exercise room.
Deck Plan for some trips may vary, please ask for details.