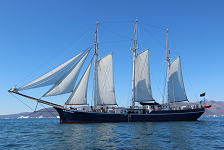 Rembrandt van Rijn
Vessel Type: Expedition Yacht
Length: 56 metres
Passenger Capacity: 32
Built / refurbished: 1900's / 1994
S/V 'Rembrandt Van Rijn' was originally built as a herring lugger. The vessel was rebuilt as a three-masted passenger sailing schooner in The Netherlands in 1994 and sailed in Spitsbergen (1994 – 1996) and in Galápagos (1998 - 2001). The vessel underwent a complete rebuilding and refurbishment program in 2011. The communication and navigation equipment has been completely renewed according to the latest SOLAS regulations.
The Rembrandt van Rijn measures 56 meters in length (168 ft.), 7 meters in width and has a draft of 2, 5 meters.
•The maximum engine speed is 9 knots
•She has an experienced crew of 12 on board including two tour guides
•The ship can accommodate a maximum of 33 passengers in 16 cabins
•1 Triple Private cabin with porthole (with shower and toilet)
•6 Twin Private Inside cabins (with shower and toilet, no porthole)
•9 Twin Private cabins (with shower and toilet and porthole)
•The general interior public areas include a spacious restaurant area so that all meals can be taken together as well as separate bar area and reading table area
•There is room to relax, read and socialize
•The ship is well suited for expedition cruising among small islands and offers excellent open deck viewing areas, even when under sail. The two inflatable rubber crafts (zodiacs) enable landing and wildlife viewing opportunities in otherwise inaccessible areas.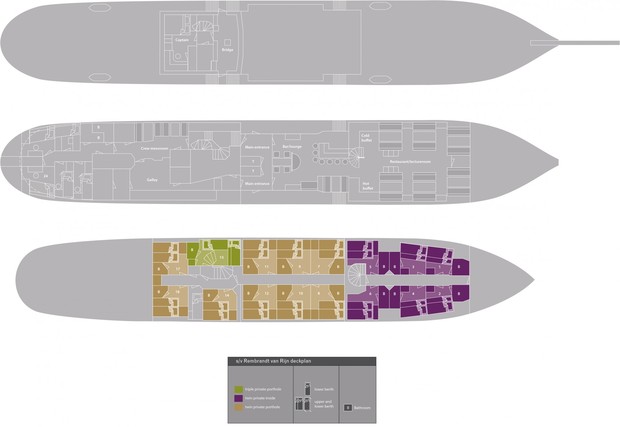 You may be interested in...