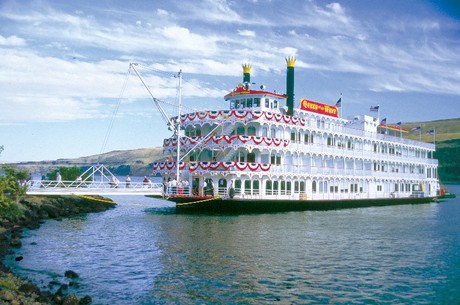 Queen of the West
Vessel Type: Riverboat/Columbia Paddlewheeler
Passenger Capacity: 100
Built / Refurbished: 1995 / 2011
A veteran of the Columbia and Snake Rivers, Queen of the West underwent major renovations with upgrades to passenger staterooms, lounges, galley, and engine room. Meticulous care and attention to detail went into the reconstruction, from the newly designed and custom built furniture to the expanded staterooms and the addition of more private balconies.
Finely Appointed Staterooms
Queen of the West staterooms are the most spacious in small ship cruising - all over 200 square feet in size, and each with large opening picture windows and a private bathroom. Each spacious stateroom is a comfortable haven and the perfect place to relax and unwind. Passangers can enjoy the ever-changing scenery from large, opening picture windows or from private balconies.
Queen of the West Amenities and Features:
Complimentary wi-fi, Elevator access to all decks of the ship, Many lounges offer an atmosphere for every mood, Grand dining room accommodates all guests together, Open-air exercise area with views of passing scenery, Satellite tv and dvd player in all staterooms, Hotel-size private bathrooms with a full set of amenities, Private balconies, Twice daily stateroom service, Lewis and clark library, Putting green on the top deck, Individual climate control, Evening entertainment focuses on music and history, Built in the USA, All american crew, Complimentary cocktail hour each evening, Onboard historians and naturalists, Culinary program featuring locally sourced ingredients, Personalized service, Open picture window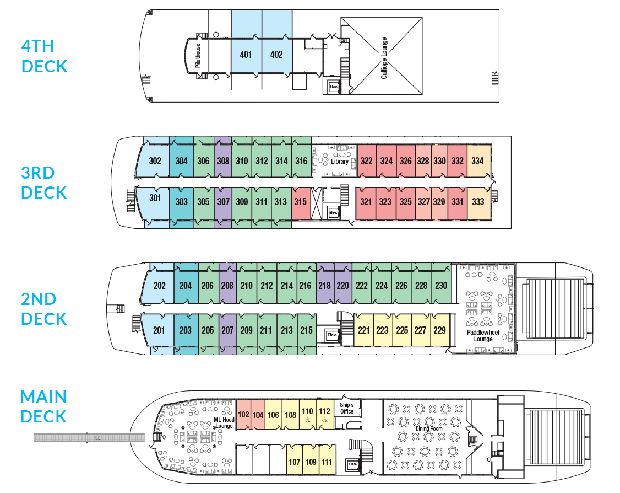 You may be interested in...
Embrace your inner pioneer as you travel along the epic route forged by Lewis and Clark more than 200 years ago. View the lush landscapes of the Columbia River Gorge ......
click here to read more.
Our brand new Highlights of the Columbia River cruise offers the best of the Pacific Northwest and, for the first time, the convenience of a round-trip from Portland. Much of ......
click here to read more.