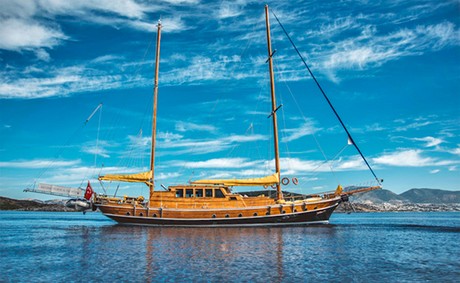 MS Myra
These cruises will be run on one of four very similar gulets. They vary slightly in size from just 4 cabins up to 8 cabins, and 70 feet long up to 110 feet. They have all been built to similar luxury standards are are crewed by highly professional and trained staff. The vessel for your cruise will be allocated approximately 1 month before departure.
Luxury sailing gulet Myra's antique design is integrated with spacious fore, side and aft decks, up-to-date nautical equipment, outdoor dining facilities, cushioned lounging areas, sun mattresses, tenting to protect from the sun, plus other contemporary comforts. The interior features elegant living quarters with high ceilings and wide corridors. The salon includes a stocked bar, cushioned seating, and a table for indoor dining. Accommodations consist of 4 airy cabins with queen-sized beds and 1 master cabin with a king-sized bed. Each cabin has generous storage space, and a roomy "en suite" bathroom with toilet, shower, marble sink, and vanity.
Swimming from the yacht is certainly one of the most enjoyable experiences of your voyage. Additionally, you can sail, water ski, snorkel, kayak, fish, play board games, cards, or even go on moderate to strenuous hikes with the captain. Other activities can also be arranged, such as parasailing, jet skiing, scuba diving, paragliding, plus numerous additional water sports (at extra cost).
Naturally, relaxation is a key part of the voyage, and we offer a library of magazines and books to peruse. A DVD library and DVD player is also on board stocked with film classics, children's, and foreign films. The stereo system has indoor and outdoor speakers and iPod connections for even more personalized listening pleasure.
Shore excursions along the Aegean and Mediterranean coasts are fantastic opportunities to experience sights and sites otherwise not so easily accessed. We will make the most of some lively resorts, traditional sleepy villages, authentic local cuisine, sightseeing, shopping, nightlife, and ancient site explorations.
Cuisine
A skilled chef, whose expertise ranges from haute cuisine to regional specialties, guarantees satisfaction for even the most discriminating palate. Seafood is served Mediterranean style, and organically grown fresh herbs, vegetables, and fruits of the season ensure the finest flavour.
›› 5 star luxury standards
›› Uniformed, English-speaking crew including chef
›› Optimized for sailing as guests wish
›› Adjustable a/c throughout
›› 2 generators & inverters
›› En suite bathrooms with flush w/c & enclosed shower
›› Spacious cabins
›› Flat screen TV, DVD hook up & movie library
›› Free WiFi
›› Satellite antenna
›› Stereo system/ iPOD dock
›› Orthopedic beds & pillows
›› 100% fine cotton linen and fluffy towels
›› Zodiac dinghy with H/P motor water ski, wakeboard and ringo
›› Paddle board
›› Snorkel & fishing equipment for adults & kids
Capacity: 10 passengers.