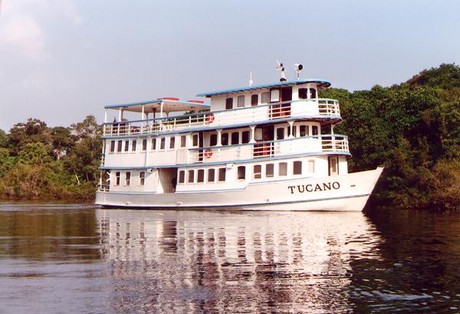 Tucano
Vessel Type: Expedition Cruise
Length: 24 metres
Passenger Capacity: 18
Built / refurbished: 1997 / 2003
The Amazon expedition cruise vessel MY Tucano has comfortable cabins with large beds and private baths, and is air-conditioned throughout. With our small groups (Max. 18 pax), trained naturalist guides, and thoughtful itineraries, we offer a genuine, thrilling experience with the REAL Amazon rainforest.

The Salon of the Motor Yacht Tucano is at the forward part of the vessel and is surrounded by a broad balcony. Thoroughly paneled and lighted by brass lamps, this room serves as our vessel library and dining room. It is a good place to observe the forest, read or relax. From this large space, filled with windows and situated at the front of the boat, you can see the fantastic forest around us.

The top deck is open and has a large sun canopy --a wonderful place to spot wildlife or soak in the vastness of the Amazon. There is also space to catch some sun and watch the Macaw parrots screeching across the afternoon sky. The middle deck has a wide balcony around the entire front of the boat. Passengers can see where we are going and observe monkeys jumping from one vine to another.

Cabins
All of the 9 cabins are comfortable. Most cabins have individual beds and some have above and below beds. Each cabin on Tucano has a private bathroom with a shower, toilet, and a sink. We have hot water pressurized showers.

Windows to See the Forest
There are 76 large windows on Tucano and all of them open and close. There are large insect screens, though generally there are very very few mosquitos on our voyage.

Air-Conditioning
All the cabins and the Salon are air-conditioned. Every cabin has its own thermostat and individual controls. Your cabin can be as cool or as warm as you wish.

Beautiful Woodwork
All of the walls in the cabins have solid wood raised paneling... varnished and absolutely superb.

Lovely Decks
The decks in the cabins and living room are a deep brown natural finished wood that is kept highly polished.

Dining
Our meals are not gourmet, but wholesome, filling and delicious. We also serve many types of Amazon Fruits. Our cooks rise before dawn to make a large breakfast and there is always a tantalizing scent coming out of the Galley.
Techincal Specifications
Cabins: 9 cabins with private facilities
Group Areas: Forward facing salon and a full Observation Deck
Length: 82 feet
Maximum Width: (beam): 21 feet
Standard Passenger Capacity: 18
Charter Passenger Capacity: 18-25 Crew: 8
Cruising Range: 1000 miles
Air-conditioning: Central to all cabins
Electricity: 110 volt/ 60 cycle
Vessel Built and Launched: September 1997
Vessel Refit: August 2003 and annually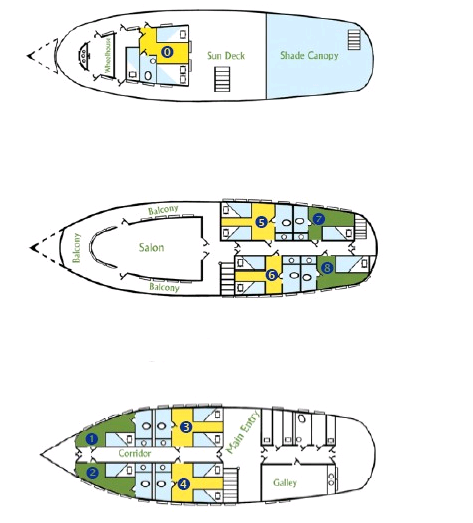 You may be interested in...
This cruise pushes beyond the limits of typical tours and beyond the boundaries of human settlement, to explore remote rainforest. Over four nights the expedition cruise Into the Wild Amazon ......
click here to read more.
This is the most exploratory cruise in the entire Amazon - and is the Amazon's only true expedition cruise. We venture along hidden uninhabited rivers deep into the wild woods ......
click here to read more.