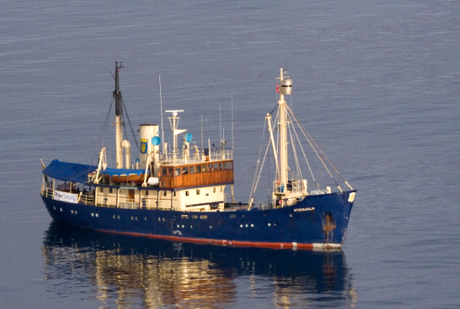 Stockholm
Vessel Type: Small Ship
Length:
Passenger Capacity: 12
Built / refurbished: 1953 / 1999
The M/S Stockholm is a classic vessel built in 1953 for the Swedish National Maritime Administration. In 1999 she was totally refitted and started her career as a comfortable polar passenger ship. The M/S Stockholm exclusively carries a maximum of 12 passengers in outside twin cabins, all with upper and lower berth and private facilities. She is a marvellous piece of maritime history with beautiful brass details and pine decks. No wonder the M/S Stockholm is loved by so many!
On board the ship you will enjoy delicious meals in the company of likeminded travellers who enjoy the natural world, and who are as fascinated by the Arctic as you will be. The food on board is of a high standard. All wine, beer and drinks are included in the trip fare. With such a small party on board, this is like travelling on a private yacht. An entirely different experience and perspective to that of a larger and more conventional vessel! The M/S Stockholm is also ideal for private parties who wish to explore the Svalbard archipelago.
The owner, Captain and crew of the ship have long experience in Arctic waters, and are actively involved in making expeditions in tune with nature conservation. The crew onboard M/S Stockholm are great enthusiasts of the unique wildlife and unspoilt nature too, so do not be surprised if you suddenly see the chef ashore taking photographs or studying birds, whenever his time permits. The genuine curiosity of the crew is a prerequisite for expedition cruises of this kind. A trip on board M/S Stockholm in these northern waters, with its unique wildlife and pristine nature is anexperience of a lifetime, simply hard to beat.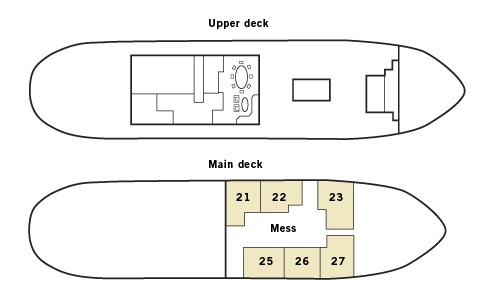 You may be interested in...
To travel on board M/S Stockholm is a truly unique experience. The atmosphere and the enthusiastic crew make the trip extraordinary. To change course and explore new areas in true ......
click here to read more.
Join the 12-passenger ship M/S Stockholm on an exciting trip in true expedition style! In early November we head into the fjords outside Tromsø to enjoy a grand natural wonderland ......
click here to read more.
A trip on board M/S Stockholm is an experience of a lifetime! The atmosphere, the curiosity on board, the classic interior and the delicious food are elements that make this ......
click here to read more.