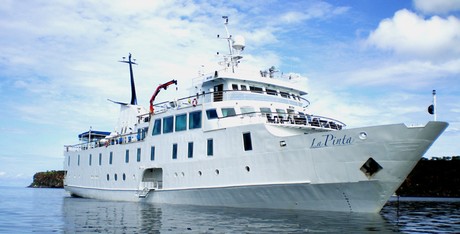 La Pinta
Vessel Type: Small Ship
Length: 63 metres
Passenger Capacity: 48 (in 24 cabins)
Built: 1983 / refurbished 2007
After intense days of wildlife exploration, yacht La Pinta provides a haven of relaxation and tranquility with tastefully appointed accommodations and all the facilities for a stylish yet informal ambiance
A full week discovery trip to the Galapagos Islands aboard La Pinta allows encounters with unique fauna, like the famous giant Galapagos tortoises in the wild, land and marine iguanas, flamingos, penguins, blue-footed boobies and the famous Darwin's finches.
La Pinta guests will cover all aspects of the Galapagos: discovery, adventure, environmental interpretation, aquatic activities, relaxation, superb service and great dining. Naturalist Guides enhance their interpretative skills with the use of state-of-the-art-expedition equipment. Our staff embraces a spirit of adventure, while at the same time ensures that you always travel in comfort and safety.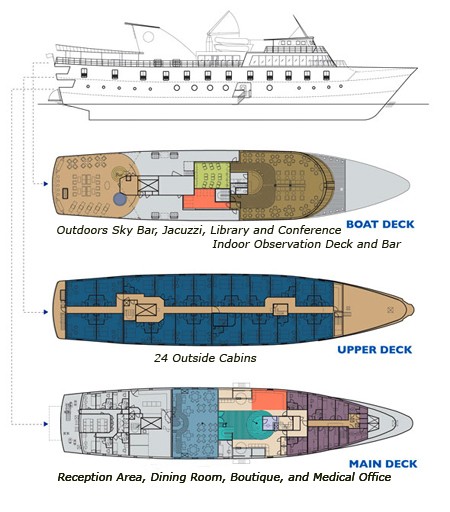 You may be interested in...
We're delighted to have you on board for this journey of discovery to some of the most beautiful islands in the Galápagos. Our itinerary together begins on Baltra Island, a ......
click here to read more.
Our itinerary together begins on Santa Cruz Island, the most populous of all the archipelago, where we meet giant tortoises in the wild and then venture to Eden Islet. From ......
click here to read more.
Fernandina Island is regarded as one of the most pristine island environments anywhere in the world, where life has evolved in its natural state, far from the intervention of Man. ......
click here to read more.