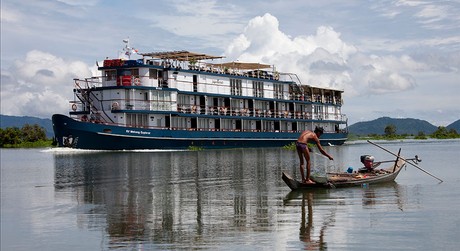 Jayavarman
Vessel Type: River Boat
Length: 60 metres
Passenger Capacity: 54 (in 27 cabins)
Built: 2009
The Jayavarman is the father of the Heritage Line Collection. A grandiose and majestic ship, but not too large that it becomes impersonal. The Jayavarman's interior design is inspired by King Jayavarman's legacy. Aptly named after the revered monarch of the Khmer empire, the god-king is regal but warm. He cuts a majestic figure and pays apt tribute to the golden age of cruise liners. But he is not too large. A nice, intimate size. Expectations are high for the god-king. He does not disappoint.
Life on the Jayavarman is one luxurious experience after another. You step out on to your private balcony, sipping your cocktail made with fruit from the land that envelops you. The sun sets gently and the charming countryside becomes a silhouette shining on the river. You soon realize that you've never been in a place so peaceful and so serene, occasionally punctuated by a child's raucous laughter ringing from a nearby village.
Darkness descends, signaling the time for a traditional feast. Food from the region is served by waiters who, by now, have become your friends. They are proud to put on display their traditional attire and share their culture with you.
At every corner, every river bend aboard this luxurious and majestic ship, new sights and new experiences are ready and waiting to be found.