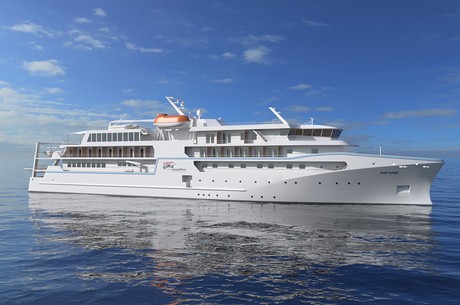 Coral Adventurer
Vessel Type: Expedition Ship
Length: 93.4 meters
Passenger Capacity: 120 (60 staterooms)
Launching in 2018, nd making her maiden voyage in 2019, Coaral Adventurer has been designed and built to take you closer to unspoilt vistas in comfort, style and safety. A culmination of two years of design and three decades of passion for expedition cruising.
BIGGER IS NOT BETTER
At a time when cruise ships get larger and glitzier, we remain stubbornly compact and intimate. Our ships are designed to take you to unspoilt destinations not accessible to large ships. We want you to have the luxury of space, dine with whom you please, or find your quiet corner on deck. So Coral Adventurer has just 60 spacious cabins. This preserves the intimate atmosphere we are known for without sacrificing the stability and comfort of a true ocean going vessel.
BUILT FOR DISCOVERY
The Coral Adventurer features the trademark dual 'Xplorer' tenders cradled on a hydraulic platform slung off the back of the ship, enabling our guests to go ashore in comfort and ease. The shallow draft of the ship enables us to go closer to shore than larger ships. Together with a renowned expedition team, this new ship will offer the most advanced expedition capabilities of any small ship afloat.
BUILT FOR COMFORT
With active stabilisers dampening sea motion, mostly balcony cabins, and interiors designed with the colours and textures of tropical Queensland, the Coral Adventurer is a comfortable ship. She features promenade decks, generous communal areas that accommodate all guests, a passenger elevator, and an open kitchen where you can observe our chefs whip up small batch cuisine from locally sourced ingredients.
BUILT FOR PERSONAL SERVICE
The Coral Adventurer will continue a proud tradition of Australian flagged vessels with friendly and professional Australian crew. The onboard atmosphere remains refreshingly informal and intimate. Take your seat at our bridge lounge, chat with the captain at your leisure or accompany our chefs on a market tour.
Food and wine features
* Single seating dining area with communal 'wine table' finished with Australian stone; serving buffet breakfast and lunch, and multi-course table d'hote dinners
* Showcase galley visible to guests for fresh small-batch cuisine featuring Australian produce
* Multiple indoor and outdoor bars, including the Explorer bar on the sundeck for sunset drinks with 180 degree views
* Curated wine cellar featuring modestly priced boutique wines for daily drinking and exceptional vintage Australian reds.
Guest comfort
* All outside guest cabins with en-suite bathrooms; majority have private balcony
* Active stabilisers to dampen sea motion
* Gym equipped with elliptical trainers and treadmills
* Passenger elevator
* Wi-Fi available in all guest areas