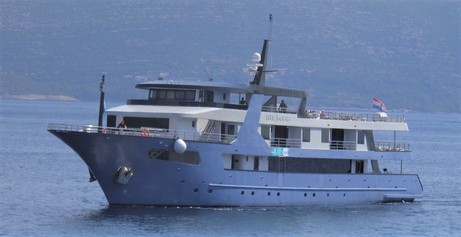 Ave Maria
The MV Ave Maria, a sister ship of MV Infinity, is a new deluxe superior vessel that made her maiden voyage in 2018. With the latest technology, comfort, and trends in small ship construction, Ave Maria offers the best possible Croatia cruise experience. She has a maximum capacity of 38 passengers in 19 twin or double cabins, guaranteeing an intimate setting for all guests.
Modern cabins, fully equipped with air conditioning, safe deposit box, fire alarm, emergency lights and audio system for announcements by the captain or Tour Director. In addition each cabin has life jackets, desk and chair, wardrobe, night stand, small sofa and a porthole or window. Bathrooms are equipped with toilet, shower, wash basin and hair dryer. All cabins have indside passage access to the bar and restaurant area.
The spacious fully air-conditioned main deck dining has a bar area with LCD TV and a corner buffet breakfast table and there is a lounge area on the rear of the upper deck. The kitchen is built to the latest HACCP standards. The large sundeck has a total surface of 250 m2 (2690 sq ft) with partial sun-shade cover of 70 m2 (753 sq ft) and comfortable deck-beds for all passengers and easy access to Jacuzzi tub. The vessel has a rear platform with mini pool with ladders for easy access into the water and offers two outdoor showers and two deck lavatories.
CABIN SPECIFICATION:
Size: 15 - 17 m2 / 161 - 183 sq ft
Total 19 cabins:
• 11 cabins on upper deck each with private balcony (VIP cabins)
• 8 lower deck cabins with inner communication to restaurant and portholes
All twin bedded cabins have the possibility to be put together as a double bed
You may be interested in...