Aria Amazon
Vessel Type: Luxury River Expedition
Length: 147 feet / 45 metres
Passenger Capacity: 32
Built: 2011
The 147-foot-long Aria Amazon was entirely custom built by Peruvian architect Jordi Puigto offer an extraordinary level of comfort for our guests and was launched in April 2011.

The Aria Amazon can accommodate a maximum of 32 cruise ship guests plus crew. This luxury cruise ship is the perfect size to sail along the Amazon River, providing extremely comfortable lounge, outdoor jacuzzi, exercise room, dining and sleeping accommodations and modern navigation technologies and standards for cruise ship travel and safety on the water.
The Aria Amazon's sixteen oversized Design Suites, feature en suite sitting areas and generous outward-facing picture-windows with panoramic Amazon river views. Each of the handsomely decorated, air-conditioned suites measure around 240 square feet and can be either twin beds or converted to a Californian king-sized bed. Each cabin has a sitting area and a well appointed bathroom, complete with all necessities, plus a shower that has hot water around the clock, a hairdryer, and a basket of luxury toiletries. The fine Peruvian linens, with a thread count in the hundreds, sooth you to sleep with a sense of elegant luxury. And there is an internal communication system, to facilitate announcements. All cabins also have safe deposit boxes for your valuables with instructions for their use.
The Aria has 24 staff and crew, including a cruise director and four English-speaking naturalist guides. Shpi facilities incldue an Indoor Bar-Lounge, Dining Room, Outside Lounge, Outdoor Jacuzzi, Exercise Room, Observation Deck, Boutique, Four 8-Passenger Skiffs.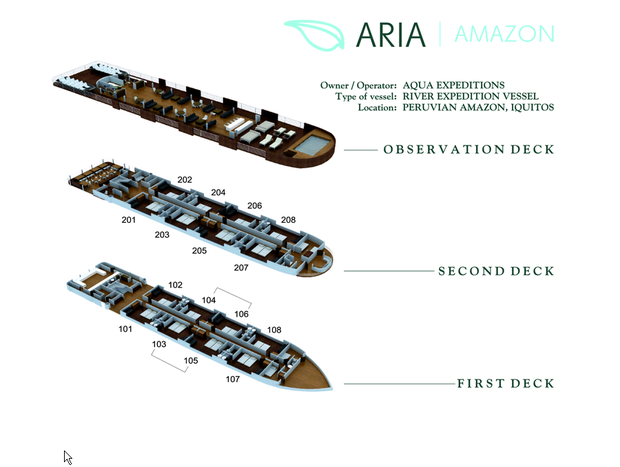 You may be interested in...
Aqua Expedition's luxury 3 night cruise on the Amazon River aboard the Aria Amazon begins in the remote colonial city of Iquitos(IQT), Peru and transports guests in exceptional comfort deep ......
click here to read more.
We highly recommend our 7-night Amazon River Expedition Cruise on the Aria Amazon where you may experience our most luxurious and comprehensive Amazon journey among the Amazon River's three powerful ......
click here to read more.
This 4 night luxury cruise on the Aria Amazon begins in the remote colonial city of Iquitos, Peru and transport guests in exceptional comfort deep into the Amazon rainforest, along ......
click here to read more.