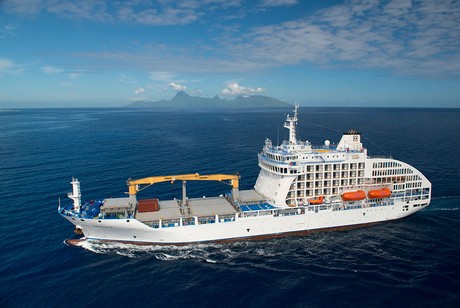 Aranui 5
Aranui 5 is a new custom-built, dual-purpose passenger/freighter that sails from Tahiti to the Marquesas, Tuamotu and Society Islands in French Polynesia on a 14 day all-inclusive cruise. Designed to offer all of the comforts of a cruise liner, while operating as a supply ship, Aranui 5 is classified as a small vessel, accommodating approximately 254 passengers and 103 cabins.
With 8 different guest decks, the interior decor reflects the Polynesian heritage of her owners and crew. The ship features a restaurant where all the meals onboard are served in a casual setting; 2 lounges; 2 conference rooms, where guest lecturers will offer presentations on various topics related to the Marquesas; 4 bars, including the Sky Bar with sweeping panoramic views; an outdoor pool; a boutique; a massage room and a gym.
Passenger accommodations range from Premium exterior staterooms, more than 90 percent with a private balcony; to Standard exterior staterooms with a picture window or porthole; to Class C, shared dormitory style cabins with occupancy for 4 or 8. Aranui 5's registry is France and thus sails under French pavilion. As such, she operates under the strictest building and safety guidelines, including the requirements of international SOLAS (Safety of Life at Sea) regulations and the French Coast Guard (CCS).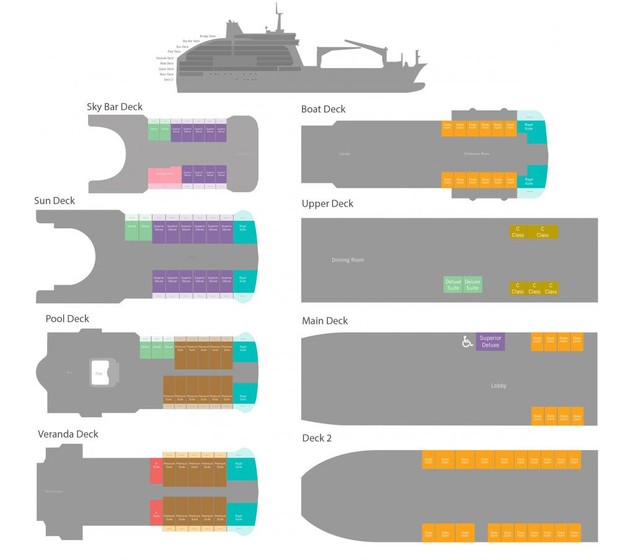 You may be interested in...
Come explore the enchanting Marquesas Islands aboard the latest incarnation of our famed ships. Setting sail in the Winter of 2015, the new Aranui 5 represents the crowning jewel of ......
click here to read more.
Located in the dazzling blue waters between Tahiti and Easter Island, this tiny, far-flung island is thousands of miles from the nearest continent. Pitcairn is so isolated it's only accessible ......
click here to read more.