American Glory
Vessel Type: Luxury Small Ship
Passenger Capacity: 49
Year Built: 2002
Your Cabin/Suite
Accommodating just 49 passengers, the American Glory offers some of the most spacious staterooms found on a ship of this size – all are over 200 square feet with en-suite facilities and a large opening picture window or private balcony from which you can enjoy the ever changing scenery from. Amenities in your cabin include complimentary Wi-Fi, satellite television and DVD player, individual climate control, writing desk and stationery, hairdryer, spacious wardrobe, four-drawer chest and bedside table. There is no public walkway in front of any cabin, therefore all windows and balconies are completely private.
Your Space
The 'country-club' atmosphere onboard allows guests to relax and get to know their fellow travellers who share their interest in American history and culture. The two spacious lounges offer ample room for passengers to sit in solitude and enjoy peace and quiet as well as make friends and enjoy a social atmosphere. The beauty of the ship is that it is small enough to get to know people and make new friends, yet spacious enough to enjoy a peaceful cruise depending on your preference. The large sun deck offers an area under shade, ample deck furniture and a putting green. There is also a lift onboard which serves all decks and the vessel features the latest navigation and safety equipment.
Your Dining
The window-lined Grand Dining Room comfortably seats all passengers in one sitting and you are free to sit where you choose with every seat offering a panoramic view. As with the general atmosphere throughout the ship, dining is a casual affair with a smart-casual dress code. The onboard chefs have great culinary credentials and you will enjoy some delicious meals during your trip. Menus are inspired by regional and local specialties, using only the freshest ingredients. Each evening before dinner, enjoy complimentary cocktails and hors d'oeuvres, as you mingle with other passengers to exchange the adventures of the day.
Life Onboard
A typical day will include an informal breakfast with your fellow guests, an exploration ashore with experienced guides followed by time cruising. The atmosphere onboard is very relaxed with the emphasis on discovery and enjoying time spent with like-minded travellers. Onboard local experts and historians will enhance your knowledge of the places you are visiting. Through informal lectures, open discussions and activities, they bring local history, nature and culture alive with their knowledge and passion for American heritage. In addition a dedicated Noble Caledonia escort will be onboard to ensure your cruise runs smoothly and is as enjoyable as possible.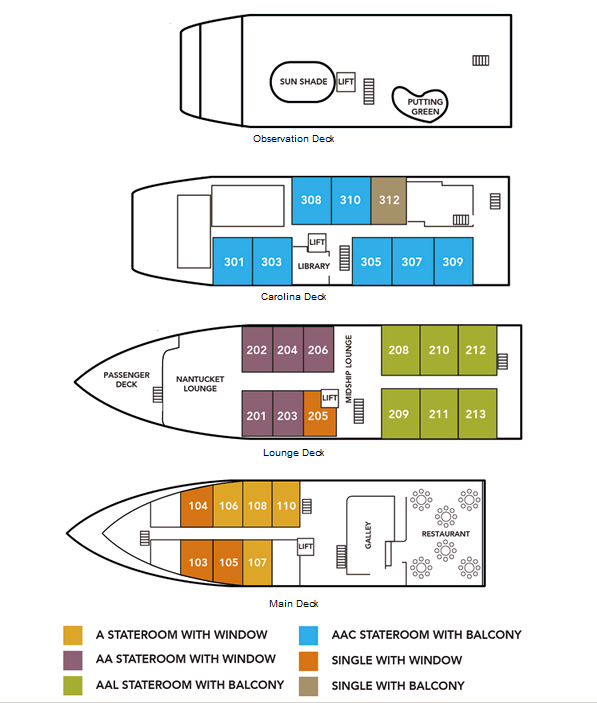 You may be interested in...