6 days from
£2765
* Current p/p indicative rate.
Overview
Highlights
Dates & Prices
Itinerary
Map
Ship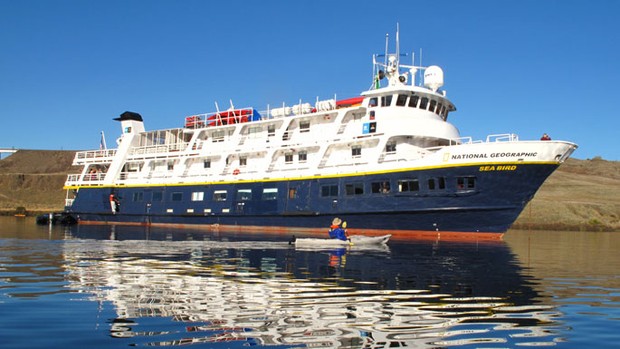 Explore Alaska on an active, exciting expedition to see the region's iconic wildlife and epic landscapes in the compact timeframe of one work week. Take long hikes on world-class trails through forests of towering trees, kayak long routes deep into glacially carved fjords, and raft to an ancient Alaska native village—all with our nimble expedition ship as your moving basecamp.
Choose our most active Alaska expedition
Expect long point-to-point kayak outings where our ship drops off our groups and then repositions to pick us up after time spent exploring quiet bays and coastlines of towering ancient trees. Hike rocky trails high into the mountains for incredible views. And venture deep into the forest along rugged trails and salmon streams to explore new ecosystems.
Encounter legendary wildlife
See humpback whales, brown bears, and bald eagles—the iconic wildlife of Southeast Alaska. Search for killer whales in the wildlife-rich channels between islands and sure-footed mountain goats in steep fjords.
Explore the "Adventure Capital of Alaska"
Call in at the small town of Haines, Alaska and choose to take a bicycle ride around a glacial lake or raft to the Chilkat Bald Eagle Preserve, where the highest concentration of bald eagles in the world thrive. Be sure to stop in at local stores or, in the evening, at one of the town's bars to hoist a few pints of local craft ale and mix with locals.
Travel in excellent company
Explore under the sure guidance of an expedition leader, five veteran naturalists, including a National Geographic certified photo instructor, plus a wellness specialist–the largest and most knowledgeable expedition team in Alaska. Their knowledge and passion for Alaska is the key to your once-in-a-lifetime experience.
• Paddle on long, naturalist-guided kayaking journeys into Alaska's dramatic bays • Choose to raft the Chilkat River with local guides and call at the ancient Chilkat Tlingit village of Klukwan • Explore Haines, the "adventure capital of Alaska," via raft, bicycle, or hiking boot • Zip around incredible icebergs and view glaciers in Tracy or Endicott Arm
show reverse itinerary
DAY 1: Sitka / Embark
Arrive in Sitka, Southeast Alaska's only oceanfront town. Stretch your legs by walking the Totem Trail in Sitka National Historic Park or other local nature trails before stopping in at the Raptor Rehabilitation Center for an up close look at Alaska's birds of prey. Embark National Geographic Sea Bird and gather for a welcome dinner this evening. (L, D)
DAY 2: Exploring Baranof / Chichagof Islands
Immerse yourself in the wilds of Alaska as you kayak deep into one of Baranof Island's countless, breathtaking bays. Hear bald eagles call from the tops of towering spruce and hemlock trees as you paddle through these mirror-calm waters. In the afternoon, hear the stories of this ancient rain forest on an adventurous hike with your naturalist guide. (B, L, D)
DAY 3: Lynn Canal
At the northern limit of Alaska's Inside Passage, the Lynn Canal offers ample opportunity for active exploration. Spend today hiking and kayaking in the shadows of snow-capped peaks where the mighty Chilkat River meets the sea. Tonight we'll call into the small town of Haines for an Alaskan evening as the locals do. (B, L, D)
DAY 4: Haines
Haines is known as the "adventure capital of Alaska" for a very good reason. Many, in fact. If you're feeling extra adventurous, you can choose from one of many world class hikes. Or cycle along the edge of a glacial lake. Or you may also choose to raft down the Chilkat River, calling into the ancient Chilkat Tlingit village of Klukwan for a dance demonstration and cultural interpretation. The day is full of options. (B, L, D)
DAY 5: Tracy Arm – Fords Terror Wilderness
Awake this morning in the stunningly beautiful Tracy or Endicott Arm, part of the Fords Terror Wilderness. Enter this glacially carved wilderness aboard our nimble ship, then set out to explore by expedition landing craft for a view of South Sawyer or Dawes Glaciers. If conditions permit, hop into one of our kayaks to paddling along fjord walls that soar straight from the sea, as you spot curious harbor seals trailing your wake. Cap off your adventurous voyage with Captain's farewell dinner. (B, L, D)
DAY 6: Juneau
Disembark in downtown Juneau and transfer to the airport for flights home, or to an optional land extension. (B)
Please Note:
All day-by-day breakdowns are a sampling of the places we intend to visit, conditions permitting.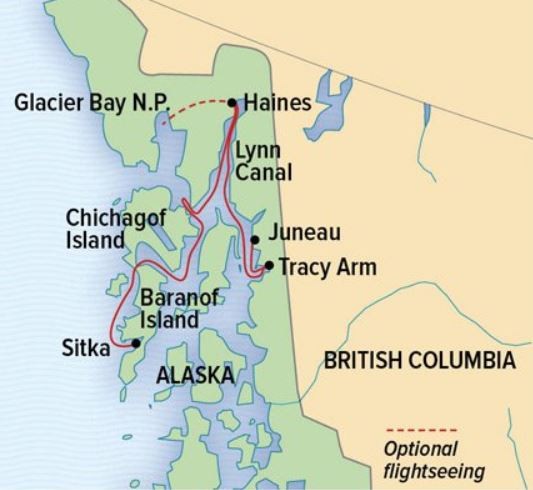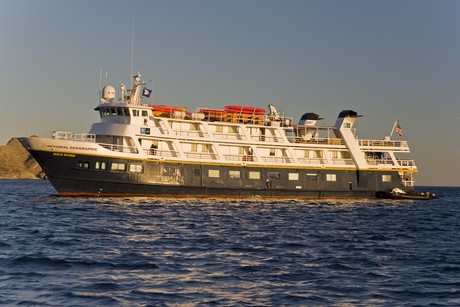 Vessel Type: Comfortable Expedition
Length: 52 metres
Passenger Capacity: 62 (in twin cabins)
Built: 1982 / 2002
Twin Expedition ships, National Geographic Sea Bird & Sea Lion, can reach places inaccessible to larger ships due to their small size, yet each can comfortably accommodate 62 guests. The feeling, is often compared to that of a large private yacht, with everyone integral to the adventure. Accessibility means freedom. Our captains have decades of sailing experience in the regions we explore. They know when and where to navigate so that you feel the places we visit are all ours.
Thanks to our sturdy fleet of Zodiacs and virtually untippable kayaks, you can be off the ship and out exploring within a moment's notice. Launch your kayak from a picturesque beach, hike with our naturalists into the rain forest or walk easily along a sandy dune. During your time with us, our expedition staff likes nothing better than to surprise and delight you by directing the ship toward breaching whales, bow-riding dolphins or into an alluring cove. Our seasoned crew consists of expert Zodiac drivers and considerate service providers. Their energy, enthusiasm and field expertise are sure to enhance your experience. This is what expedition travel is all about: not just seeing wildness, but being out there, in it.
Public Areas: Our ships feature a Library; Lounge with full-service bar and facilities for films, slide shows and presentations; Observation Deck; partially covered Sun Deck with chairs and tables, and LEXspa. Our "Open Bridge" policy provides guests and opportunity to meet our Officers and Captain and learn about navigation.
Meals: Served in single seatings with unassigned tables for an informal atmosphere and easy mingling. Breakfast is a wide selection buffet and lunch is often served family style. Menu emphasizes local flair. Cabins: All face outside with windows, private facilities, and climate controls.
Expedition Equipment: Bow Camera, hydrophone, kayaks, snorkeling gear, Splash-Cam, underwater video camera, video microscope and Zodiac landing craft.
Special Features: Guest internet access, Wellness Program. A Video Chronicler and a ship's doctor will be onboard all voyages.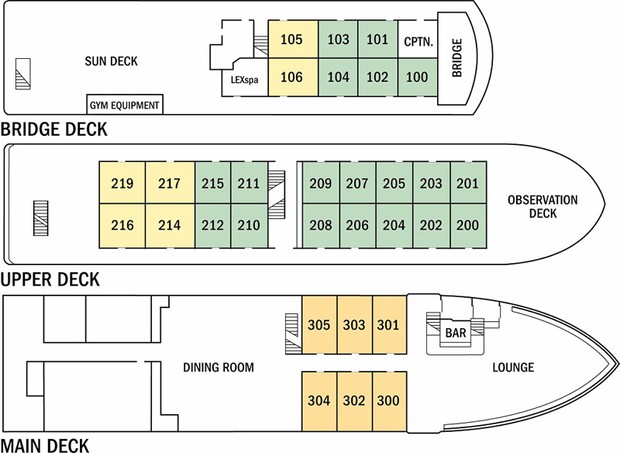 Overview
Highlights
Dates & Prices
Itinerary
Map
Ship