From Ushuaia to Ushuaia 12 Days (Sea Dream Innovation)
SeaDream Innovation voyages are curated to sail to the world's most magnificent regions.
A Truly Luxurious Voyage
From the moment you set foot aboard one of our inclusive cruises, our crew is there to support you and provide for your every need. With near 1:1 ratio, we are able to start and end your journey with the focused attention you deserve on such a voyage.
A View from Every Stateroom
No matter which suite or stateroom you choose, every guest aboard a SeaDream yacht can enjoy picturesque views of the ocean. With all ocean views, you will feel like you're aboard your own private yacht. Your stateroom also features a marble-lined bathroom, an entertainment center, and numerous other amenities to make your stay simply delightful.
Indulge: Gastronomic Dream Cuisine
Providing a 5-star dining experience, meal-time aboard a SeaDream yacht is always a highlight of the journey. Offering a gastronomical dining experience, each meal is prepared with multiple courses to give you the exciting and diverse flavors that a memorable vacation deserves. While you dine, our on-board sommelier is happy to provide wine pairing recommendations, which can enhance your lunch or dinner with the perfect addition. Preparing dishes that are light and easy to digest, we ensure that you can enjoy the complete meal including dessert. With these meals prepared a la minute, always with the freshest of ingredients, you can truly savor and appreciate the culinary experience. Dietary needs or preferences? No problem. Our chefs are trained to prepare some of the best raw/organic meals, vegan or vegetarian dishes, and handle any food allergies you might have.
We'll Take Care of the Bar Tab
At any time during an inclusive cruise with SeaDream, you might want to supplement that extraordinary 5-star cuisine with the right drink. While our on-board sommelier is happy to offer wine pairings during your meals, that is far from the only inclusive drink option available. Our open bars include select premium beverages, so make sure to talk to your bar tender and find out what you have to enjoy. Beyond the premium drinks, wine pairings, and signature cocktails, your fare also includes all tips & gratuities. This means you never have to worry about carrying cash to tip your favorite bartender or wait staff. Pay them a compliment if you wish, but anything else is already covered. In addition to these mainstays, we also include wine with your meals and select premium spirits and beverages during the course of your voyage. This allows you to visit any of the bars and enjoy a drink on us – gratuities are included too. Your fare also includes access to a wide variety of entertainment and relaxation options, such as the Golf Simulator and our popular signature Balinese Dream Beds.
Visit the Watersports Marina
Available when the yacht makes port or lays anchor, the Watersports Marina Platform is a guest favorite. Offering access to the open ocean, this beautiful marina is fully stocked with a wide variety of water toys. Included with your fare, you can take advantage of these various options or just enjoy swimming in the ocean. Perhaps you want to take out a wave runner to cut through the open water or some snorkeling gear to dive under and explore the crystal-clear sea. If that is not right for you, then you might consider taking out a personal sailboat to explore the nearby waters. Kayaks and stand up paddle boards are also quite popular, allowing our more active guests to enjoy the waters while getting in some exercise.
Maintain Your Active Lifestyle
Our more active guests will want to make sure and stop by the Fitness Center that offers all the exercise equipment you need. This includes treadmills, recumbent bikes, free weights, and more. Those who want a more social exercise experience can also participate in daily yoga and Tai Chi classes.
Plenty of On-Board Entertainment
Another highlight of your inclusive cruise is the on-board entertainment that is available to all our guests. Beyond the in-room television and DVD player, we also provide a host of other options for our guests. The Library is filled with over 1,200 titles, you'll find both fiction and non-fiction reading materials to tide you over between other activities. This is perfect if you just want a fine glass of wine and a good book.
Relax On Deck
While these entertainment options may be perfect for most guests, what happens when you want a more relaxing and quiet escape? Fortunately, we offer plenty of exceptional options for those occasions. During the day, you might head up on deck and lounge in one of the included sun beds. Though you'll likely to find them comfortable as they are, go ahead and ask one of the crew members for some extra pillows if you need them. This all makes a wonderful way to pass the time and enjoy the ocean breeze. Enjoy the unstructured elegance of yachting.
Eco-Friendly Technologies
SeaDream Innovation has a creative and sustainability-focused approach to energy and climate technology. The yacht was designed to enable authentic experiences to allow guests to enjoy the world's natural beauty while preserving its resources and promoting sustainability and responsible travel.
From Ushuaia to Ushuaia 12 Days (Sea Dream Innovation) itinerary:
show reverse itinerary
Day 3 South Shetland Islands, Antarctica
Days 4 - 5 Antarctic Sound & Weddell Sea, Antarctica
Day 6 Deception Island, Antarctica
Day 7 Cuverville Island & Danco Island, Antarctica
Day 8 Lemaire Channel & Petermann Island, Antarctica
Day 9 Paradise Bay & Neko Harbour, Antarctica
Day 12 Ushuaia, Argentina
Please Note:
Itineraries are subject to change.
From Ushuaia to Ushuaia 12 Days (Sea Dream Innovation) reverse itinerary:
show main itinerary
Itineraries are subject to change.
*
= Indicative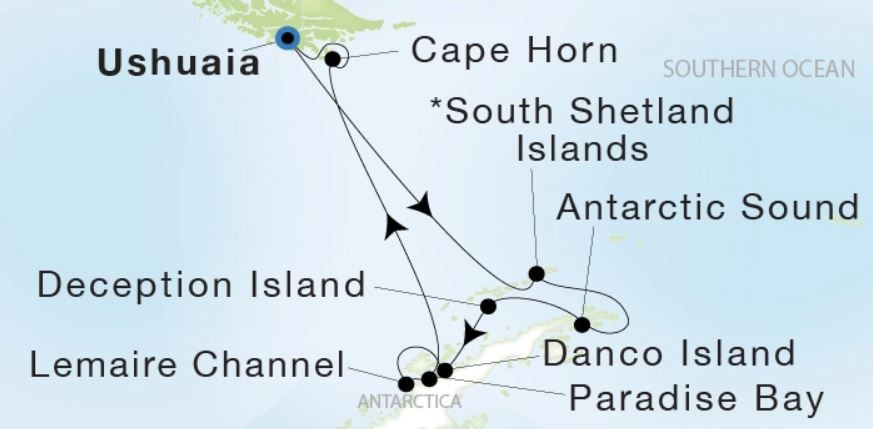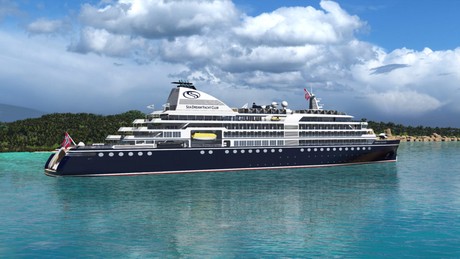 Sea Dream Innovation
SeaDream Innovation is amongst the world's most advanced ships, using hybrid technology to sail to all seven continents. There are four passenger decks on SeaDream Innovation. Levels five, six, and seven have balconies. All suites have an ocean view. In the coming weeks, we will provide more details about the Yacht as well as renderings of the suites.
SeaDream Innovation will be equipped with a large battery pack of approximately 4 MWh, which enables sailing silently and without emissions for up to three hours with no disturbance to surrounding wildlife. The hybrid system will reduce local emissions by supporting the diesel generators in "peak shaving mode", reducing fuel consumption. The yacht will be able to sail to sensitive areas such as the Norwegian fjords and along the ice edge toward the North Pole because of this system. The batteries also bring an added degree of safety, acting as "spinning reserve," which in the event of a motor shutdown switches instantaneously to the use of batteries without loss of power.
SeaDream Innovation will also install an "Organic Rankine Cycle" machine that takes waste heat from the engines and converts it to electricity. This can produce up to 150 kW of electrical power, which would otherwise have been wasted energy, and instead reduces fuel consumption and results in lower emissions.
Where available by port, SeaDream Innovation can be plugged into shoreside electrical grids around the world by using a multi-voltage shore connection system reducing local pollution anywhere in the world. The mega-yacht has four modern diesel engines and a Selective Catalytic Reduction (SCR) system for reducing nitrous oxide (NOx) emissions to the most stringent IMO rules with engines rated to meet the latest and most stringent MARPOL Tier III limits. SeaDream Innovation will be equipped with two podded propulsors providing the highest efficiency and maneuverability. Additionally, SeaDream Innovation will have the high ice class that is designated by PC6.
Vessel Type: Luxury Small Ship
Lenght: 155m
Passenger Capacity: 210
Built: 2020-2021
110 Staterooms * 1:1 Guest Ratio * 190-210 Crew * 9 Decks * 3 Marinas * Delivery 2021 * PC6 Polar Class * Outdoor space: 3500m²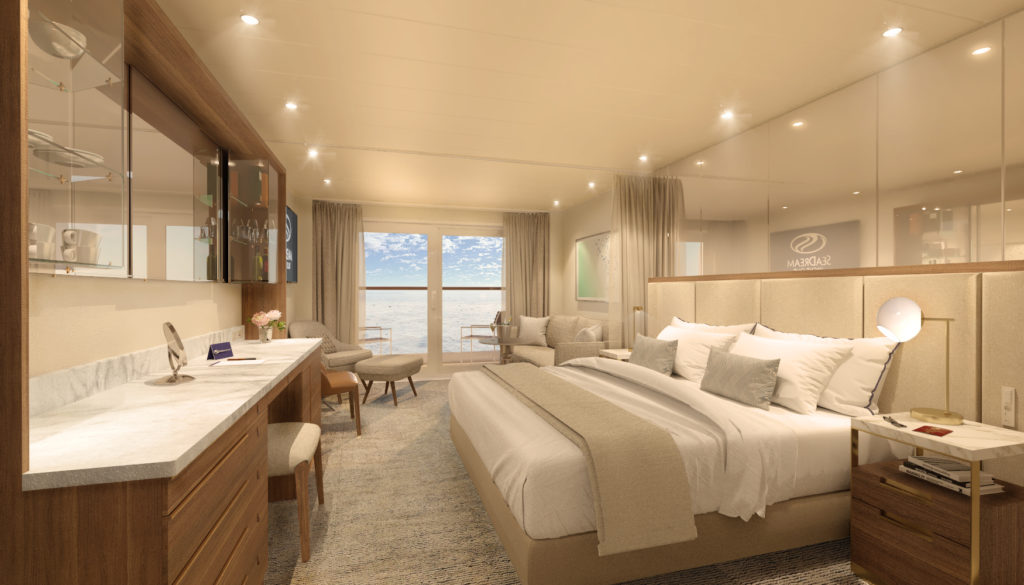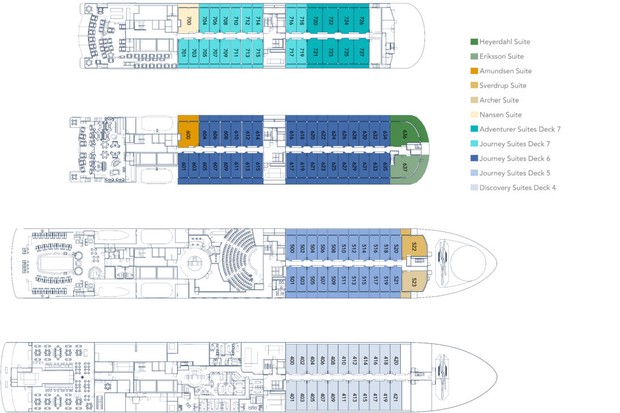 • Discover Ushuaia, South Shetland Islands, Antarctic Sound & Weddell Sea

• Explore Deception Island, Cuverville Island & Danco Island, Lemaire Channel & Petermann Island

• Visit Paradise Bay & Neko Harbour, Cape Horn