Through Great Britain and Iceland
Experience how different and yet how beautiful two countries can be on this journey through Great Britain and Iceland. We will sail from capital to capital, London to Reykjavik, with stops in Scotland and Wales. The voyage starts as you pass under the storied Tower Bridge high and regal above the Silver Cloud. We carry on down the Thames River past Greenwich, then make our way to the tiny Isles of Scilly where we will visit the unique sub-tropical Tresco Abbey Gardens, cultivated around a 10th century Benedictine Abbey. Further on we will search for incredible bird cliffs in Wales, Scotland, the Faroe Islands and Iceland, including the astounding numbers of puffins, gannets and guillemots that can be seen in Lartrabjarg, Europe's largest bird cliff. Words fail to describe the Ring of Brodgar, the Neolithic stone structure that we will visit in Orkney, a UNESCO World Heritage Site. Ride aboard the Isle of Man Steam Railway, the island's oldest Victorian rail system with its original carriages still in operation. In Iceland there will be time to explore the volcanic landscapes and to watch for whales. Throughout the voyage, learn about the geology, wildlife and botany of these naturally beautiful locations from lecture presentations offered by your knowledgeable on-board Expedition Team.
Through Great Britain and Iceland itinerary:
show reverse itinerary
Days 1 & 2 - LONDON (TOWER BRIDGE)
Day 3 - ST PETER PORT, GUERNSEY
Day 4 - TRESCO & ST MARY'S, ISLES OF SCILLY
Day 5 - PEMBROKE & SKOMER ISLAND
Day 6 - DOUGLAS, ISLE OF MAN
Day 8 - CRUISE OLD MAN OF HOY & PIEROWALL, WESTRAY, ORKNEY ISLANDS
Day 13 - CRUISE ALONG HORNBJARD CLIFFS, ICELAND & VIGUR ISLAND
Day 14 - DYJANDI & LATRABJARG CLIFFS
Through Great Britain and Iceland reverse itinerary:
show main itinerary
*
= Indicative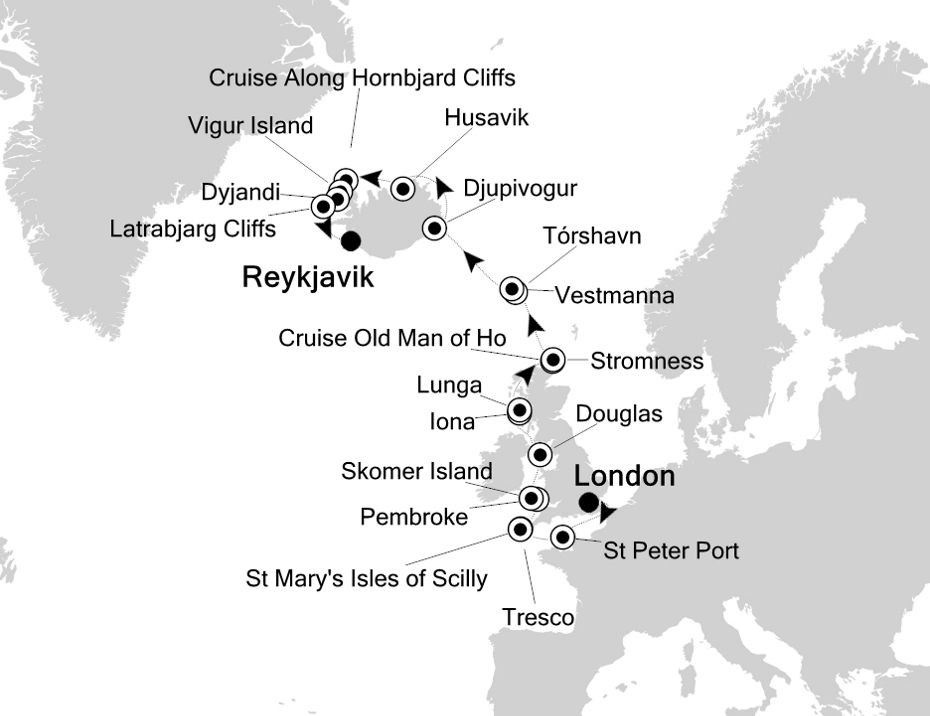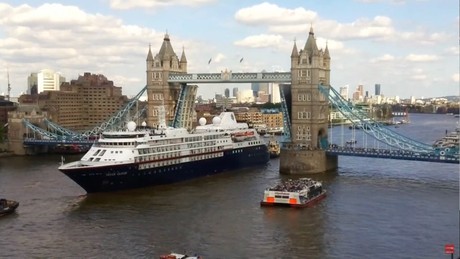 Silver Cloud
Vessel Type: Luxury
Passenger Capacity:296
Refurbished: 2017
With 18-brand new Zodiacs, four superlative restaurants in Antarctica and a pole to pole expedition itinerary, Silver Cloud really does break the ice between expedition and luxury. Spacious yet intimate, designed to cross oceans and yet able to slip up rivers and into hidden harbours with ease, the yacht-like Silver Cloud carries just 296 guests in incomparable comfort and style. Combining spacious ocean-view suites and private verandas with stunning dining and entertainment options, Silver Cloud provides world-class cruise accommodations, service and amenities.
After extensive refurbishment, Silver Cloud is the most spacious and comfortable ice class vessel in expedition cruising. Her large suites, her destination itineraries and her unparalleled service make her truly special. Her four dining options will tantalise your taste buds and as 80% of her suites include a veranda, watching a breaching whale or a few cavorting penguins has never been so personal. She carries a limited number of guests in polar waters, meaning that Silver Cloud has the highest space to guest and crew to guest ratios in expedition cruising. With her 18 zodiacs, 10 kayaks, possibilities are almost limitless with ship-wide simultaneous explorations.
• Tresco, Isles of Sicily –Visit Tresco Abbey Gardens, an astounding 17-acre sub-tropical paradise with palm trees and brilliant flora nestled amidst the ancient ruins of a Benedictine abbey (964 AD). Thousands of exotic plants thrive here that could not possibly grow even 30 miles away on the mainland in Cornwall thanks to warm fingers of Gulf Stream waters

• Iona Abbey, Scotland –See the idyllic setting of one of Scotland's most spiritually and architecturally significant monasteries, with original architectural components dating as far back as the 12th century and history dating back to 563 AD. This is the site of the creation of the Book of Kells, a famous illuminated manuscript dating back to 800 AD.

• Torshavn, Faroe Islands –This is the capital city of the rugged, beautiful subpolar Faroe Islands. Walk through the quaint Nordic streets of the old city and visit Kirkjubøur, site of the 12th century Saint Olav's Church.

• Vigur, Iceland –Visit tiny Vigur to see the life of Icelandic eiderdown collectors, and observe Atlantic Puffins and Artic Terns as we take an invigorating nature walk.

• Lartrabjarg –From water level, you will marvel at one of Europe's largest bird cliffs, where countless puffins, gannets, guillemots and razorbills live. The sounds, smells and sites will leave an indelible mark in your memories when you recall this wild destination.

• Visit Iona Abbey and other stately and remarkable historic cathedrals and ancient churches.

• Shore wildlife and seabirds: Northern Gannets, Manx Shearwaters, Black, Common and Brünnich's Guillemots, Razorbills, Great Cormorants, and Common Shags, Black-legged Kittiwakes, Atlantic Puffins, Arctic Terns and European Storm Petrels, Eurasian Oystercatchers and several gull species

• Land birds: Short-eared Owls, Common Kestrels and Peregrine Falcons, Meadow Pipit

• Marine mammals: humpback and Minke whales, grey seal, common seal Expedition highlights and wildlife listed here are possible experiences only and cannot be guaranteed.