10 days from
£3105.54
* Current p/p indicative rate.
Overview
Highlights
Dates & Prices
Itinerary
Map
Ships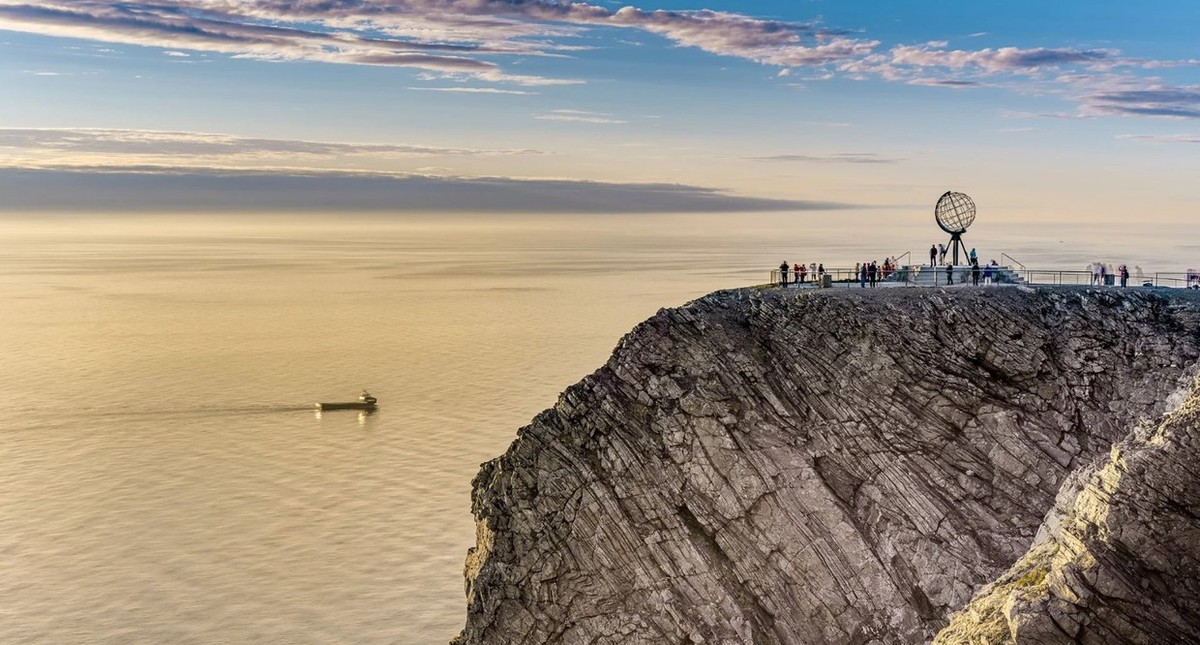 Journey to a variety of coastal communities on the Norwegian coast while headed north to the remote Svalbard archipelago.
Once there, you'll spend two nights in the High Arctic settlement of Longyearbyen, exploring the landscapes of the island of Spitsbergen.
Head into the High Arctic on the northbound leg of our nostalgic route that connects mainland Norway with Svalbard, at the edge of the world
Enjoy life aboard exceptionally designed MS Trollfjord, freshly refurbished in 2022 with the finest materials and ship craftsmanship
Visit a variety of charming coastal communities on mainland Norway and on Svalbard and take your pick from authentic, locally run optional excursions
Experience variations of summer the length of Norway, basking in 24 hours of daylight from the glorious Midnight Sun at the height of the season
There are no future departures for this trip at this stage.
show reverse itinerary
DAY 1 : Bergen - From sky to sea
Welcome to Norway! You'll arrive in Bergen, a beautiful city on the west coast of Norway. Admire views of the majestic peaks that famously surround the city, giving Bergen its nickname, "The City of Seven Mountains". A transfer from the airport takes you directly to our comfortable guest lounge at the Bergen Terminal. Here, you can sample finger-food from our Norway's Coastal Kitchen and talk to staff about securing a spot on any optional excursions still available. Once we've welcomed you aboard MS Trollfjord, you'll meet your ship's Coastal Experience Team, who will be your guides and hosts to the Norwegian coastline and Svalbard. Get acquainted with your shipmates, and take some time to get comfortable in your new home-away-from-home. Enjoy your first meal aboard the ship, and watch the row of colourful buildings on the seafront get smaller behind you as you sail into the Norwegian Sea.
DAY 2 : Åndalsnes - Alpine village by the fjord
Located along Isfjord at the end of Romsdalfjord, Åndalsnes is our first port of call. After docking in the morning in the town centre, you'll get the chance to explore this picturesque coastal town, home to about 2,000 people. From 1838 until 1964, the village of Åndalsnes served as the administrative centre of the old municipality of Grytten, during which time it had to be completely rebuilt after an attack during World War II. Now, Åndalsnes is a modern town with its own local newspaper, in one of Norway's most stunning natural locations. The literal highlights of Åndalsnes are the mountains that tower over the town. Experience the Norwegian concept of friluftsliv – a love of the outdoors – through a variety of activities, such as hiking to Rampestreken viewpoint. For a more sedate way to take in the sights, sit back for a relaxing ride on the Romsdal Gondola or travel the winding Trollstigen Pass by bus. Whichever activities you choose, this day will bring you the best views of Isfjord and Romsdalfjord, and the surrounding peaks.
DAY 3 : Træna - Norway's oldest fishing community
We'll sail along the coast of the Helgeland region in the morning. When you see islands rising out of the water in the distance, you'll know we're almost at our next destination. Træna is an archipelago that sits at the edge of the Arctic Circle, 33 nautical miles northwest of the mainland. Made up of around 500 islands, islets and skerries, with only four inhabited year-round, Træna is a quiet municipality, with birdlife thriving on the mostly uninhabited isles. Though small, this archipelago has a long history, with archaeological finds indicating that the islands have been inhabited since the Stone Age. Some of these ancient relics have been found in a cave on the island of Sanna, which is now used as a venue for an annual music festival. Spend the afternoon in one of Norway's oldest fishing communities. If weather permits, you might be able to enjoy such activities as hiking and biking, or even island hopping. With a large population of Sea Eagles, birdwatching is another activity you won't want to miss. For a truly authentic experience, step into the age-old shoes of a Norwegian fisherman, and cast a line under the summer sun. When it's time to leave in the evening, take some time to rest onboard and unwind. We'll cross the Arctic Circle as we continue heading north, commemorating the moment with a little Norwegian ceremony.
DAY 4 : Stokmarknes / Vesterålen - Birthplace of The Norwegian Coastal Express
Spend a full day in Vesterålen, an archipelago just northeast of Lofoten. This island chain is the namesake of our very first Coastal Express ship to sail Norway's rugged coastline in 1893. We'll dock in the historic town of Stokmarknes. This town holds a special place in our hearts, being the birthplace of Hurtigruten Norwegian Coastal Express. Today, we go right back to where it all began. In 1893, in this very town, shipping pioneer Richard With founded the Original Coastal Express, revolutionising coastal passenger travel, as well as Norwegian shipping. Before long, Hurtigruten had become a lifeline for Svalbard and Norway's other remote communities, boosting their economy by carrying exports to and from the ports. Stokmarknes is therefore a fitting location for a museum that immortalises our inspiring legacy. Hurtigrutemuseet can be found along the waterfront, where our retired 1956 ship, MS Finnmarken, proudly stands encased in a glass building. Here, you'll find archives, photographs, and artefacts displayed throughout a range of interactive exhibitions. On a guided tour, you'll be immersed in the atmosphere of a different era as you explore the retired vessel. Besides visiting the museum, you may be able to enjoy hiking and other activities on the islands. Go on a RIB tour to Raftsundet, or a Sea Eagle safari in the fjord that gave your ship MS Trollfjord its name. On Averøya, the northernmost island of the archipelago, you might see whales in the nearby waters, and taste flavourful dishes paired with fine wine at Kvitnes Gård. This gourmet farm restaurant pays homage to the coast by using local ingredients to make each course, which is then served artistically on locally-made plates.
DAY 5 : Tromsø - Gateway to the Arctic
Tromsø is Northern Norway's urban Arctic hotspot, boasting impressive architecture, hip restaurants, and the world's northernmost university. Rich in polar history, it makes for a natural stopping point before we go further north and into the High Arctic. This modern city has a long legacy, with artefacts being found nearby that date back to the Ice Age. The city grew in importance after being declared a kjøpstad, or "market town" in 1794, despite only being home to 80 people. It became a centre of Arctic hunting in the mid-1800s, and by the end of the 19th century, Tromsø was an established Arctic trade centre. We aim to dock here in the morning, giving you a whole day to explore this historic Arctic city and its surroundings. Learn more about the culture and polar history of Tromsø on a city walk. Or go watch graceful seals at the Polaria centre, one of the world's northernmost aquariums where you can see various species of Arctic marine life up close. There may also be an option to visit the striking Arctic Cathedral which has an impressively large multi-coloured stained-glass window. Or towering over Tromsø is Storsteinen Mountain, accessible via Fjellheisen Cable Car for exceptionally beautiful views of the city, mountains, and fjords.
DAY 6 : Honningsvåg - At the top of Europe
Around mid-morning, we arrive at Honningsvåg, the northernmost city in mainland Norway. Honningsvåg is a fairly young city, having only been declared as such in 1996, and it remains one of Norway's smallest cities today. Spend some time wandering around or head straight to Honningsvåg Church which dates back to 1885, making it the oldest building in the area. Peruse local pieces at the Once Upon A Dream art gallery or drop into the Artico Ice Bar for a drink or two on the rocks. Honningsvåg is also the gateway to the North Cape, the famed "northernmost point of Europe". The plateau stands 307 metres above the sea, and is just over 1,000 miles south of the geographical North Pole. Take a moment to gaze out across the sea from a top the soaring cliffs, watching the waves crash against the rocks below. Standing proudly on top of one of the cliffs is an iconic globe monument which invites all visitors to take a quick selfie. Selfie sorted, you'll also want to visit North Cape Hall, which has a variety of exhibits and a short film that tells of the cape's history. Sailing away from Honningsvåg, we'll enjoy dramatic views of the plateau from the sea. The ship will head further into the Barents Sea, leaving mainland Norway's coast far behind us.
DAY 7 : At sea around Bjørnøya - Between Norway and Svalbard 
The southernmost island of the Svalbard archipelago, Bjørnøya sits just past the halfway point between mainland Norway and Spitsbergen. We'll be viewing this inaccessible land from the ship in the afternoon, so think of this as the prologue to your Svalbard adventure. Upon seeing the island, you might notice the lack of trees, and even bushes. Very little grows here, with the land partly being covered only by a layer of moss and lichen. Whatever does grow here is fertilised by the abundant birdlife that nests on the sea cliffs. Get your camera ready to capture Little Auks, Puffins, Black-legged Kittiwakes, and Northern Fulmars flying over dramatic cliff tops and steep slopes, alongside many other seabird species. Contrary to its name, which means "Bear Island", the only native mammals are Arctic foxes. The island was named after a polar bear was spotted swimming in the waters nearby, but this is an unlikely sight this far south. Aboard the ship, you can learn about Bjørnøya's history through polar history lectures. You might find out about the historic expeditions that led to its discovery, and the subsequent claims that various countries have made to the island. Discover the strategic importance of this unreachable sanctuary, and the role Bjørnøya played in World War II. Sailing on from Bjørnøya, continue to make use of MS Trollfjord's various onboard facilities to relax, such as the sauna, fitness room, or outside hot tubs. There will also be a photography workshop today to get your camera eye and lens in focus to best capture the wildlife and wilderness awaiting us in Svalbard.
DAY 8 : Longyearbyen - At the edge of the world
Today, we arrive at the Svalbard archipelago and make our way up to Spitsbergen, the largest of the three main islands. Magnificent brown and green mountains rise and ripple up from the High Arctic tundra while rivers of snow-melt trickle through the valley plains, glistening under the summer sun. Take a moment to just be here, now, in Svalbard. You're at a latitude more than 78°N and under 820 miles / 1,500 kilometres from the North Pole itself. The air is fresh and pure, and the overall temperature in summer is mild thanks to a warm northern branch of the Gulf Stream. You'll disembark the ship at Longyearbyen, nestled on the banks of a sweeping, large fjord. It is the biggest settlement in Svalbard and pegged as the world's northernmost settlement with a population greater than 1,000. Home to some 2,000 inhabitants from across the world, it originally sprang up as a coal mining colony in 1906. Today, it is a hub for adventure travellers, as well as scientists and engineers attached to local research projects, like the famous Global Seed Vault. After transferring and checking in to your hotel, it's then on to Camp Barentz, located at the foot of Breinosa mountain, for a true Svalbard wilderness evening. There, enjoy dinner in a cosy wooden cabin and maybe even try some bidos – a traditional, homemade Sámi stew of slow-cooked reindeer meat and vegetables. Tuck into your dessert outside around the campfire, perhaps under the Midnight Sun. End your day admiring the mountains as we head back to your hotel in Longyearbyen.
DAY 9 : Longyearbyen - Mini adventure in the High Arctic
After breakfast at your hotel, you'll be off on a mini adventure aboard hybrid-electric catamaran MS Bard. Make the most of the summer climate to take a tour on the water of Spitsbergen's magnificent landscapes at Billefjord and Nordenskiöldbreen. MS Bard is a groundbreaking new catamaran for day cruises. Whenever it approaches glaciers, wildlife, or settlements, it will run silently on electric propulsion. This together with its specially designed propellers create minimal noise and vibration so as not to disturb Arctic wildlife. Early in the season, there might still be ice in Billefjord. Switching to the boat's electric motor, we'll carefully and silently follow the ice edge, on the lookout for seabirds, walrus, and seals. You'll also be able to enjoy views of the beautiful and vast Nordenskiöld glacier which crumbles icebergs into the fjord. Along the way, you can spot abandoned Soviet coal mining town Pyramiden in the distance, so named after the shape of a nearby mountain. While a ghost town for many years, there have been recent attempts by various individuals to repopulate the area. On the outer park of Billefjord is Skansbukta, another small settlement and gypsum mine lost to time under the impressive cliffs. MS Bard will also sail past Svenskhuset, the oldest standing building on Spitsbergen and site of tragic lead poisoning in tinned food that claimed the lives of 17 hunters and sailors. Admiring the views of the fjord, glacier, mountains, and Arctic flora in bloom, you'll make your way back to Longyearbyen on MS Bard to spend the night at your hotel.
DAY 10 : Longyearbyen - Return from the top of the world
Following breakfast at your hotel, it's time to say farewell to Svalbard and to Spitsbergen. A transfer will take you to the airport at Longyearbyen, from where you'll fly home. You've travelled as part of this historic, iconic voyage to pieces of paradise along the Norwegian coast and Svalbard you won't soon forget. If you've engaged in optional excursions, will you have photos to share of you kayaking, hiking, fishing, cycling in some of the most beautiful scenery ever seen? We know you'll take fond memories home with you and we wish you a safe onward journey. This has been The Svalbard Express. We hope to see you back here with us soon.
Please Note:
The day-by-day programme will give you a few ideas about what you can see and do on your coastal voyage in Norway, but bear in mind that this itinerary is just an indication of what you can experience. After all, this is a sailing where the elements rule and weather conditions might vary, which is why every voyage with The Hurtigruten Coastal Express is unique.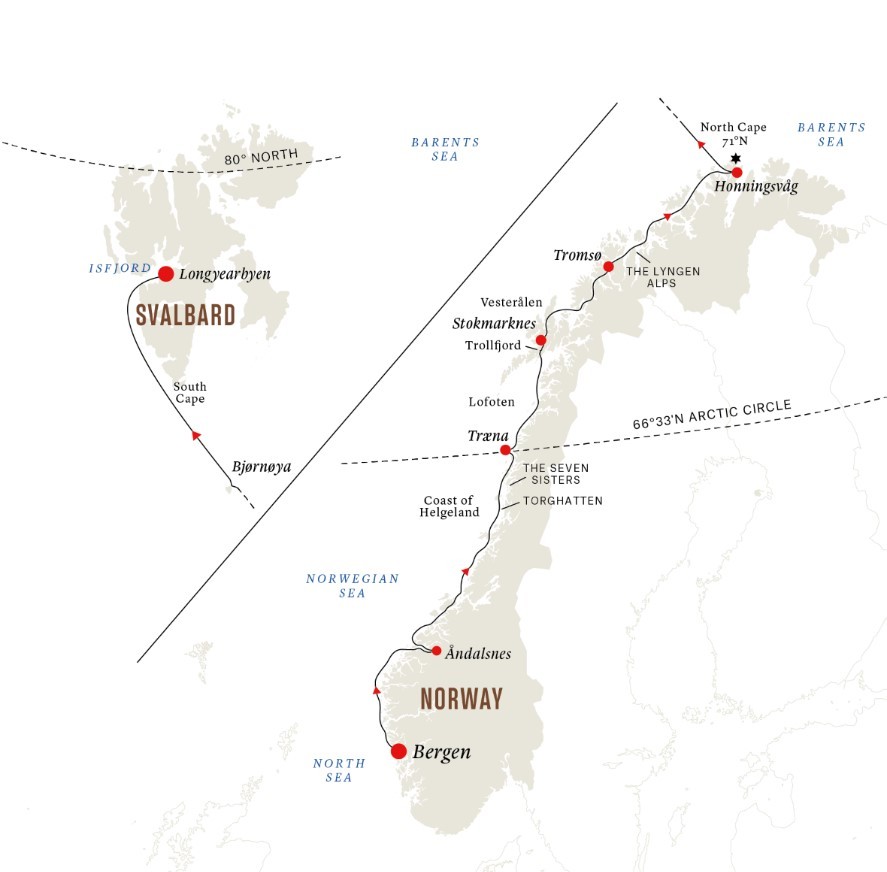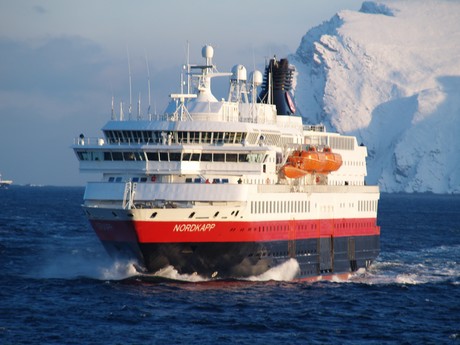 All of our ships include large lounges and deck space affording perfect views to the changing scenery, creating a proximity to nature throughout the ship. This atmosphere give you the energy to participate on our on board activities and excursions, that take you even closer to the coast.
On all our ships you will find a wide range of comfortable cabins, from exclusive suites with their own balcony and extras, to cosy inside cabins. We have devided them into four categories; Expedition Suite, Arctic Superior, Polar Outside and Polar Inside with different amenities and extras.
MS MIDNATSOL The name Midnatsol (Midnight Sun) is something to live up to, and this ship is dedicated to the Norwegian summer. The interior's bright, colourful décor is inspired by the warm sunny climate, a motif also reflected in the many pieces of Norwegian modern art on display. SPECIAL FEATURES: • Two-story panorama lounge • 3 bars • Café • Library • Restaurant • Separate À la Carte dining room • Playroom • Sauna • Jacuzzi • Fitness room
MS TROLLFJORD The ship is named after the famous Trollfjord, and has a comfortable interior, with an extensive use of Norwegian wood and stone. SPECIAL FEATURES: • Two-story panorama lounge • 3 bars • Café • Library • Restaurant • Separate À la Carte dining room • Playroom • Sauna • Jacuzzi • Fitness room
MS FINNMARKEN On board MS Finnmarken you find the relaxed Hurtigruten atmosphere combined with a bit of luxury. The ship is beautifully appointed and decorated in the Art Deco style. She is the only ship with both a swimming pool and Jacuzzi on deck. A special feature on the MS Finnmarken is the bow; from deck 5 you can actually go all the way to the tip. SPECIAL FEATURES: • Top deck features a panorama lounge • Fitness room • Sauna with a view • Deck 8 has a café with sitting space both inside and outside Bar • Playroom • Café • Restaurant on deck 5 and separate À la Carte dining room
MS NORDNORGE Nord-Norge means the northern part of Norway, mostly situated north of the Arctic Circle. The interior décor reflects an Art Nouveau and Art Deco influence. MS Nordnorge is one of our three expeditions ships, meaning she take guest on more active voyages along the coast. SPECIAL FEATURES: • Sun deck • Expedition ship • Expedition team • Extra lectures • Extra activities • Extra excursions • Large panorama and observation lounge with great views • Restaurant • Café • Library
MS NORDKAPP MS Nordkapp is named after one of the highlights of the Hurtigruten voyage, the northernmost point of mainland Europe, the North Cape (71ºN). She is one of our expedition ships. There will be interesting lectures inside the ship, and out on the sun deck. Topic will depend on season and waters we sail in. SPECIAL FEATURES: • Sun deck • Expedition ship • Expedition team • Extra lectures • Extra activities • Extra excursions • Large panorama and observation lounge with great views • Restaurant • Café • Library
MS POLARLYS Polarlys is the Norwegian word for polar light. MS Polarlys is a stylish and furnished with mahogany panelling, polished brass, and a selection of Norwegian contemporary art. SPECIAL FEATURES: • Sun deck • Large panorama and observation lounge with great views • Restaurant • Café • Library
MS NORDLYS Expedition ship MS Nordlys is named after spectacular natural phenomena; the Northern Lights (or Aurora Borealis). The ships art, décor and colours are all inspired by the Northern Lights phenomenon. SPECIAL FEATURES: • Expedition ship • Expedition team • Extra lectures • Extra activities • Extra excursions • Large panorama and observation lounge with great views • Restaurant • Café • Library
MS RICHARD WITH MS Richard With is named after Captain Richard With. His establishment of the Norwegian Coastal Express back in 1893 had an enormous impact on life along the Norwegian coast. SPECIAL FEATURES: • Sun deck • Large panorama and observation lounge with great views • Restaurant • Café • Bar • Fitness room
MS KONG HARALD Although this ship is named after King Harald of Norway, you will find other famous Norwegians on board as well: The bar is named after the Norwegian polar pioneer Fridtjof Nansen and the café is named after explorer Roald Amundsen. SPECIAL FEATURES: • Sun deck • Large panorama and observation lounge with great views • Fitness room • Restaurant • Café • Library
MS VESTERÅLEN MS Vesterålen is characterised by her bright, cheerful public areas and lounges. SPECIAL FEATURES: • Panorama lounge • Smaller lounges in the front and back of the ship • Café • Restaurant
MS LOFOTEN MS Lofoten, our old time favourite, was launched in Oslo in 1964, and provides you a voyage of real nostalgia and intimate informal atmosphere. SPECIAL FEATURES: • Special programme that enhances the heritage of Hurtigruten and the feeling of the 60s • Four-course special made dinners • Activities specially made for voyages with MS Lofoten • Two sun decks • Panorama lounge • Bar and Café • Extra lounge in the aft.
Please Note : the deckplap below is the Nordcapp and the deckplans vary.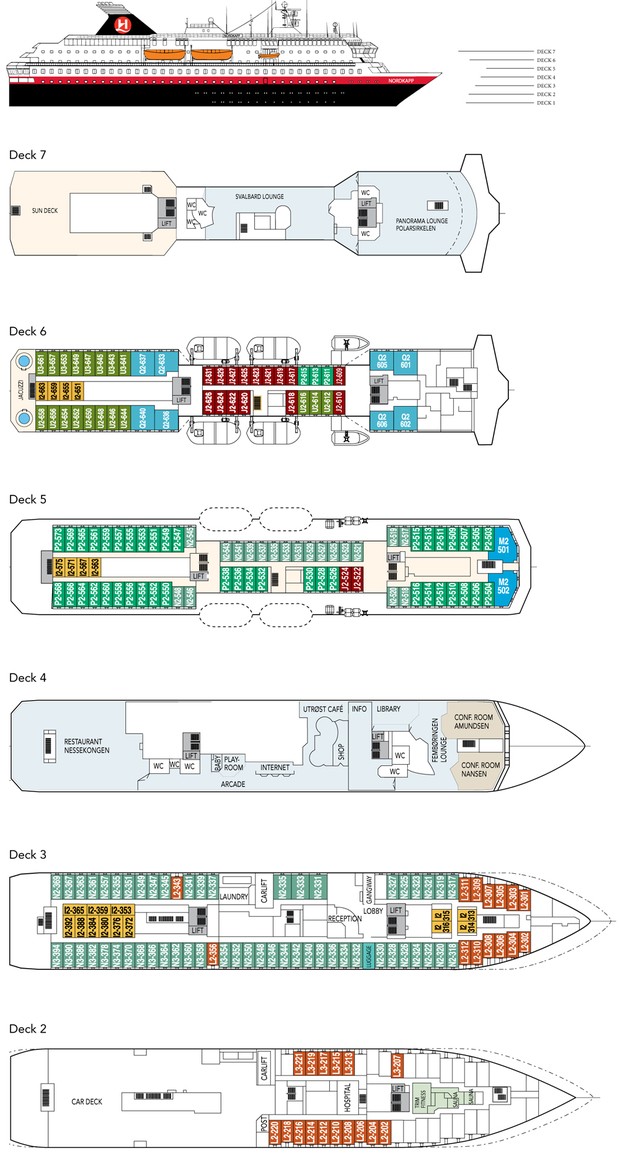 Vessel Type: Expedition Length: 135.75 m Passenger Capacity: 500 Built / refurbished: 2002 / 2023 MS Trollfjord is an homage both to Norwegian nature and our 130-year heritage sailing the Norwegi…
Vessel Type: Expedition
Length: 135.75 m
Passenger Capacity: 500
Built / refurbished: 2002 / 2023
MS Trollfjord is an homage both to Norwegian nature and our 130-year heritage sailing the Norwegian coast. Locally sourced natural materials such as wood and stone feature prominently throughout the ship's furnishings, reflecting the beauty of the fjords we sail through. The style of décor is classic, timeless, and unique in our fleet. You'll notice details and flourishes that evoke a sense of nostalgia, harking back to a golden era of exclusive small-ship sailing.
Ship facilities
• Double-storey observation lounge on the upper decks
• Large outdoor sun deck with comfortable furniture
• Wi-Fi throughout the ship
• Stylish bar with a wide range of beverages
• Onboard shop stocked with essentials and souvenirs
• Library with a selection of literature and brochures
• Espolin Johnson lounge
• Activities and lectures on board with the Coastal Experience Team
• Panoramic sauna and fitness room
• Photography area with camera equipment available for rent
• A la carte fine-dining restaurant Røst
• A series of culinary demonstrations and tastings throughout the ship
• All-day dining bistro Brasserie Árran
• Main restaurant Flora for all three daily meals
Overview
Highlights
Dates & Prices
Itinerary
Map
Ship