Svalbard and East Greenland
Join us for a journey to Svalbard and East Greenland, to see isolated islands, remote landscapes, glaciers, and to look for polar bears, walrus and musk oxen. Aboard the resilient Silver Explorer and by Zodiac, go past spectacular bird cliffs in Bear Island and Svalbard, marvelling at the number of guillemots and gulls that congregate using these cliffs to nest. In Svalbard, you will encounter fascinating landscapes, mountains, fjords and glaciers while looking for walrus and polar bears. In East Greenland we will hope to enter into perhaps the largest fjord system in the world. Throughout the voyage, learn about the geology, wildlife, botany and history of this spectacular region from lecture presentations offered by your knowledgeable on board Expedition Team.
Svalbard and East Greenland itinerary:
show reverse itinerary
Day 3 - Cruise & Explore Bear Island
Days 4 to 8 - Svalbard Southern Region
Days 11 to 13 - Scoresby Sund
Days 14 - Ittoqqortoormiit
Svalbard and East Greenland reverse itinerary:
show main itinerary
*
= Indicative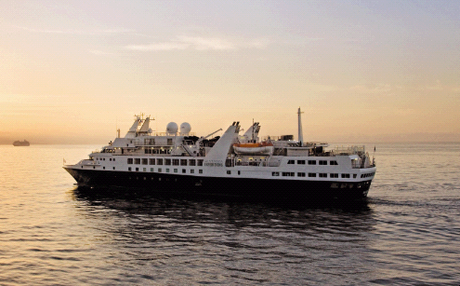 Silver Explorer
Vessel Type: Luxury Expedition
Length: 108 metres
Passenger Capacity: 132
Built / refurbished: 1989 / 2008
The purpose-built Silver Explorer expedition ship (formerly the Prince Albert II) has been designed specifically for navigating waters in some of the world's most remote destinations, including both of earth's polar regions. A strengthened hull with a Lloyd's Register ice-class notation (1A) for passenger vessels enables Silver Explorer to safely push through ice floes with ease.
A fleet of Zodiac boats allows guests to visit even the most off-the-beaten path locations and an expert Expedition Team provides insight and understanding to each unforgettable Silver Explorer cruise adventure.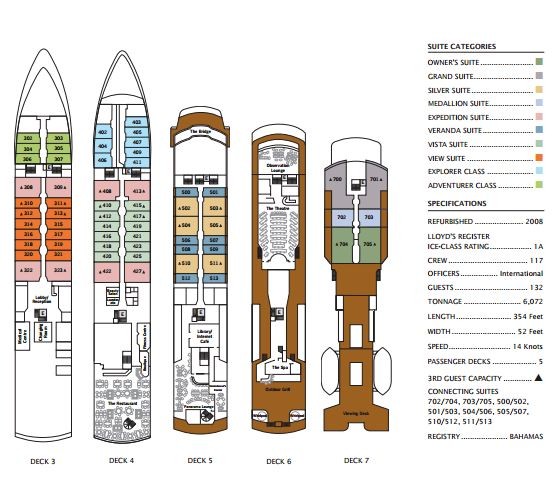 • Bear Island, Norway – Close to 9 kilometers of cliffs are home to some of the largest bird colonies of the Northern Hemisphere. Common Guillemots, Brünnich's Guillemots, Little Auks, Black-legged Kittiwakes, Northern Fulmars, and Glaucous Gulls are all found along the cliff. Birders may spot other species as well such as Atlantic Puffins and even Northern Gannets. Weather depending, we will take the Zodiacs to explore the rugged coastline.

• Svalbard Southern Region, Norway – In the fjords of southern Svalbard, search the ice and shorelines for seabirds, walruses, seals, and polar bears. Shore walks and Zodiac landings will bring you close to mystical wintry settings. The Expedition Leader and Captain will determine Explorer's best course, depending on changing weather, ice conditions and the wildlife we encounter.

• Svalbard Northern Region, Norway – Silver Explorer will have a number of expedition options in northern Svalbard past majestic red Devonian sandstone mountains to reach the end of Liefdefjorden, for Zodiac cruises in front of glaciers and looking for seals, Black-legged Kittiwakes and Ivory Gulls. From the deck of the ship search for walrus and polar bears as we devote time to explore the pack ice north of Spitsbergen. Conditions permitting, we might head out in the Zodiacs for an even closer look.

• Scoresbysund, Greenland – Scoresbysund is named for the Arctic explorer and whaler William Scoresby who charted the region in 1822. Conditions permitting we will enter this, the largest and longest fjord in the world, to look for spectacular icebergs and fascinating wildlife. We hope to cruise by Zodiac along the coastline to look for Arctic hares and musk ox. A landing at Danmarksø reveals excellently preserved remains of an Inuit settlement, abandoned about 200 years ago. Tundra walks take in impressive views of landscape, flora and fauna.

• Ittoqqortoormiit, Greenland – The little village of Ittoqqortoormiit is one of very few settlements on the east coast of Greenland. About 550 people live here, and approximately 90 percent of them are native Greenlandic. If weather and ice allow, we will walk around the village, learn about the sled dogs and their traditional uses, and visit the community's little church.

• Meet the inhabitants of Ittoqqortoormiit, one of the few settlements in East Greenland, and learn about their hunting and dog sledding traditions.

• Wildlife Watch List: Polar bear, Svalbard reindeer in Svalbard, Arctic fox. Bearded seals, ringed seal, and walrus. Humpback whales, minke whales, beluga whales and possibly narwhal (Scoresby Sund). Birds of note: Barnacle Goose, Common Eider, Black-legged Kittiwake, Herring Gull, Common Gull, Lesser Black-backed Gull, Ivory Gull, Great Skua, Arctic Skua, Razorbill, Common Guillemot, Black Guillemot, Brünnich's Guillemot, Atlantic Puffin, Snow Bunting, Arctic Tern, Northern Gannet, Northern Fulmar