Sailing the Inside Passage
Join us to sail the Inside Passage from Vancouver, British Columbia to Seward, Alaska and experience the dynamic culture and natural splendour this region has to offer. Retrace parts of the famous 1899 Harriman Expedition that went from Seattle to Siberia and understand why dozens of scientists, writers and artists joined the voyage. Experience the Tsimshian indigenous culture in Metlakatla. Visit Alaska's capital city of Juneau and tour the Tongass National Forest by land and sea. Cruise past the six-mile-wide Hubbard Glacier and the incredible Misty Fjords in search of bears, seals, sea otters and rivers running with salmon. Trace winding fjords to hear the crackle of Holgate Glacier as it calves new icebergs. Nature lovers will delight not just in sweeping mountain and fjord views but also sightings of Bald Eagles , humpback whales, orca whales, Stellar sea lions and harbor seals. Throughout the voyage, learn about the geology, wildlife and botany of these locations from lecture presentations offered by your knowledgeable on board Expedition Team.
Sailing the Inside Passage itinerary:
show reverse itinerary
Day 2 - Cruise Johnstone Strait & Seymour Narrows, Canada
Day 4 - Rudyerd Bay & Walker Cove
Day 6 - Cruise Wrangell Narrows, Petersburg & Sail Island
Day 7 - Cruise Stephens Passage, Endicott Arm & Juneau
Day 8 - Cruise Point Adolphus, Inian Islands & Elfin Cove
Day 9 - Cruise Hubbard Glacier
Day 11 - Kukak Bay & Geographic Harbor
Day 12 - Kodiak & The Triplets
Day 13 - Chiswell Islands & Holgate Glacier
Day 14 - Seward (Anchorage)
Sailing the Inside Passage reverse itinerary:
show main itinerary
*
= Indicative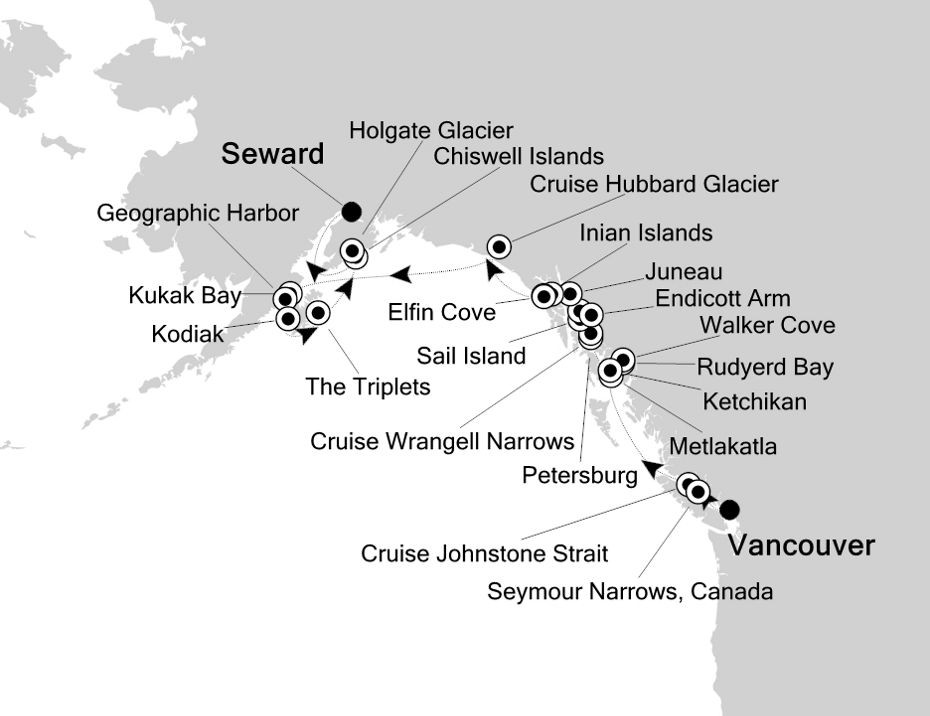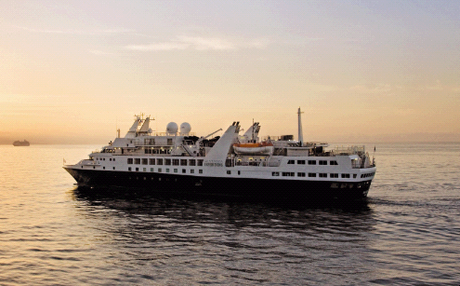 Silver Explorer
Vessel Type: Luxury Expedition
Length: 108 metres
Passenger Capacity: 132
Built / refurbished: 1989 / 2008
The purpose-built Silver Explorer expedition ship (formerly the Prince Albert II) has been designed specifically for navigating waters in some of the world's most remote destinations, including both of earth's polar regions. A strengthened hull with a Lloyd's Register ice-class notation (1A) for passenger vessels enables Silver Explorer to safely push through ice floes with ease.
A fleet of Zodiac boats allows guests to visit even the most off-the-beaten path locations and an expert Expedition Team provides insight and understanding to each unforgettable Silver Explorer cruise adventure.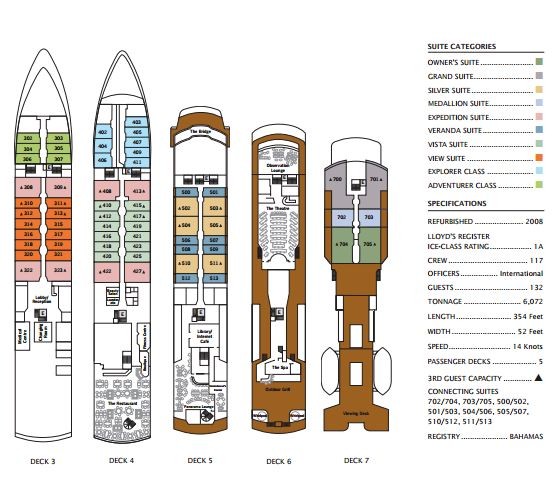 • Metlakatla, Alaska, US – The Tsimshian are the indigenous people of Metlakatla, a small ocean-front community in southern Alaska. The settlement holds at least a dozen ornate and emblematic Totem Poles for which the Tsimshian are famous. The people here respect and pay homage to their ancestors with traditional dance performances and ceremonies at their longhouse, the community's heart and soul.

• Juneau, Alaska, US – Spend time in Juneau, Alaska's capital and third-largest city that was a gold mining mecca in its heyday in the late 19th century. Juneau is as beautiful as it is history-filled, with its sweeping hillside setting and historic downtown buildings make it one of the most visited communities in Alaska. Stroll the walkable downtown or ride the tram to the top of Mt. Roberts for views over neighboring Gastineau Channel.

• Ketchikan, Alaska, US – Ketchikan is one of the larger towns in the region and has much on offer including a quaint historic center of wooden sided buildings linked together by boardwalk, a plethora of shops and restaurants, and all with an active salmon stream running right through the downtown. It is surrounded by the Tongass National Forest, the largest national forest in the US with 17 million acres of protected land. This massive reserve holds the largest Pacific temperate rainforest and the iconic Misty Fjords.

• Hubbard Glacier, Alaska, US – Cruise along Hubbard Glacier, off the coast of Yakutat, Alaska, the largest glacier in North America, with a calving front that is more than six miles wide. This glacier has been very active, with two major surges forward in 1986 and again in 2002.

• Geographic Harbor, Alaska, US – Located at the head of Amalik Bay in the Katmai National Park, this is an ideal habitat for brown bears. These massive mammals forage for berries, fish for salmon and dig for clams at low tide. The waters around the bay are ideal fishing grounds frequented by otters, seabirds and whales searching for food.

• Holgate Glacier, Alaska, US – Holgate Glacier is a river of ice that remains incredibly active, with bits of ice crackling and calving into the deep tidal waters as ancient air bubbles are released from its small icebergs. Lucky visitors may hear a loud cannon-like explosion as the glacier calves new icebergs.

• Visit Metlakatla, home of the indigenous Tsimshian people, famous for their emblematic Totem Poles.

• Observe native cultural presentations and ceremonies.

• Retrace parts of the famous Harriman Alaska Expedition.

• Wildlife Watch List: Bald Eagle, Steller's Jay, Golden-crowned Kinglet, Common Raven, Barn Swallow, Belted Kingfisher, Northwestern Crow, Great Blue Heron, Marbled Murrelet, Pigeon Guillemot; Common, Bonaparte's, Mew and Glaucous-winged Gulls. Brown and black bears. Humpback whales, orcas, harbor seals