7 days from
£3772
* Current p/p indicative rate.
Overview
Highlights
Dates & Prices
Itinerary
Map
Ship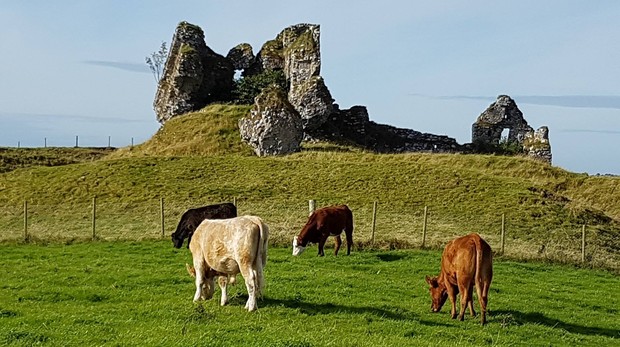 Living life at the glorious pace of the Shannon Princess really is a special vacation & the perfect way to spend time with family or friends. Barge gently through the heart of hidden Ireland, calling at pretty riverside villages, little changed through the centuries, while enjoying on board service and cuisine second to none.
The Shannon Princess is all about creating a trip of a lifetime and we are happy to tailor the perfect vacation just for you. On our Classic Cruise itinerary we can also add extra activities on a pay as you go 'a la carte' basis including: golf, fishing & horse riding.
• Travel through a countryside little changed through the centuries. Cruise on the River Shannon – an incredible journey through the heart of hidden Ireland. • Pass crumbling ivy-covered ruins, medieval garrisons and shoreline villages. • Moor right at Clonmacnoise, a monastery established in the 6th century which survived for 1000 years. • Call at historic towns such as Athlone and Killaloe – today a pretty riverside village, but once home to the court of the last High Kings of Ireland. • Observe wildlife – rare white tailed eagles nesting in waterside trees • Go fishing, or even swim from the barge.
show reverse itinerary
Day 1 Sunday: Welcome to Waters & the Wild
The Barge Host will meet guests at 3.00pm at the designated meeting point. The transfer will be in the barge's luxury private coach to the Shannon Princess in Killaloe, Co. Clare. Family-owned and managed, Shannon Princess delivers one of the warmest welcomes in European Barging. We welcome you on board the elegant Shannon Princess with a champagne reception. There is time to relax on deck or to mingle and chat with fellow guests & local boat owners. Watch the world float by as you enjoy your first gourmet dinner on board.
Day 2 Monday: Cruise the Lower Stretches of the Shannon
A Cruise through the charming lower stretches of Lough Derg and the River Shannon arriving into the pretty Mountshannon – a lovely old estate village perched prettily above the Lough. Then a visit to "Cragaunowen" a Celtic Bronze Age Settlement, where your guide will interpret and bring to life the "Living Past". Later in the afternoon we drop in on a "Traditional Irish Hand Weavers" workshop and studio where guests will experience a step back in time while also learning how these thriving small cottage industries are dealing with technology and the future.
Day 3 Tuesday: Cruise North & Castle Visit
A beautiful sail north this morning up through Lough Derg to Terryglass. After lunch we take a visit to "Leap Castle", reputed to be Ireland's most haunted house. Leap Castle was once home to one of America's founding Fathers – John Carroll. You will be hosted by Sean Ryan, a renowned musician, and his family who will invites us in to their unusual home.
Day 4 Wednesday: Portumna Castle, Galway & Guinness & Oyster Bar
Today take a morning excursion to the Walled Kitchen Gardens of Portumna Castle, and onto Galway, a lively Anglo-Norman university town and cultural centre of Irish speaking regions in the west of Ireland. Lunch is at an authentic Guinness & Oyster Bar with time to browse and explore the colourful shops and streets. Return to "Shannon Princess' for gourmet dinner as we cruise through ever-changing landscapes, crumbling ivy covered ruins, medieval garrisons & sleepy market villages.
Day 5 Thursday: Athlone & Clonmacnoise
Today we move towards the riverside town of Athlone, stopping en route at Clonmacnoise, a famed 6th century university and early Christian settlement. After a visit to the interpretative centre we continue north through Europe's richest example of "callows" landscape. This is one of Irelands premier wildflower reserves. Explore at your leisure with time for shopping, antiquing or a visit to any of the town's impromptu traditional music pubs. Don't forget to return on board for a gourmet dinner!
Day 6 Friday: Lough Ree & Kilbeggan Distilery
This morning we sail up through Lough Ree and its Islands and the lovely inner lakes to Glasson, Co. Westmeath. An afternoon visit is made to a local whiskey distillery. Dating from 1757, the Kilbeggan Distillery is the oldest licensed whiskey distillery in the world. Later that evening we have our Captains "Farewell" Gourmet Dinner showcasing local food produce.
Day 7 Saturday: Farewell
After a final scrumptious breakfast, we will say farewell and transfer you to Dublin Airport or your hotel.
Please Note:
Please note that the above itinerary is a sample itinerary only and may operate in reverse. Due to circumstances beyond anyone's control, (drought, flood, lock repair, navigation authority directives), the vessel may be forced to cruise on an alternate route. We will inform you as soon as such changes occur, and will substitute an equally interesting route.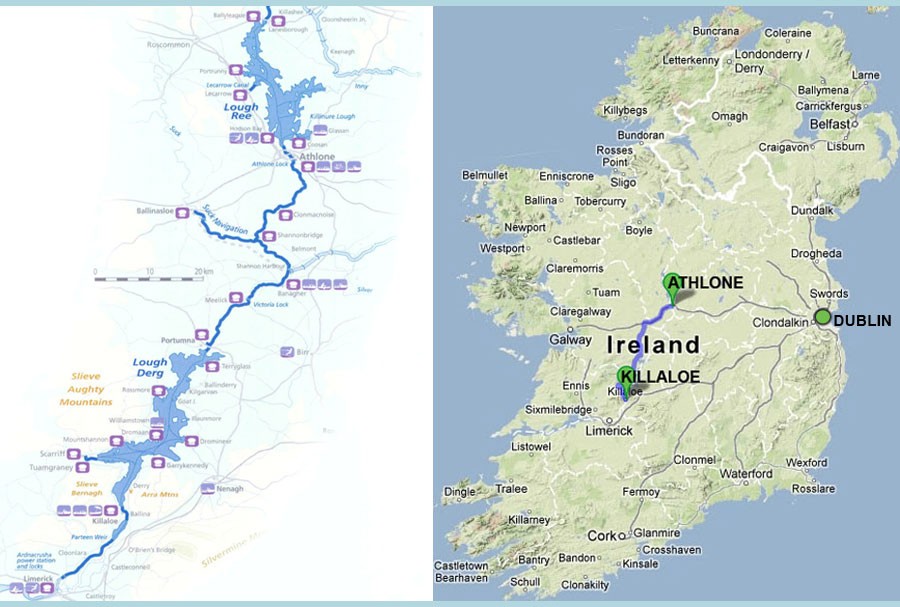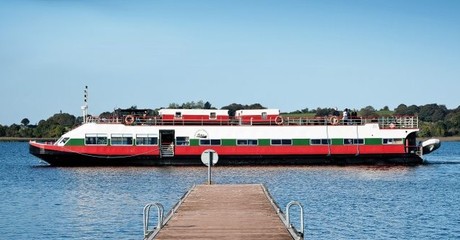 Type: Barge / River Boat
Length: 32 meters or 105 feet
Capacity: 10
The Shannon Princess has been thoughtfully designed throughout. The barge's inviting interior makes a charming floating living space – a perfect 'Home away from Home' for guests to enjoy. The welcoming atmosphere is enhanced by owner's love of antiquities, crafts, pottery and art with many works by established and local Irish artists.  On board the barge a friendly & relaxed mood has been created by carefully mixing casual informality with quality service.
We provide accommodation for up to 10 guests in 5 cabins with a professional Crew in attendance. You will be charmed with excellent but friendly service, gorgeous food & wines, and share in a slice of local life and knowledge.
You will feel immediately at home onboard Shannon Princess. Our Saloon is comfy chic in style, with a mix of vintage & modern furnishings. Thoughtful design & contemporary style combined with a generous 42 sq. meters of floorspace to create a  great 'home away from home'.The Saloon enjoys large opening windows and its own pocket sized, flower filled front viewing deck. On the upper deck, is our spacious terrace style sun deck – with Spa pool/hot tub and BBQ, over sized cushioned sofas, sun loungers, deck chairs & tables. Perfect for Alfresco Summer dining or evening cocktails on deck.
Off the main hallway is accommodation for up to 10 guests in 5 en-suite cabins. The cabins can be arranged with twin or king sized beds (guest's choice). Our ship shape cabins are deceptively spacious, crisp and light. They are filled with riverside opening picture windows. Excellent storage is provided with both hanging and shelved wardrobes and drawers. Each cabin has its own bathroom which is fully stocked with local artisan & organic shower products along with feather soft towels and inviting fluffy bathrobes.
Accommodation deck:
All accommodations are above the water line with Air Con & Wifi throughout
Cabin Accommodations – 5 equal Twin or double cabins
All windows on board are panoramic opening windows
Saloon area with front deck area
Upper deck:
Large terrace style sundeck
Spa Pool

Overview
Highlights
Dates & Prices
Itinerary
Map
Ship