12 days from
£5567
* Current p/p indicative rate.
Overview
Highlights
Dates & Prices
Itinerary
Map
Ship
Optional Extras
Polar Circle - Antarctic Peninsula 2020 (Plancius)
This voyage will take you further south of Antarctica, crossing the Polar Circe.
The Antarctic Peninsula is part of the Antarctic Continent and is the southern continuation of the mountain chain that runs from North America through South America into the Scotia Sea. Here it continues as a mainly sub-marine ridge, the Scotia Ridge, until it comes above sea-level at the northern tip of the Antarctic Peninsula. The peninsula consists of an 800 kilometres (500 mile) long mountain chain, the highest peaks rising to approximately 2,800 metres (9,186 feet), and numerous off-lying islands. The Peninsula offers the most dramatic scenery and biggest variety of wildlife in Antarctica. Visitors are easily overcome by sensory overload by the huge amount of ice-bergs, glaciers, high mountains and the abundant and tame wildlife.
Diving & Kayaking available on this voyage - additional fees apply.
Polar Circle - Antarctic Peninsula 2020 (Plancius) Highlights
• Discover the true emotions of Antarctic wilderness • Observe the wildlife in its natural habitat • Meet the various penguins species • Cross the Antarctic Circle
Polar Circle - Antarctic Peninsula 2020 (Plancius) Dates & Prices
Prices quoted here are often dependent on currency fluctuations. Please check with (01432 507450 or info@small-cruise-ships.com) for the very latest price, which may well be cheaper than the one advertised here.
The cabin provides you with; a porthole, 2 upper / lower berths, private shower & toilet, desk & chair, hair dryer and ample storage space.
Same as Quadruple Porthole but with 3 berths. The cabin provides you with; a porthole, 1 upper / lower berth, 1 single lower berth, private shower & toilet, desk
The cabin provides you with; a porthole, 2 lower berths, private shower & toilet, desk & chair, hair dryer and ample storage space.
The cabin provides you with; a window, 2 lower berths, private shower & toilet, desk & chair, hair dryer and ample storage space.
The cabin provides you with; 2 windows, 2 lower berths, Private shower & toilet, Desk & chair, Flatscreen TV, Telephone and Internet connection, a hair dryer and ample storage space. These cabins are corner cabins and are slightly more spacious than the normal twin cabins window / porthole cabins.
The cabin provides you with; a window, 1 double bed, 1 single bed, private shower & toilet, desk & chair, refrigerator, hair dryer, seperate day room and ample storage space.
Polar Circle - Antarctic Peninsula 2020 (Plancius) Itinerary
show reverse itinerary
Day 1: Ushuaia
In the afternoon, we embark in Ushuaia and sail through the Beagle Channel in the evening.
Days 2 & 3: At sea
During these two days we sail across the Drake Passage. When we cross the Antarctic Convergence, we arrive in the circum-Antarctic up welling zone. In this area we may see Wandering Albatrosses, Grey Headed Albatrosses, Black- browed Albatrosses, Light- mantled Sooty Albatrosses, Cape Pigeons, Southern Fulmars, Wilson's Storm Petrels, Blue Petrels and Antarctic Petrels. Near the South Shetland Islands, we spot our first icebergs. The Master of the vessel may decide to sail the narrow English Strait between Robert Island and Greenwich Island if the conditions are favourable. We will then be in sight of Aitcho Island at the South Shetlands in the late evening of the third day. If the conditions do not allow us to manoeuvre through the English Strait then we continue sailing South of Livingston. These volcanic islands or the South Shetlands are windswept and often shrouded in mist and fog, but do offer subtle pleasures. There is a nice variety of flora (mosses, lichens and flowering grasses) and fauna, such as Gentoo Penguins, Chinstrap Penguins and southern Giant Petrels.
Days 4 – 9: Antarctica
We may start our first day in Antarctica with a landing at Hannah Point, where we will find a nice variety of Gentoo Penguins, Chinstraps and southern Giant Petrels, as well as Elephant Seals hauling out on the beach. At Deception Island, we will try to land. Deception itself is a sub ducted crater, which opens into the sea, creating a natural harbour for the ship. Here we find hot springs, an abandoned whaling station, thousands of Cape Pigeons and many Dominican Gulls, Brown and South Polar Skuas and Antarctic Terns. Wilson's Storm Petrels and Black-bellied Storm Petrels nest in the ruins of the whaling station in Whalers Bay. Good walkers may hike from Baily Head over the ridge of the crater into Whalers Bay, while our ship braves its entrance into the crater through the spectacular Neptune's Bellow into the ring of Deception Island. On our way further South we will sail to Orne Islands with large colonies of Chinstrap Penguins and a beautiful view across the Gerlache Strait or to Cuverville Island, a small precipitous island, nestled between the mountains of the Antarctic Peninsula and Danco Island. It contains a large colony of Gentoo Penguins and breeding pairs of Brown Skuas. In Neko Harbour and Paradise Bay with its myriad icebergs and deep cut fjords, we have the opportunity to set foot on the Antarctic Continent. We shall have the opportunity for zodiac cruising between the icebergs in the inner parts of the fjords. We sail through the spectacular Lemaire Channel to Petermann Island offering Adelie Penguins and Blue-eyed Shags. We also try to land at Pleneau Island with Elephant Seals and fair chances to encounter Humpback, Minke and Fin Whales. We head south along the Argentine Islands to Crystal Sound, south of the polar circle. The landscape is very impressive with very high mountains and huge glaciers. At the Fish Islands we land at one of the southernmost Adelie Penguin and Blue-eyed Shag colonies in the Antarctic Peninsula. At Detaille Island, south of the Polar Circle, in Crystal Sound we reach probably our farthest south. Sailing north again through Neumayer Channel and Gerlache Strait, we arrive at the Melchior Islands with a very beautiful landscape with icebergs, where we may encounter Leopard Seals, Crabeater Seals and whales.
Days 10 & 11: At Sea
In the Drake Passage we have again a chance of seeing many seabirds.
Day 12: Ushuaia
We arrive in the morning and disembark in Ushuaia.
Polar Circle - Antarctic Peninsula 2020 (Plancius) Map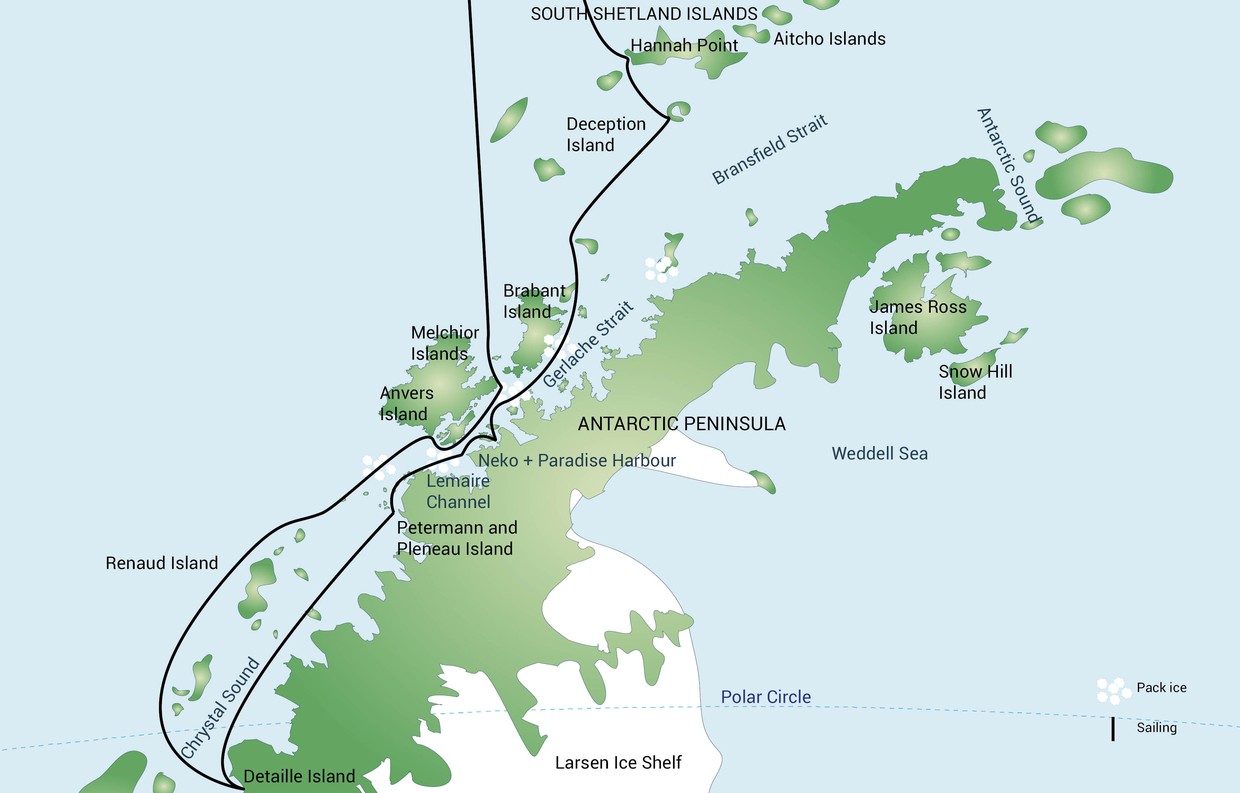 Polar Circle - Antarctic Peninsula 2020 (Plancius) Ship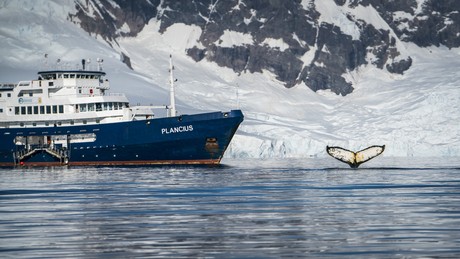 | | |
| --- | --- |
| Length | 89 metres |
| Speed | 10-12 knots |
| Crew | 37 |
| Expedition staff | 8 |
| Doctor | 1 on board |
M/V "Plancius" was built in 1976 as an oceanographic research vessel for the Royal Dutch Navy and was named "Hr. Ms. Tydeman". The ship sailed for the Dutch Navy until June 2004 when she was converted into an expedition cruise ship..The vessel was completely rebuilt as a 114-passenger vessel in 2009 and complies with the latest SOLAS-regulations (Safety Of Life At Sea). M/v "Plancius" is classed by Lloyd's Register in London and flies the Dutch flag.
"Plancius" accommodates 114 passengers in 53 passenger cabins with private toilet and shower in 4 quadruple private cabins, 39 twin private cabins (ca. 15 square meters) and 10 twin superior cabins (ca. 21 square meters).All cabins offer lower berths (either two single beds or one queen-size bed), except for the 4 quadruple cabins (for 4 persons in 2x upper and lower beds).The vessel offers a restaurant/lecture room on deck 3 and a spacious observation lounge (with bar) on deck 5 with large windows, offering full panorama view.
Plancius has large open deck spaces (with full walk-around possibilities on deck 3), giving excellent opportunities to enjoy the scenery and wildlife. She is furthermore equipped with 10 Mark V zodiacs, including 40 HP 4-stroke outboard engines and 2 gangways on the starboard side, guaranteeing a swift zodiac operation.M/v "Plancius" is comfortable and nicely decorated, but is not a luxury vessel. Our voyages in the Arctic and Antarctic regions are and will still be primarily defined by an exploratory educational travel programme, spending as much time ashore as possible.
The vessel is equipped with a diesel-electric propulsion system which reduces the noise and vibration of the engines considerably. The 3 diesel engines generate 1.230 horse-power each, giving the vessel a speed of 10 - 12 knots. The vessel is ice-strengthened and was specially built for oceanographic voyages.M/v "Plancius" is manned by 17 nautical crew, 19 hotel staff (6 chefs, 1 hotel manager, 1 steward-barman and 11 stewards / cabin cleaners), 8 expedition staff (1 expedition leader and 7 guides-lecturers) and 1 doctor.
Ice class: Plancius was built for Ice conditions. To reach these ice-conditions she has a strengthened bow and stern. The hull is thicker and the whole construction on the waterline of the vessel is reinforced by using extra frames. Where the normal frame spacing is 65cm, we have on the bow-line and stern also frames in between so there the frame spacing is approx 30cm. Because Plancius was built to do surveys she has a special six blade bronze propeller, the shape of the propeller makes Plancius a very silent ship. Plancius has a Lloyds class notation 100A1 Passenger ship, Ice Class 1D at a draught of 5 meters (which is our waterline).Vessel Type: Expedition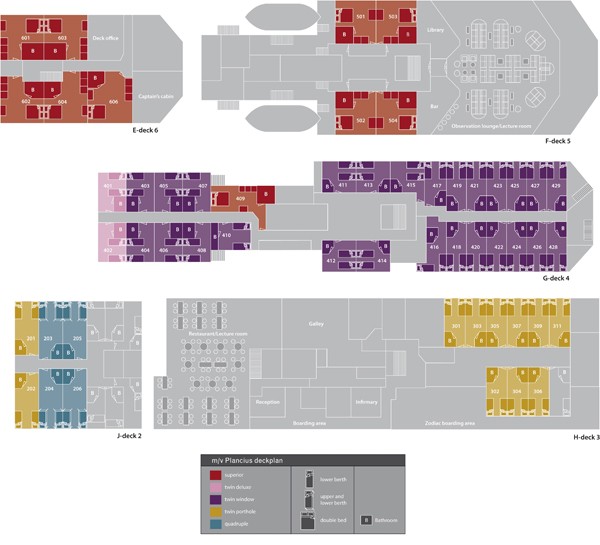 Polar Circle - Antarctic Peninsula 2020 (Plancius) What's Included
Polar Circle - Antarctic Peninsula 2020 (Plancius) Optional Extras
Diving
$530.00
Diving in Antarctica does not only offer ice, but also an interesting marine life, such as kelp walls, sea-snails, crabs, sea butterflies, various Antarctic fish, shrubby horse-tails, jelly-fishes, sea-hedgehogs, starfishes, krill and giant isopods. You may have the possibility to snorkel or dive with Fur Seals, Leopard Seals and penguins. Antarctica and the Sub-Antarctic Islands are some of the last truly unspoilt regions of the world. The mysterious White Continent, with its multi-coloured ice caps, glistening glaciers and towering snow-capped mountains, offers unparalleled scenery and photographic opportunities. Enormous numbers of penguins, whales, seals and seabirds congregate in the food-rich waters along the Antarctic and sub-Antarctic shores.
Kayaking
$465.00
Kayaking is one of the most amazing ways to explore the remote Antarctic coastlines. Kayakers accompanied by a kayak guide have the opportunity to go off the beaten track.
Overview
Highlights
Dates & Prices
Itinerary
Map
Ship
Optional Extras