From Northern Norway to the Fjords of Svalbard
Join us for a journey from Northern Norway to the fjords of Svalbard, visiting Nordkapp, isolated islands and remote areas. In Northern Norway, reach Nordkapp to stand at mainland Europe's northernmost coast. Aboard the Silver Cloudoron her Zodiacs, you will witness spectacular bird cliffs in the Gjesverstappan Islands, Bear Island and Svalbard. Find yourself marvelling at the amounts of puffins, guillemots and gulls that congregate using these cliffs to nest. In Svalbard, you will encounter captivating landscapes, mountains, fjords and glaciers while looking for walrus and polar bears. Throughout the voyage, learn about the geology, wildlife, botany and history of this spectacular area from lecture presentations offered by your knowledgeable on board Expedition Team.
02 July, 2019 to 12 July, 2019
Prices quoted here are often dependent on currency fluctuations. Please check with (01432 507450 or info@small-cruise-ships.com) for the very latest price, which may well be cheaper than the one advertised here.
From Northern Norway to the Fjords of Svalbard itinerary:
show reverse itinerary
Day 2 - GJESVÆRSTAPPAN ISLANDS & SKARSVAG (NORDKAPP)
Day 3 - CRUISE & EXPLORE BEAR ISLAND
Days 4 to 6 - SVALBARD SOUTHERN REGION
Days 7 to 10 - SVALBARD NORTHERN REGION
From Northern Norway to the Fjords of Svalbard reverse itinerary:
show main itinerary
*
= Indicative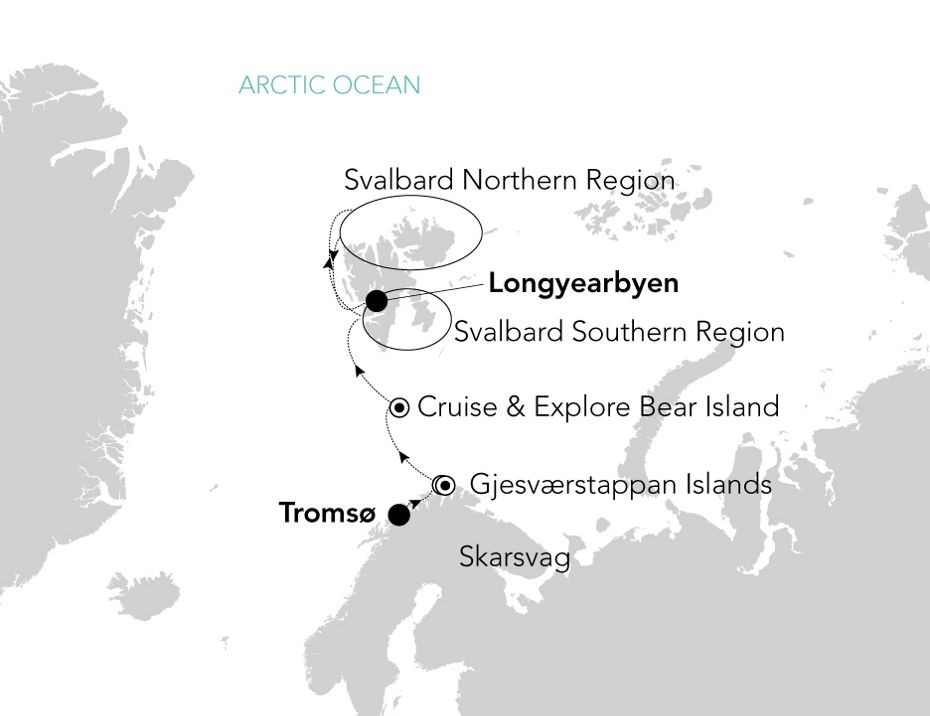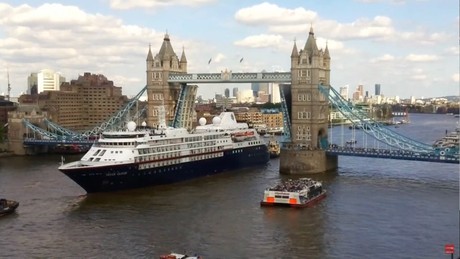 Silver Cloud
Vessel Type: Luxury
Passenger Capacity:296
Refurbished: 2017
With 18-brand new Zodiacs, four superlative restaurants in Antarctica and a pole to pole expedition itinerary, Silver Cloud really does break the ice between expedition and luxury. Spacious yet intimate, designed to cross oceans and yet able to slip up rivers and into hidden harbours with ease, the yacht-like Silver Cloud carries just 296 guests in incomparable comfort and style. Combining spacious ocean-view suites and private verandas with stunning dining and entertainment options, Silver Cloud provides world-class cruise accommodations, service and amenities.
After extensive refurbishment, Silver Cloud is the most spacious and comfortable ice class vessel in expedition cruising. Her large suites, her destination itineraries and her unparalleled service make her truly special. Her four dining options will tantalise your taste buds and as 80% of her suites include a veranda, watching a breaching whale or a few cavorting penguins has never been so personal. She carries a limited number of guests in polar waters, meaning that Silver Cloud has the highest space to guest and crew to guest ratios in expedition cruising. With her 18 zodiacs, 10 kayaks, possibilities are almost limitless with ship-wide simultaneous explorations.
• Nordkapp, Norway – Watch for reindeer that graze the tundra on the way to reach what is officially claimed to be mainland Europe's northernmost point, Nordkapp. At the Nordkapp take your time to study the different monuments, and imagine what it must be like to live in a place where the sun does not set from the middle of May to the end of July.

• Gjesverstappan Islands, Norway – Almost a hundred islands and rocks make up the Gjesverstappan Nature Reserve, one of Europe's largest and most accessible nesting areas for Atlantic seabirds. The islands have one of the largest Atlantic Puffin colonies in North Norway. From our Zodiacs (if weather conditions allow), we will look for Atlantic Puffins and the other species such as Northern Gannets, White-tailed Eagles, Common Eider Ducks, Great Cormorants, auks, fulmars, petrels and Arctic Skuas that bring the number of nesting birds to almost 2 million.

• Bear Island, Norway – Close to 9 kilometers of cliffs are home to some of the largest bird colonies of the Northern Hemisphere, located on Bear Island. Common Guillemots, Brünnich's Guillemots, Little Auks, Black-legged Kittiwakes, Northern Fulmars, and Glaucous Gulls are all found along the cliff. Other species have been observed, including Atlantic Puffins and even Northern Gannets. Weather depending, we will take the Zodiacs to explore the rugged coastline.

• Svalbard Southern Region, Norway – In the southern region of Svalbard, we will enter fjords, searching the ice and the shores for seabirds, walruses, seals, and polar bears. Shore walks and Zodiac landings will bring us up close to these mystical wintry settings. The Expedition Leader and Captain will determine Silver Cloud's best course, depending on changing weather, ice conditions and the wildlife we encounter.

• Svalbard Northern Region, Norway – Silver Cloud will be cruising past majestic red Devonian sandstone mountains to reach the end of Liefdefjorden, for a Zodiac cruise along the 5-kilometer-long front of Monacobreen and the neighboring Seligerbreen. This is a great place to look for seals, Black-legged Kittiwakes and Ivory Gulls.With the reinforced hull of Silver Cloud, we have the perfect platform to search for walrus and polar bears as we devote time to explore the pack ice north of Spitsbergen. Conditions permitting, we might head out in the Zodiacs for an even closer look.

• Kayaking – Weather permitting, the Silver Cloud offers the opportunity to kayak in a small group under the guidance of certified kayak instructors. These special excursions are a chance to appreciate the wilds of the Arctic in silence.

• Meet a reindeer herder near Nordkapp (North Cape).

• See how challenging life in Svalbard was until the airport near Longyearbyen opened in 1975.

• Wildlife Watch List: Polar bear; reindeer in Northern Norway and Svalbard reindeer in Svalbard; Arctic fox. Bearded seals, grey seals, harbour seal, ringed seal, and walrus Humpback whales, minke whales, beluga whales, Barnacle Goose, Common Eider, Black-legged Kittiwake, Herring Gull, Common Gull, Lesser Black-backed Gull, Ivory Gull, Great Skua, Arctic Skua, Razorbill, Common Guillemot, Black Guillemot, Brünnich's Guillemot, Atlantic Puffin, Snow Bunting, Arctic Tern, Northern Gannet, Northern Fulmar