8 days from
£1080
* Current p/p indicative rate.
Overview
Highlights
Dates & Prices
Itinerary
Map
Ship
What's Included
This is a unique sailing experience onboard a classic sailing gulet, that has competed in the past in Bodrum Cup Regatta and often won. This escorted sailing tour has been designed for travellers wanting a true and authentic sailing experience. On this tour designed for all ages, you will visit Unesco Heritage sites, relaxing onboard a luxury gulet with a high level of service and a real dining experience.
Prices include:
- Welcome drink and a fruit plate
- Sailing 5 times in a week
- Shared Airport To/From Tivat Airport (Shared return transfer from/to Dubrovnik airport €50/pax)
- Selection of Organic Tea and biscuits
- 7 nights cruise deluxe category gulet in a cabin with private facilities
- 7 breakfasts, 5 lunches with 3 courses, 2 dinners with 3 courses
- Captain's dinner
- Complimentary fresh fruit, coffee, tea, water available during all day
- Mid-week fresh set of bed linen, bathroom and beach towels
- Free Wi-Fi on board
- Up to 6 h A/C daily
- Recreational equipment (snorkelling sets, kayaks, fishing rods, Water Ski, TV, DVD, Music System, card
games, library)
- Guided tour of Old town Kotor, Perast and islands
Budva & Sveti Stefan Kotor & Perast Petrovac & Bigova Scenery, sailing and swimming
show reverse itinerary
Day 1 TIVAT- PORTO MONTENEGRO
You will be transferred from Tivat Airport (Dubrovnik or Podgorica Airport transfers are 50 Euros per person return, paid in cash on arrival ) to Tivat Harbour,, where embarkation begins at 17:00 h. Get settled in your cabin before welcome drink and dinner. Overnight at the dock.
Day 2 TIVAT - BUDVA
If you are a sailing lover we recommend to visit the Maritime Heritage Museum, interesting from a historical point of view regarding Tivat and the early navy days. We sail out of the bay in the south direction. Refresh yourself swimming in Dobra Luka Bay and enjoy lunch onboard. Before arriving in Budva we will stop in the popular sandy beach Jaz. You will have rest part of the day to explore Budva, one of the oldest settlements on the Adriatic coast, over 2,500 years old. Here are the most beautiful Christian settlements and definitely the most amazing churches in this part of Europe. Dinner out and overnight at a dock in Budva.
Day 3 BUDVA - PETROVAC - SVETI STEFAN
After breakfast, we set sail to the south. Today we go to visit Petrovac, a small city with a rich and interesting history. Lunchtime on your own way in Petrovac. Afternoon relaxing and swimming in Lucice Bay, a small and sandy beach. The afternoon we anchor in front of Sveti Stefan, a fortified island village. In the past was a favourite hangout of 60's film stars and royalty like Sophia Loren, Doris Day and Princess Margaret. "Royal" dining experience onboard looking to Sveti Stefan island. A special appetizer of "Sea Crudites and Prosecco".
Day 4 SVETI STEFAN - BIGOVA
After breakfast, we will have a pleasant walk from Sveti Stefan to Przno through Milocer Park looking to the marvellous island of Sveti Stefan. Villa Milocer was once the royal summer residence of Queen Maria Karadordeva. We sail in the direction to Lustica Peninsula. Lunchtime and swimming in Trsteno Bay, a protected bay, with very shallow waters. Late afternoon we arrive in Bigova, an authentic fisherman village where you can enjoy a flavour of traditional Adriatic cuisine in one of the oldest fish taverna. Enjoy dinner on your own. Overnight at the dock.
Day 5 BIGOVA - HERCEG NOVI
After breakfast, we sail out and enjoy lunch onboard in Mirista Bay. Here you can swim and explore the famous Blue Cave, before arriving in the next port, Herceg Novi. Take time out to discover Herceg Novi, far from the madding crowds. Stroll through the empty streets, explore the old buildings and churches, check out one of the three fortresses: Kanli Kula, Kula Spaniola and Forte Mare. Experience the atmosphere and the history of this characteristic town, called the town of Mimosa. Enjoy dinner on your own. Overnight at the dock.
Day 6 HERCEG NOVI - KOTOR
After breakfast, we sail into magnificent Boka Bay, the southernmost fjord in Europe, with a stop for lunch and swimming in Forte Rose village, a Greek settlement of IV century. We arrive early in the port of Kotor, a UNESCO World Heritage site. The town is a medieval maze of museums, churches, cafe-strewn squares and Venetian palaces and pillories. It's a unique place to see for the position and history. Enjoy dinner on your own at one of many restaurants present in Kotor. Overnight at the dock.
Day 7 KOTOR - PERAST
This morning we have a guided visit of the Old Town of Kotor, a UNESCO World Heritage site. The town is a medieval maze of museums, churches, cafe-strewn squares and Venetian palaces and pillories. Is a unique place to see for the position and history. Lunchtime in Risan Bay. Upon arrival to Perast, stop to visit Gospa od Skrpjela (Our Lady of the Rock), unique tourist attraction. You can't miss to visit St. Nikola church in Perast and admire a stunning view from the top. Tonight, enjoy captain's dinner onboard. Overnight at the dock.
Day 8 PERAST - TIVAT
In the morning sail to Tivat for disembarkation and breakfast on board. Transfer to the airport.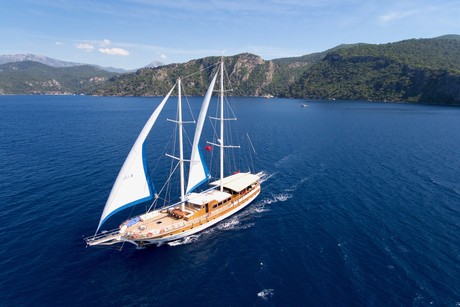 | | |
| --- | --- |
| Length | 32 metres |
| Crew | 4 |
| Built/refurbished | 2009/2019 |
Baba Veli 8 Gulet is a 32 metre traditionally designed ketch gulet. It offers accommodation for a total of 12 guests in comfortable, clean, luxurious and air conditioned cabins. There are 6 cabins including 2 master cabins, 2 double cabins and 2 family cabins (one double bed and one single bed). Each cabin has a separate shower unit, WC, hair dryer, electrical outlets, drawers, a dresser and air conditioner.
There is a cushioned seating area and dining table on the back deck. There is a dining table in the main room, a fully equipped kitchen, bar, TV, mini library and seating areas. On the front deck there is a living room, dining table, shower, tiled sunbathing area and sunbathing cushions. Onboard the gulet Baba Veli 8 with 4 crew members, we provide professional services to meet all the needs of our guests.
The crew has their own separate accommodation and bathroom departments. Gulet Baba Veli 8 is the perfect gulet for travellers wanting a real and authentic sailing experience, relaxing onboard a luxury gulet with a high level of service and exceptional dining experience, visiting Unesco Heritages sites in Montenegro.
Gulet Baba Veli 8 is the eighth among the nine gulets built by the Oguz family originally from Turkey. The name Baba Veli means Father Veli, who gives the name to all the Gulets of the Oguz family fleet in honour of the father.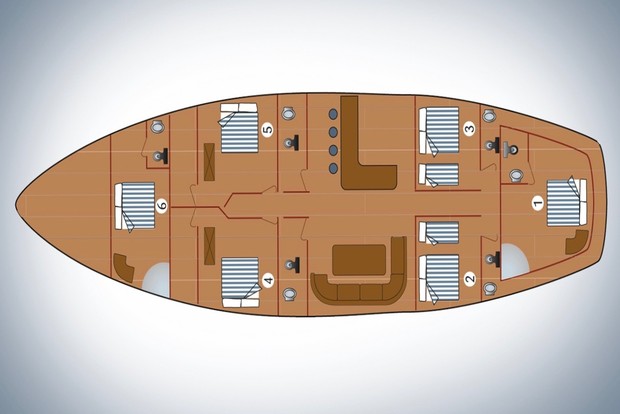 Includes
- Welcome drink and a fruit plate
- Sailing 5 times in a week
- Shared Airport To/From Tivat Airport (Shared return transfer from/to Dubrovnik airport €50/pax)
- Selection of Organic Tea and biscuits
- 7 nights cruise deluxe category gulet in a cabin with private facilities
- 7 breakfasts, 5 lunches with 3 courses, 2 dinners with 3 courses
- Captain's dinner
- Complimentary fresh fruit, coffee, tea, water available during all day
- Mid-week fresh set of bed linen, bathroom and beach towels
- Free Wi-Fi on board
- Up to 6 h A/C daily
- Recreational equipment (snorkelling sets, kayaks, fishing rods, Water Ski, TV, DVD, Music System, card
games, library)
- Guided tour of Old town Kotor, Perast and islands
Overview
Highlights
Dates & Prices
Itinerary
Map
Ship
What's Included