Iceland's Most Dazzling Places
Join us for a journey to see a land of fire and ice. Iceland's location close to the Arctic Circle and on the mid-Atlantic Ridge has given the country unique natural and geological features. Circumnavigating the island, we will experience the beauty of fjords, waterfalls, bird cliffs, wetlands, arid highlands, geothermal power, lakes, lagoons and glaciers. Encounter the fascinating local culture against the backdrop of some of the world's most breathtaking landscapes. Throughout the voyage, learn about the geology, wildlife and botany of this spectacular area from lecture presentations offered by your knowledgeable on board Expedition Team.
Iceland's Most Dazzling Places itinerary:
show reverse itinerary
Day 2 - VESTMANNAEYJAR & CRUISE SURTSEY, ICELAND
Day 4 - LANGANES PENINSULA
Day 7 - CRUISE ALONG HORNBJARD CLIFFS, ICELAND & VIGUR ISLAND
Day 8 - DYJANDI & LATRABJARG CLIFFS
Day 9 - KLAKKEYJAR ISLANDS & STYKKISHOLMUR
Iceland's Most Dazzling Places reverse itinerary:
show main itinerary
*
= Indicative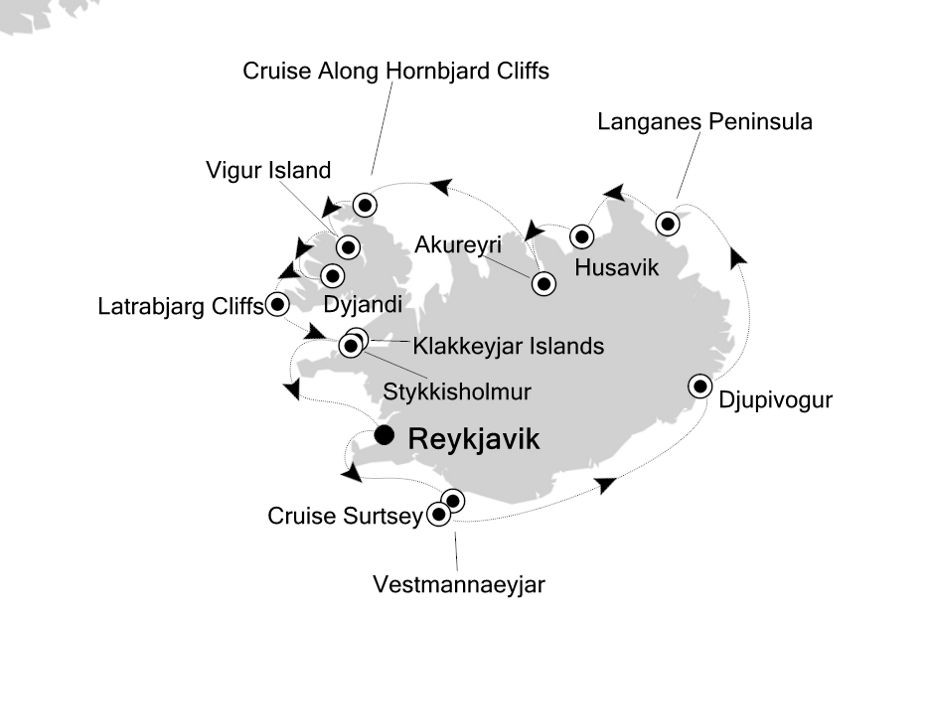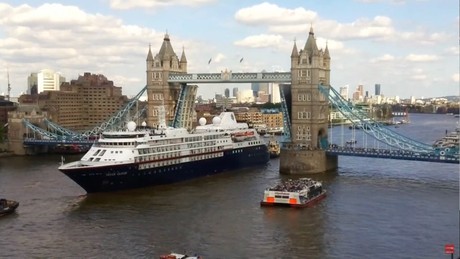 Silver Cloud
Vessel Type: Luxury
Passenger Capacity:296
Refurbished: 2017
With 18-brand new Zodiacs, four superlative restaurants in Antarctica and a pole to pole expedition itinerary, Silver Cloud really does break the ice between expedition and luxury. Spacious yet intimate, designed to cross oceans and yet able to slip up rivers and into hidden harbours with ease, the yacht-like Silver Cloud carries just 296 guests in incomparable comfort and style. Combining spacious ocean-view suites and private verandas with stunning dining and entertainment options, Silver Cloud provides world-class cruise accommodations, service and amenities.
After extensive refurbishment, Silver Cloud is the most spacious and comfortable ice class vessel in expedition cruising. Her large suites, her destination itineraries and her unparalleled service make her truly special. Her four dining options will tantalise your taste buds and as 80% of her suites include a veranda, watching a breaching whale or a few cavorting penguins has never been so personal. She carries a limited number of guests in polar waters, meaning that Silver Cloud has the highest space to guest and crew to guest ratios in expedition cruising. With her 18 zodiacs, 10 kayaks, possibilities are almost limitless with ship-wide simultaneous explorations.
• Vestmannaeyjar Island, Iceland – Visit the town of Heimaey, partly covered by lava as the result of Eldfell's volcanic eruption dating back to 1973. Hear the history of how an operation to cool the advancing lava with sea water saved the harbour. Later, cruise by ship past Surtsey; born from volcanic activity in 1963, it is Iceland's youngest island.

• Djupivogur, Iceland – Enjoy a cruise by local watercraft across a huge freshwater lagoon formed by the melting ice of one of the several tongues of the Vatnajökull Glacier. See the crystal clear blue ice of hundreds of massive icebergs that float in the lagoon or have run aground.

• Husavik, Iceland – At Iceland's self-declared "Whale Capital of Iceland," visit the whale museum and go on a whale-watching excursion looking for humpback and minke whales, as well as other cetaceans.

• Akureyri, Iceland – Akureyri is the gateway to Lake Myvatn ("Midges Lake"). The lake is part of a protected nature reserve and many birds (including thirteen species of ducks) frequent the surrounding wetlands. Nature's power is plainly displayed in Namafjall's geothermal springs, as well as on a walk along the lake's shore onto some pseudo-craters, through the massive, often unusual lava formations of Dimmuborgir.

• Hornbjarg and Latrabjarg bird cliffs, Iceland – Silver Cloud will cruise past some of Europe's largest bird cliffs, a truly stunning sight to experience. Watch as we sail for many-mile stretches where tens of thousands of Atlantic Puffins, Northern Gannets, Razorbills and guillemots perch, safely away from predators.

• Vigur Island, Iceland – Visit the tiny and private island to see how Icelanders collect eider down. The island is also home to Atlantic Puffins and Arctic Terns, which can be seen while walking across the island. After the walk enjoy home-baked cakes and cookies made by Vigur Island owners.

• Dyjandi, Iceland – Iceland is well-known for its dazzling waterfalls, and the Dyjandi is recognized as one of the country's most impressive and majestic. Hike past six other spectacular waterfalls to reach Dyjandi, the Westfjords' biggest at 100 feet wide, with a 330-foot tumble into the fjord below. Dyjandi means "the thundering one," named for its enormous sound.

• Kayaking – Weather permitting, the Silver Cloud offers the opportunity to kayak in a small group under the guidance of certified kayak instructors. These special excursions are a chance to appreciate the wilds of the Arctic in silence.

• Meet the owners of Vigur Island to learn about Eider Duck farming. Enjoy their company over a cup of tea or coffee and home-baked cookies and cakes.

• See Heimaey, the "Pompeii of the North" and hear the tale of how the surrounding harbor was saved.

• Harbor seal and grey seal, Humpback whales, Minke whales, white-beaked dolphins and harbour porpoises. Birds of note: Red-breasted Merganser, Harlequin Duck, Arctic Skua, Common Eider, Black-legged Kittiwake, Herring Gull, Lesser Black-backed Gull, Common Gull, Redwing, Razorbill, Common Guillemot, Black Guillemot, Brünnich's Guillemot, Atlantic Puffin, Redshank, Eurasian Oystercatcher, Arctic Tern, Northern Gannet, Northern Fulmar