High Arctic: from Greenland to Canada and Back
Take a circuit beginning and ending in Greenland, traveling to Canada and back through the open sea, visiting some of the most spectacular natural wonders of the world in the legendary high Arctic. We will cruise through awe-inspiring fjords in both countries, including the 25-mile Ilulissat Icefjord (UNESCO World Heritage Site). We will visit Sirmilik National Park and the Nijurtiqavvik National Wildlife Area, where wildlife lovers will be delighted to (most likely) see polar bears, whales (beluga, minke, bowhead, and narwhal), as well as several species of seals and birds. We will visit small Inuit villages in both Greenland and Canada: take in Inuit culture at the museum in Sisimiut, which tells the story of life in the high Arctic over 4,000 years ago. Immerse yourself in Inuit art at Pond Inlet, Nunavit, where more artists per capita live than any other place in the world. We will cruise the spectacular fjords aboard the Silver Cloud and also take Zodiac cruises to get a closer look. Most sites will be visited on foot, whenever landings are possible. Throughout the voyage, learn about the geology, wildlife and botany of these starkly beautiful locations from lecture presentations offered by your knowledgeable on board Expedition Team.
High Arctic: from Greenland to Canada and Back itinerary:
show reverse itinerary
Day 5 - POND INLET, NUNAVUT
Day 6 - SAN FORD FJORD, NUNAVUT
Day 7 - GIBBS FJORD, NUNAVUT
Day 8 - CAPE BURNEY, BYLOT ISLAND
Day 9 - DEVON ISLAND & COBURG ISLAND
Day 11 - CRUISE ALEXANDRA FJORD & PIM ISLAND
Day 12 - QAANAAQ (THULE) & BOWDOIN FJORD
Day 13 - CAPE YORK, GREENLAND
High Arctic: from Greenland to Canada and Back reverse itinerary:
show main itinerary
*
= Indicative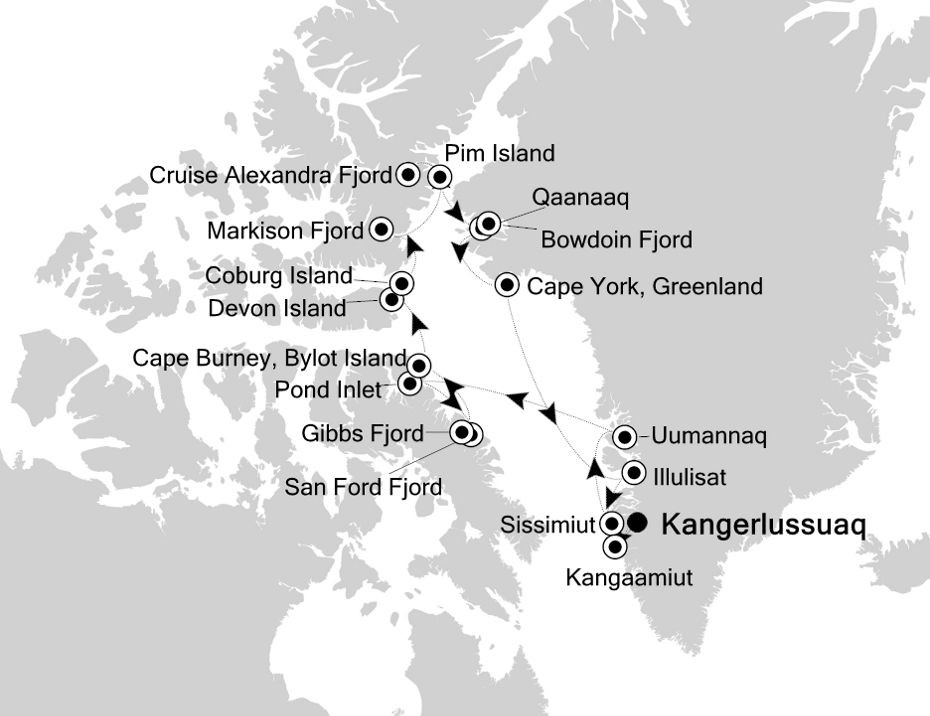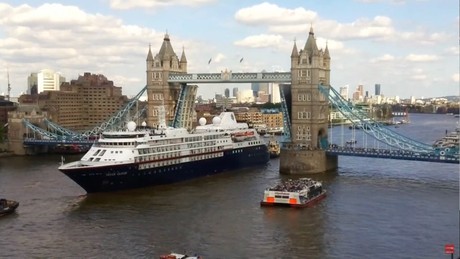 Silver Cloud
Vessel Type: Luxury
Passenger Capacity:296
Refurbished: 2017
With 18-brand new Zodiacs, four superlative restaurants in Antarctica and a pole to pole expedition itinerary, Silver Cloud really does break the ice between expedition and luxury. Spacious yet intimate, designed to cross oceans and yet able to slip up rivers and into hidden harbours with ease, the yacht-like Silver Cloud carries just 296 guests in incomparable comfort and style. Combining spacious ocean-view suites and private verandas with stunning dining and entertainment options, Silver Cloud provides world-class cruise accommodations, service and amenities.
After extensive refurbishment, Silver Cloud is the most spacious and comfortable ice class vessel in expedition cruising. Her large suites, her destination itineraries and her unparalleled service make her truly special. Her four dining options will tantalise your taste buds and as 80% of her suites include a veranda, watching a breaching whale or a few cavorting penguins has never been so personal. She carries a limited number of guests in polar waters, meaning that Silver Cloud has the highest space to guest and crew to guest ratios in expedition cruising. With her 18 zodiacs, 10 kayaks, possibilities are almost limitless with ship-wide simultaneous explorations.
• Sisimiut, Greenland – Originally settled by Inuit people 4,500 years ago, Sisimiut is translated as "the people at fox burrows." Visit the Sisimiut Museum that is made up of original and recreated 18th century wooden buildings. Many sled dogs and their keepers are here at this time of year, waiting for the winter to come.

• Uummannaq, Greenland – This is one of Greenland's most colorful towns beneath a heart-shaped mountain. The fjord that surrounds the Uummannaq is popular for whale watching, with possible sightings including humpback and Minke whales.

• Pond Inlet, Nunavit, Canada – Enjoy a wander through a small, predominantly Inuit community and one of the major centers of Inuit art, with the world's greatest proportion of artists per capita. The Inuits refer to the community as Mittimatilik, which translates as "where the landing place is."

• Coburg Island, Canada – Stand in the Nijurtiqavvik National Wildlife Area, in Qikiqtaaluk, Nunavut, Canada, with its diverse Arctic wildlife, including chances to spot large seabird colonies and many-ringed seals, bearded seals, polar bears, walruses, narwhals and beluga whales.

• Sirmilik National Park, Canada – A protected area within the Arctic Cordillera in Canada, much of this park is bordered by water and lined with snow-capped mountains. Look for polar bears, beluga and bowhead whales, narwhals as well as harp and ring seals.

• Learn about the history of Greenlandic and Canadian Inuit communities and experience how modern descendants live in small villages in these modern times.
• Spend time in remote Nunavut, which claims to have more artists per capita than any other part in the world.

• Wildlife Watch List: Glaucous Gull, Iceland Gull, Common Gull, Great Black-backed Gull, Arctic Tern, Black-legged Kittiwakes, Northern Fulmars, Black Guillemots, Atlantic Puffins, Ravens, Common Redpoll, Snow Bunting, Lapland Bunting. Ringed, bearded and harp seals, walrus. Polar bears can be in the region. Minke, bowhead, beluga and humpback whales, narwhals