The Great Austral Loop (L'Austral)
"The Antarctic exerts the powerful attraction of the inaccessible which leads Man to become passionately engaged. One is never the same after returning from a long stay on the white continent." Jean-Louis Etienne
For centuries the Antarctic remained like a ghost on the map of the world, yet today the «White Continent» exerts a powerful fascination. Explored by man since only 1820, this vast icy continent offers spectacular mountain scenery, the world's biggest icebergs and an extraordinary array of wildlife: fur seals, penguins, albatrosses, sea elephants, orcas and whales in large numbers live side by side in this grandiose landscape. Who has not dreamed of savouring that white stillness, an extraordinary spell-binding atmosphere of total serenity unequalled anywhere else on Earth. On the horizon, blocks of ice collapse into the sea forming vast icebergs of all shapes and sizes, eroded by the wind and the waves.
Please Note: your voyage rates include Flight from Buenos Aires to Ushuaia + Flight from Ushuaia to Buenos Aires.
The Great Austral Loop (L'Austral) itinerary:
show reverse itinerary
Day 3 - New Island & Grave Cove
Day 6 - Salisbury Plain & Fortuna Bay
Day 7 - Saint Andrews Bay & Grytviken
Day 13 - Deception Island & Half Moon Island
Days 14 & 15 - Drake Passage
Please Note:
Itineraries are subject to change
The Great Austral Loop (L'Austral) reverse itinerary:
show main itinerary
Days 14 & 15 - Drake Passage
Day 3 - Deception Island & Half Moon Island
Day 8 - Saint Andrews Bay & Grytviken
Day 9 - Salisbury Plain & Fortuna Bay
Day 11 - New Island & Grave Cove
Please Note:
Itineraries are subject to change
*
= Indicative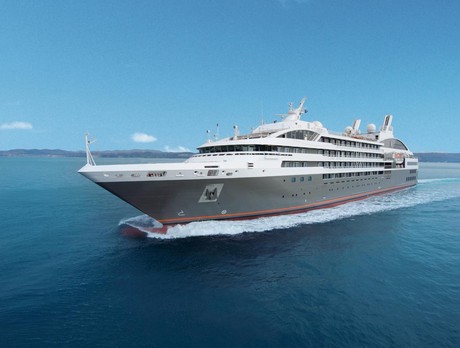 L'Austral
Luxury Expedition / Cruise Ship
This superb mega-yacht with 132 cabins is the result of the expertise of the Italian Fincantieri shipyard and French sophistication, as interpreted by designer Jean-Philippe Nuel. L'Austral has a unique atmosphere, a subtle blend of luxury, intimacy and well-being.
A sleek silhouette softened by elegantly smooth contours and large, arched windows opening up to the sea and the light: so many features come together to give L'Austral her distinctive shape. Precious materials, discreet elegance and a perfect balance between chic and casual, combine to make you feel as if you are on your own private yacht. A design blending tradition and innovation, where a nautical mood has been subtly recreated. Precious materials in smoothing neutral tones are brought to life with splashes of cheerful reds. So many personal touches create the spirit of a "private yacht".
Suites and staterooms
You can expect magnificent ocean views as 124 staterooms and suites have balconies.
Individually-controlled airconditioning • Cabin layout: kingsize bed, or twin beds, communicating cabins available (children welcome) • Minibar • Flat screen satellite TV • IPod™ players • Desk with stationery • Electronic safe • French bath products • Dressing table and hairdryer • Bath robes • Satellite direct line telephone • 110/220 volts • 24hr room service • WiFi • Balcony
Cuisine
Loyal to the great French tradition, the haute cuisine on board is worthy of the finest restaurants, where discreet, attentive service is the hallmark.
Choose from two restaurants for breakfasts, lunch and dinner. The Gastronomic Restaurant is situated on Le Liberté Deck and serves you French and international cuisine accompagnied by fine wine. On the Grill Restaurant, you have the opportuniny to eat outside and enjoy buffet lunch and themed dinner.
Life On Board

Whether you want to join other guests in the theatre or games area (Wii™ consoles, etc), or relax on your own in a quiet corner of the library, L'Austral has been designed to meet the needs of every guest.
Everything has been done to preserve the independence of each guest to suit their personal tastes: lounges for lectures and shows, a spa in partnership with Sothys™, but also more intimate spaces such as the library and internet corner. Comfortable cabins, nearly all with private balcony, are available for families either as triples or as communicating cabins. There is also a games area with Wii™ consoles, children's menus, and a baby-sitting service. Just as if you were on a private yacht, your time is your own to do as you please.
Fitted with the latest equipment (Kinesis Wall, running machine) and in partnership with the famous Sothys™ brand, the Beauty Centre on L'Austral welcomes you for some unforgettable moments of relaxation and pampering (beauty treatments, hairdresser).
Wheelchairs
3 specially adapted wheelchair cabins (Deck 3 = Superior cabin no. 307, no balcony, Deck 4 = Prestige Cabin no. 407 - with balcony and Deck 5 = Prestige Cabin no 509, with balcony) and lifts to all decks/areas.
Details
Length: 142 metres. Passenger Capacity: 264 (200 in Antarctica). Built: 2011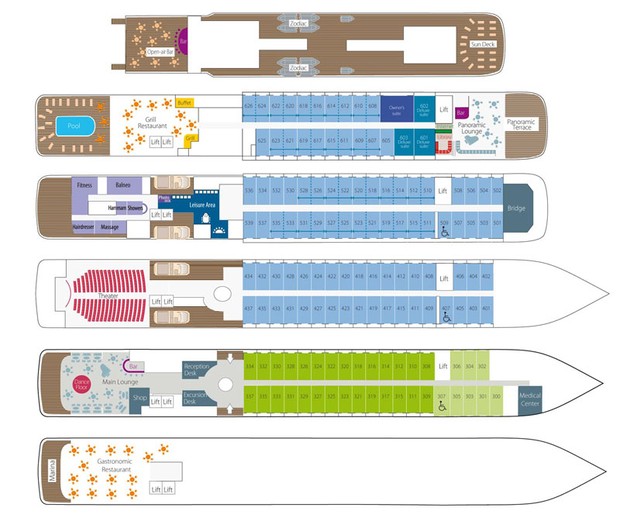 <p>&bull; Enjoy spectacular scenery &amp; extraordinary array of wildlife of Antarctica &bull; Visit South Georgia and make friends with seals, penguins, albatrosses, sea elephants, orcas and whales &bull; Travel between the majestic icebergs on board luxurious yachts that are built on an intimate, human scale. French crew, expertise, attentive service, gastronomy: set sail in a five-star environment and enjoy a travel experience that is simultaneously authentic and sophisticated.</p>