7 days from
£2110
* Current p/p indicative rate.
Overview
Highlights
Dates & Prices
Itinerary
Map
Ship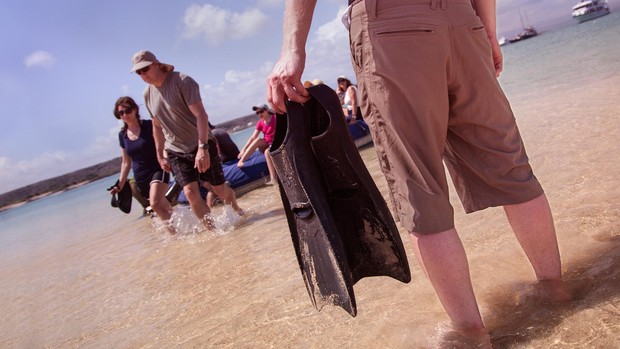 Have you always dreamed about exploring the Galápagos, but never found the time? Make some. Let the Monserrat show you how comfortable a whirlwind trip through the exotic landscapes of the islands can be. On this adventure, you'll experience the beautiful white-sand beaches of Española, encounter giant sea turtles and other wildlife, and gain a fuller understanding of it all at the Charles Darwin Foundation. Get a fresh perspective by getting out on the water!
• Four nights cruising the Galápagos National Park aboard the Monserrat • Gain a deeper understanding of the ecology of the Galápagos at the Charles Darwin Foundation • Choose to hike along or simply relax on the white-sand beaches of Española Island • Come face-to-face with 100-year-old giant tortoises
show reverse itinerary
Day 1 Quito
Arrive at any time.
Day 2 Quito/Puerto Baquerizo Moreno
Catch an early flight to San Cristóbal Island. In the afternoon, visit Isla Lobos and be greeted by sea lions frolicking in the waves.
Day 3 Cerro Brujo
Starting on the north coast of San Cristóbal, land at Cerro Brujo to observe the sea lions, marine iguanas, and seabirds along the beach. Spend the afternoon visiting the tortoise breeding area in the highlands rich with endemic flora.
Day 4 Bahía Gardner/Punta Suárez
Enjoy the day on Española Island, one of the oldest in the archipelago. Visit the white sandy beach of Gardner Bay's and the bird colonies of Punta Suárez.
Day 5 Punta Cormorant/Floreana Island
Land at Punta Cormorant on Floreana. Guided walks to observe the bird and wildlife and learn about the natural history. Snorkelling excursion at Champion Islet. Visit Post Office Bay.
Day 6 Puerto Ayora/Quito
Disembark in Puerto Ayora and visit the Charles Darwin Research Station to see the giant Galápagos tortoises. Fly back to Quito.
Day 7 Quito
Depart at any time.
Please Note:
While it is our intention to adhere to the route described, there is a certain amount of flexibility built into the itinerary and on occasion it may be necessary, or desirable to make alterations.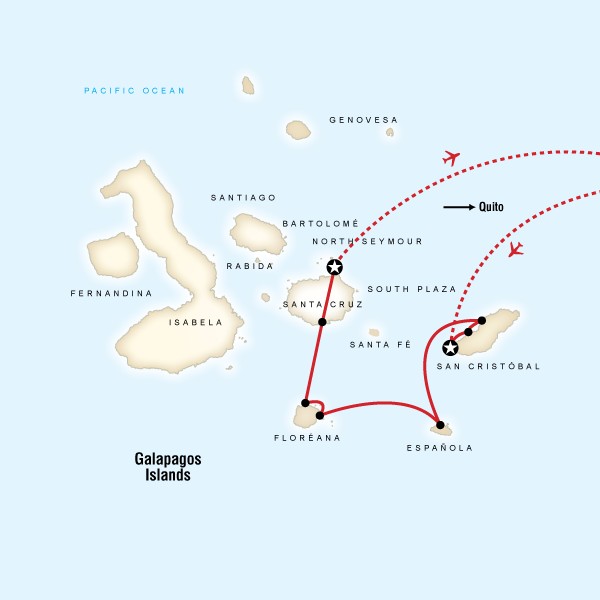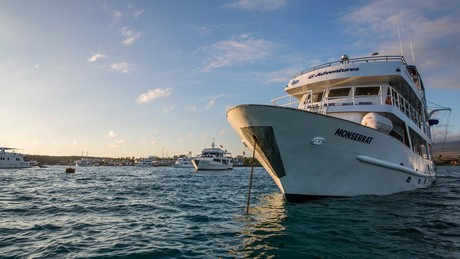 Vessel Type: Small Ship
Passenger Capacity: 20
With plenty of room to move about and a high passenger-to-guide ratio, the Monserrat is value incarnate. Comfortable cabins and common areas, roomy outdoor spaces, and a CEO Naturalist Guide for every ten travellers make for a top-notch blend of comfort, service, and, on the top deck, sun worship.
Cabins:
6 upper-deck double-occupancy cabins with twin and double beds. 4 lower-deck double-occupancy cabins with twin and double beds.
Boat layout:
Spacious main deck. Lounge, bar and dining room. Large forward sundeck with lounge chairs. Observation deck with out door bar.
Crew:
With eleven dedicated crew members and a pair of CEO Naturalist Guides familiar with the local flora and fauna and certified by the Galápagos National Park Service, there's always someone available to answer your questions.
Amenities:
Snorkelling equipment, wetsuits and beach towels included at no extra charge. Fresh and tasty local and international cuisine served onboard.
Overview
Highlights
Dates & Prices
Itinerary
Map
Ship