Following the Route of the Norse
Join us for a journey that follows the route of the Norse in their explorations of Greenland. Heading first to East Greenland, we will experience the beauty of deep fjords and crystal clear glaciers. In South and West Greenland, we will see the remains of Norse settlements and will visit small towns and villages to encounter a fascinating mix of local and Danish culture. Visiting Ilulissat's Icefjord (a UNESCO World Heritage Site) will illustrate the tremendous forces of nature that influence the life of the Greenlanders. Throughout the voyage, learn about the history, geology, wildlife and botany of this spectacular area from lecture presentations offered by your knowledgeable on board Expedition Team.
Following the Route of the Norse itinerary:
show reverse itinerary
Day 4 - CRUISE PRINCE CHRISTIAN SOUND, GREENLAND & AAPILATTOQ
Day 5 - NANORTALIK & UUNARTOQ ISLAND
Day 6 - QAQORTOQ (JULIANEHÅB) & HVALSEY
Day 7 - QASSIARSUK (BRATTAHLID) & ITILLEQ
Day 10 - EVIGHEDSFJORD, EVIGHEIDS GLACIER & KANGAAMIUT
Following the Route of the Norse reverse itinerary:
show main itinerary
*
= Indicative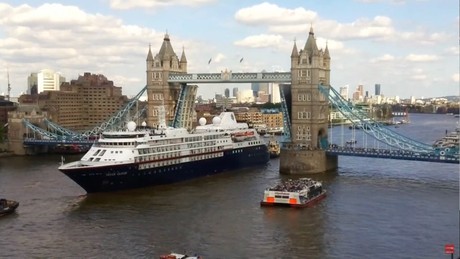 Silver Cloud
Vessel Type: Luxury
Passenger Capacity:296
Refurbished: 2017
Spacious yet intimate, designed to cross oceans and yet able to slip up rivers and into hidden harbours with ease, the yacht-like Silver Cloud carries just 296 guests in incomparable comfort and style. Combining spacious ocean-view suites and private verandas with stunning dining and entertainment options, our inaugural ship launched a new ocean standard and continues to epitomize Silversea's vision of world-class cruise accommodations, service and amenities. Join us and come home to warmth and welcome anywhere in the world desire takes you.
• Skjoldungen Fjord, Greenland – Skjoldungen, a large uninhabited island off of Greenland's east coast, offers a spectacular ship's cruise and (weather permitting) a Zodiac cruise to approach Thrym Glacier. Keep an eye out for whales, which are often spotted at the entrance to Skjoldungen. The island was named after Sjoldr, one of the first legendary Danish kings mentioned in the Old English poem Beowulf.

• Prince Christian Sound, Greenland – The Silver Cloud will cruise through the Prince Christian Sound (Prins Christian Sund), the waterway connecting the east and west coasts of Greenland. This is one of Greenland's most dramatic natural features, with its steep mountains, waterfalls and glaciers.

• Uunartoq Island, Greenland – Uunartoq is Greenlandic for "The Warming Island" and was named for its hot springs. The region only became in island in 2005, when the ice shelves here began retreating rapidly. The contrast of boiling hot springs and nearby icebergs exemplifies the contrasts of Greenland.

• Qaqortoq, Greenland – The colorful houses of Qaqortoq are cheerfully painted in bright primary shades. The modest Qaqortoq Museum houses a unique collection of contemporary artwork, and a superb collection of Inuit artefacts associated with hunting and fishing. The town is also famous for "Stone and Man," an open air sculpture gallery consisting of rock carvings and etchings.

• Qassiarsuk, Greenland – Brattahlid is the ancient home of Erik the Red of Greenland and the community houses replicas of a Norse manor house and chapel as well as a statue honoring Erik's son that stands on a hilltop above the village.

• Nuuk, Greenland – Nuuk's historic community and the position of this harbor town allows one to take in Nuuk's natural beauty and to see Inuit ruins, Hans Egede's home, parliament, and the Church of our Saviour. Nuuk gives visitors a chance to view the famous Qilakitsoq mummies and traditional clothing and artefacts at the Greenlandic National Museum.

• Ilulissat, Greenland – In addition to the charming local history museum in Ilulissat, there is a view of the Icefjord from a boardwalk at the outskirts of town. The magnificent Icefjord is a UNESCO World Heritage site and the northern hemisphere's most active glacier with icebergs evident in all shapes, sizes and shades of blue.

• Kayaking – Weather permitting, the Silver Cloud offers the opportunity to kayak in a small group under the guidance of certified kayak instructors. These special expeditionary excursions allow you to experience the wilds of Greenland in a peaceful silence.

• Retrace the route taken by the Norse and see the remains of Norse manors, chapels and churches.

• Visit a small village in Southwest Greenland to see how the Inuit live in current day.

• A visit to the Greenlandic National Museum in Nuuk will provide an excellent overview of the different cultures that have lived in Greenland.

• Wildlife Watch List: Humpback whales, minke whales, and orcas, Seabirds of note: Glaucous Gull, Iceland Gull, Common Gull, Great Black-backed Gull, Arctic Tern, Black-legged Kittiwakes. Land birds: Ravens, White Wagtail, Common Redpoll, Lapland Bunting, Lapland Longspur, Northern Wheatear, Red-throated Diver, Purple Sandpiper