Following the Route of the Norse
Join us for a journey to follow the route of the Norse in they explored the rugged coasts of Iceland, Greenland and North America. Heading first to East Greenland, we will experience the beauty of fjords, glaciers and icebergs. In South and West Greenland, we will see the remains of Norse settlements and visit small towns and villages to encounter this fascinating mix of local and Danish culture. Visit L'Anse aux Meadows (UNESCO World Heritage Site) to see first-hand how far to the south the Norse journeyed and eventually settled. Enjoy examples of Inuit art and learn about the traditions they still follow today. Look for walrus, polar bears, humpbacks, Minke whales and orcas as we cruise by Zodiac and aboard the Silver Explorer. Throughout the voyage, learn about the history, geology, wildlife and botany of this spectacular area from lecture presentations offered by your knowledgeable on board Expedition Team.
Following the Route of the Norse itinerary:
show reverse itinerary
Day 4 - Cruise Prince Christian Sound & Aapilattoq
Day 5 - Nanortalik & Uunartoq Island
Day 6 - Qaqortoq (Julianehåb) & Hvalsey
Day 11 - Monumental Island & Lady Franklin Island
Days 12 & 13 - Day at sea
Day 14 - L'Anse aux Meadows
Following the Route of the Norse reverse itinerary:
show main itinerary
*
= Indicative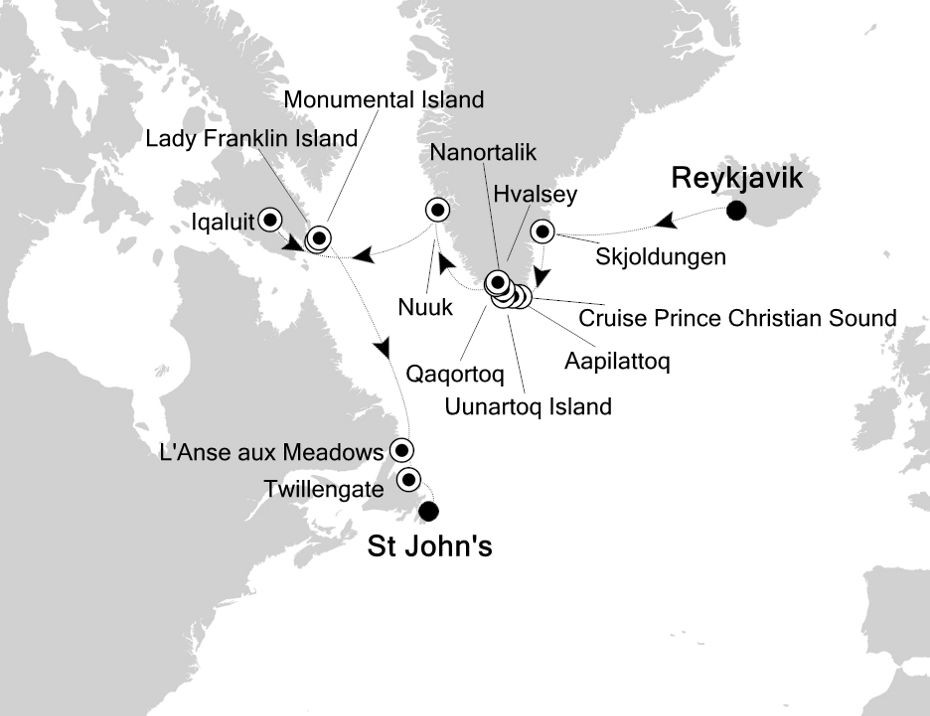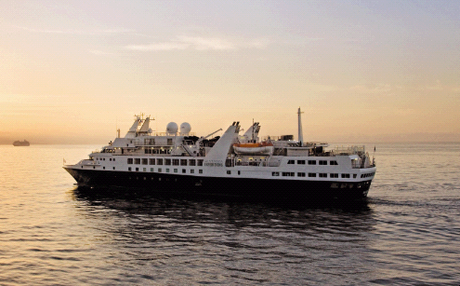 Silver Explorer
Vessel Type: Luxury Expedition
Length: 108 metres
Passenger Capacity: 132
Built / refurbished: 1989 / 2008
The purpose-built Silver Explorer expedition ship (formerly the Prince Albert II) has been designed specifically for navigating waters in some of the world's most remote destinations, including both of earth's polar regions. A strengthened hull with a Lloyd's Register ice-class notation (1A) for passenger vessels enables Silver Explorer to safely push through ice floes with ease.
A fleet of Zodiac boats allows guests to visit even the most off-the-beaten path locations and an expert Expedition Team provides insight and understanding to each unforgettable Silver Explorer cruise adventure.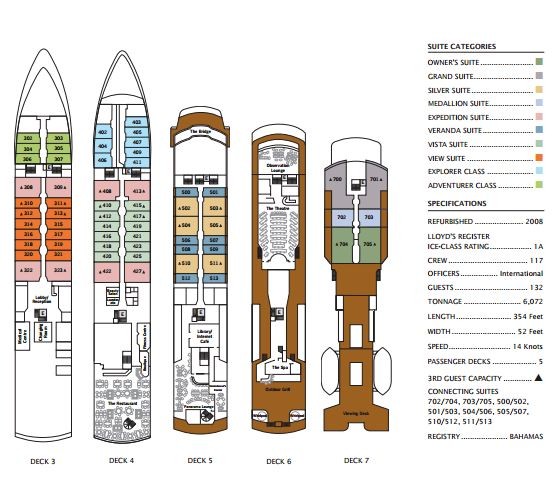 • Skjoldungen Fjord, Greenland – Skjoldungen, a large uninhabited island off of Greenland's east coast offers a spectacular ship's cruise and (weather permitting) a Zodiac cruise to approach Thrym Glacier. Keep an eye out for whales, which are often spotted at the entrance to Skjoldungen. The island was named after Sjoldr, one of the first legendary Danish kings mentioned in the Old English poem Beowulf.

• Prince Christian Sound, Greenland – The Silver Explorer will cruise through the Prince Christian Sound (Prins Christian Sund), the waterway connecting the east and west coasts of Greenland. Spend several enthralled hours as we pass through one of Greenland's most dramatic natural features, with steep mountains, waterfalls and glaciers.

• Uunartoq Island, Greenland – Uunartoq is Greenlandic for "The Warming Island" for its hot springs, though this region only became in island in 2005, when the ice shelves locally began to retreat rapidly. The contrast of icebergs and hot springs is truly a bold one!

• Qaqortoq, Greenland – Stroll through the picturesque harbour town of Qaqortoq, its colorful houses painted in bright primary shades. The modest Qaqortoq Museum houses a unique collection of contemporary artwork, and a superb collection of Inuit artifacts associated with hunting and fishing. The town is also famous for "Stone and Man," an open-air sculpture gallery consisting of rock carvings and etchings.

• Hvalsey, Greenland – Visit Hvalsey, which is Greenlandic for Whale Island, which according to the Icelandic Book of Settlements was established by Erik the Red's uncle in the late 10th century. Go ashore and find the best-preserved ruins of a Norse church dating back to the 1300s.

• Nuuk, Greenland – Our leisurely walk through the historic part of this picturesque harbor town allows us to take in Nuuk's natural beauty, and also to see Inuit ruins, Hans Egede's home, parliament, and the Church of our Saviour. View the famous Qilakitsoq mummies and traditional clothing and artifacts at the Greenlandic National Museum.

• Iqaluit, Nunavut, Canada – Visit the capital (and only city) of the Canadian Arctic territory Nunuvut where exceptional artwork is featured in the Nunatta Sunakkutaangit Museum. Indigenous artwork plays an important role in the city as it is displayed in the Nunavut Legislative Assemble Building, and even in the streets, which are covered in colorful Inuit murals.

• Monumental Island, Nunavut, Canada – Monumental Island was named by Arctic explorer Charles Francis Hall in tribute to Sir John Franklin, an English Royal Navy officer and explorer of the Arctic who died in his quest to find the Northwest Passage. Cruise by Zodiac, if the weather permits, to look for walrus, polar bears, and Black Guillemots diving as they fish along the shoreline.

• L'Anse aux Meadows, Newfoundland, Canada – Visit an incredible UNESCO World Heritage Site – L'Anse aux Meadows – the first European settlement in North America. Discovered in 1960, the archaeological site is believed to be established by either Vikings or the Norse around 1000 AD as evidence of pre-Columbian overseas contact. Three buildings have been reconstructed near the original site so visitors can witness the lifestyles of these hardy explorers.

• Retrace the route taken by the Norse and see the remains of Norse manors and churches in Greenland and Canada.

• Visit a small village in Southwest Greenland to see how the Inuit live.

• Learn about the different cultures that have lived in Greenland and Nunavut at the Greenlandic National Museum in Nuuk and Iqaluit's visitors center.

• See outstanding examples of Inuit art in Qaqortoq, Nuuk (Greenland) and Iqaluit (Nunavut, Canada).

• Wildlife Watch List: Humpback whales, minke whales, fin whales and orcas. Polar bear (Monumental and Lady Franklin Islands), walrus and seals. Seabirds of note: Black-legged Kittiwakes, Northern Fulmars, Great Shearwater, Great Skua, Great Cormorant, Black Guillemot, Common Guillemot and Brünnich's Guillemot, Glaucous Gull, and Great Black-backed Gull