Down the East Coast of North America
Travel down the East Coast of North America from Quebec, Canada to Fort Lauderdale, FL, USA on a fantastic tour through the historic architecture of the Colonial period, the Civil War and the Gilded Age. Step back in time at Colonial Williamsburg, and soak up the charm and elegance of antebellum Charleston, South Carolina. Be greeted by the Statue of Liberty and stroll through iconic Times Square and Central Park in New York City. Visit monuments, museums and parks in the U.S. capital of Washington D.C. Visit important historical sites all along the East Coast, from the Revolutionary War to the Civil War. Also see one of North America's largest Northern Gannet colonies at Bonaventure Island, and look for whales (humpback, Minke and right), seals, Atlantic Puffins and dolphins along the way! Throughout the voyage, learn about the geology, wildlife and botany of these locations from lecture presentations offered by your knowledgeable on board Expedition Team.
Down the East Coast of North America itinerary:
show reverse itinerary
Day 3 - BONAVENTURE ISLAND & PERCE
Day 4 - CHARLOTTETOWN, PRINCE EDWARD ISLAND
Day 5 - SYDNEY, NOVA SCOTIA
Day 6 - HALIFAX, NOVA SCOTIA
Day 9 - NEWPORT, RHODE ISLAND
Day 15 - CHARLESTON, SOUTH CAROLINA
Day 17 - FORT LAUDERDALE, FLORIDA
Down the East Coast of North America reverse itinerary:
show main itinerary
*
= Indicative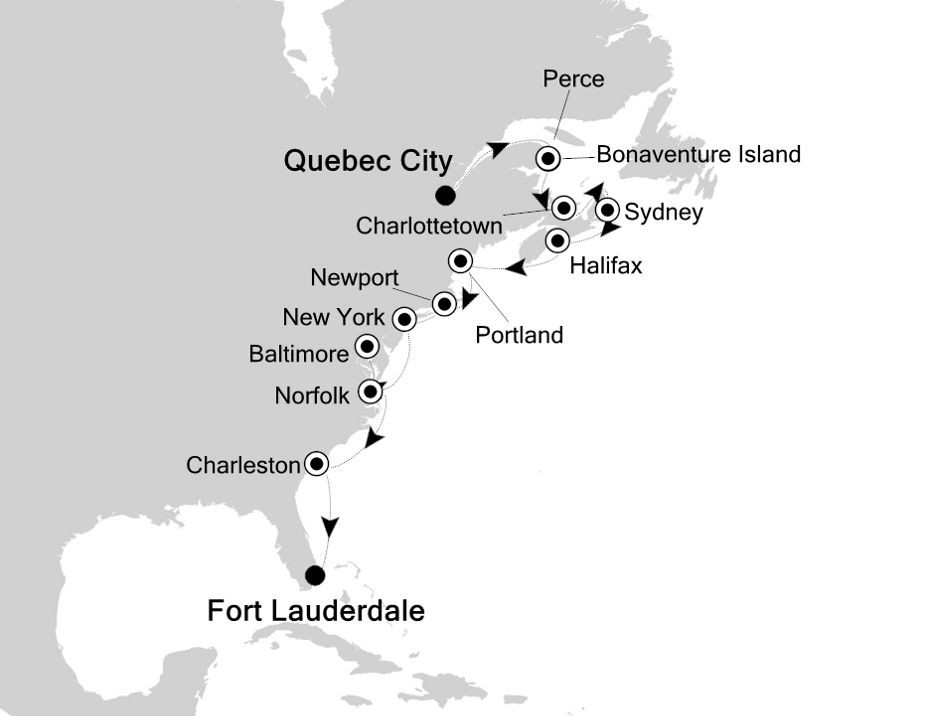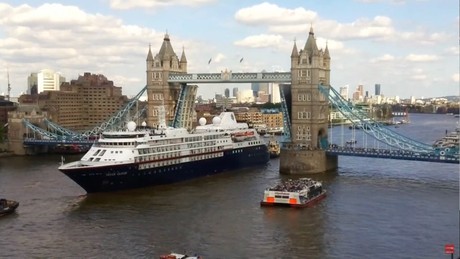 Silver Cloud
Vessel Type: Luxury
Passenger Capacity:296
Refurbished: 2017
With 18-brand new Zodiacs, four superlative restaurants in Antarctica and a pole to pole expedition itinerary, Silver Cloud really does break the ice between expedition and luxury. Spacious yet intimate, designed to cross oceans and yet able to slip up rivers and into hidden harbours with ease, the yacht-like Silver Cloud carries just 296 guests in incomparable comfort and style. Combining spacious ocean-view suites and private verandas with stunning dining and entertainment options, Silver Cloud provides world-class cruise accommodations, service and amenities.
After extensive refurbishment, Silver Cloud is the most spacious and comfortable ice class vessel in expedition cruising. Her large suites, her destination itineraries and her unparalleled service make her truly special. Her four dining options will tantalise your taste buds and as 80% of her suites include a veranda, watching a breaching whale or a few cavorting penguins has never been so personal. She carries a limited number of guests in polar waters, meaning that Silver Cloud has the highest space to guest and crew to guest ratios in expedition cruising. With her 18 zodiacs, 10 kayaks, possibilities are almost limitless with ship-wide simultaneous explorations.
• Charlottetown, Prince Edward Island, Canada – Visit the Green Gables National Historic Site, setting for the famous novel Anne of Green Gables and known as the birthplace of the nation of Canada. While modest in size, Charlottetown offers a lively cultural and culinary scene, nestled amidst a Victorian-era streetscape thick with boutiques and sidewalk cafes.

• Halifax, Nova Scotia, Canada – In Halifax you will find the bustling capital city of Nova Scotia, with its thriving arts and culinary scene and manicured parks and gardens. From here explore the charming fishing village of Lunenburg, a UNESCO World Heritage Site known for its distinctive, colorful waterfront and seafaring culture.

• Newport, Rhode Island, USA – Enter the famed oceanfront "cottages" of the Gilded Age in the charming seaside city of Newport, Rhode Island. Built by affluent American families at the turn of the 20th century, the city's mansions are each at least 50,000 to 100,000 square feet in size, with opulent finishes and furnishings that will whisk you into daydreams of another time and place.

• New York, New York, USA – Feel the beating heart of the city that never sleeps – New York, NY! The Statue of Liberty will welcome us as we approach via the ship enters New York City Harbor. Experience the vibrant activity of Times Square and ramble in the expansive, lovely Central Park, which offers 780 acres of parks, paths and gardens designed by Frederick Law Olmsted in the 1850s.

• Charleston, South Carolina, USA – Founded in 1670, Charleston is regularly voted the best city in the USA for its charm, architecture, culture and food. Stroll quaint streets lined with beautifully maintained Southern antebellum architecture, or enjoy unique southern fare like she-crab soup or shrimp and grits. The history of the Civil War and the slave trade is still palpable in Charleston and offers a chance to learn more of this not-so-distant past.

• Step back in time at Colonial Williamsburg in Virginia, a living museum located in the city's historic district that recreates life in Colonial times.

• See the history-laden Gilded Age, Colonial and antebellum estates. These mansions and homes are grand and stately, serving as a uniquely immersive way to experience life during those times.

• Visit the fishing village of Lunenburg and hear "salty" tales of seafaring and rum-running in a quaint, colorful village center.

• Wildlife Watch List: Harp, harbor, and grey seals, Humpback, Minke, and right whales, Harbor porpoise, white-sided and white-beaked dolphins, Osprey, Common Eider, Atlantic Puffins, Northern Gannets