Deep Into Scottish and English History
Join us to go deep into Scottish and English history, touring from Dublin to London via Scotland by sea and by train. We will sail from capital to capital, Dublin to London, over 12 days, starting in vibrant Dublin and heading first to the Isle of Lunga for birdwatching (mainly for the iconic Atlantic Puffin) and then to Iona Abbey, one of Scotland's most sacred and historical sites. We'll go ashore at the incredible Orkey archipelago to see prehistoric (Neolithic and Mesolithic), Norse and medieval architectural elements, evidence of civilization dating back 10,000 years. We will ride across the picturesque Scottish Highlands on the train that inspired Harry Potter's Hogwarts Express and visit Aberdeen, gateway to the Royal Deeside and five spectacular castles. You can look forward to arriving at St. Kilda, Scotland, a rare dual UNESCO World Heritage Site to see many bird species (including thousands of northern gannets) and prehistoric (Neolithic) ruins. In England, we will visit the majestic York Minster, one of the largest and most ornate examples of Gothic cathedrals in Northern Europe, and the UNESCO World Heritage Site of the Canterbury Cathedral of Chaucer's Canterbury Tales. Throughout the voyage, learn about the geology, wildlife and botany of these naturally beautiful locations from lecture presentations offered by your knowledgeable on-board Expedition Team.
Deep Into Scottish and English History itinerary:
show reverse itinerary
Day 3 - OBAN, SCOTLAND & MALLAIG
Day 4 - PORTREE, ISLE OF SKYE, SCOTLAND
Day 6 - KIRKWALL, ORKNEY ISLANDS, SCOTLAND
Day 7 - LERWICK, SHETLAND ISLANDS, NOSS, SCOTLAND
Day 12 - LONDON (TOWER BRIDGE)
Deep Into Scottish and English History reverse itinerary:
show main itinerary
Day 1 - LONDON (TOWER BRIDGE)
Day 6 - LERWICK, SHETLAND ISLANDS, NOSS, SCOTLAND
Day 7 - KIRKWALL, ORKNEY ISLANDS, SCOTLAND
Day 9 - PORTREE, ISLE OF SKYE, SCOTLAND
Day 10 - OBAN, SCOTLAND & MALLAIG
*
= Indicative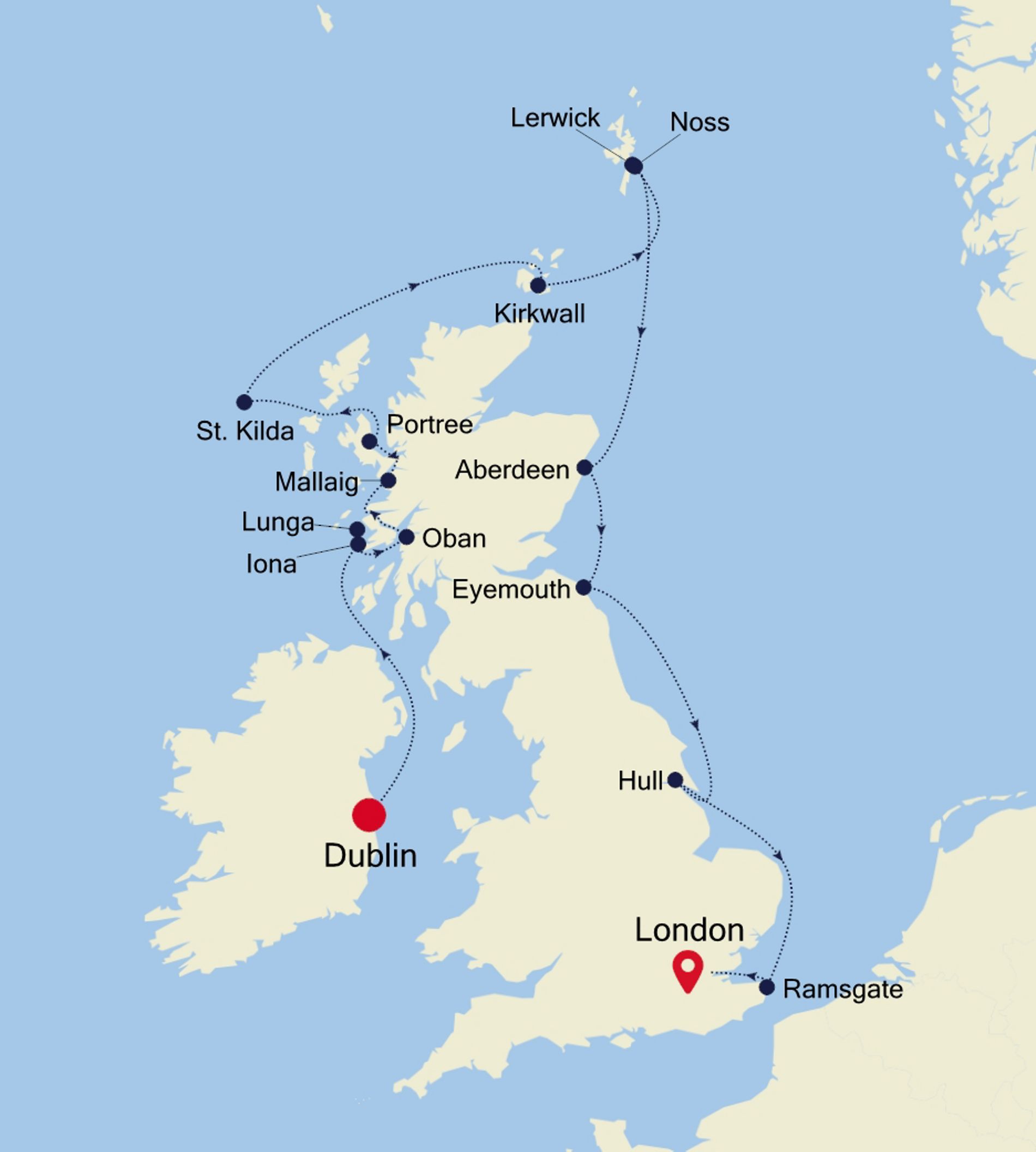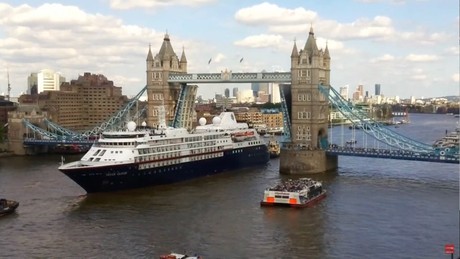 Silver Cloud
Vessel Type: Luxury
Passenger Capacity:296
Refurbished: 2017
With 18-brand new Zodiacs, four superlative restaurants in Antarctica and a pole to pole expedition itinerary, Silver Cloud really does break the ice between expedition and luxury. Spacious yet intimate, designed to cross oceans and yet able to slip up rivers and into hidden harbours with ease, the yacht-like Silver Cloud carries just 296 guests in incomparable comfort and style. Combining spacious ocean-view suites and private verandas with stunning dining and entertainment options, Silver Cloud provides world-class cruise accommodations, service and amenities.
After extensive refurbishment, Silver Cloud is the most spacious and comfortable ice class vessel in expedition cruising. Her large suites, her destination itineraries and her unparalleled service make her truly special. Her four dining options will tantalise your taste buds and as 80% of her suites include a veranda, watching a breaching whale or a few cavorting penguins has never been so personal. She carries a limited number of guests in polar waters, meaning that Silver Cloud has the highest space to guest and crew to guest ratios in expedition cruising. With her 18 zodiacs, 10 kayaks, possibilities are almost limitless with ship-wide simultaneous explorations.
• St. Kilda, Scotland – Go ashore at this dual UNESCO World Heritage Site (recognized for its natural heritage and cultural significance) and observe one of the world's largest homes of the northern gannet bird (as well as the iconic Atlantic Puffin). St. Kilda boasts both medieval ruins and even prehistoric architectural features from the Neolithic period.

• Isle of Skye, Scotland –Visit breath-taking natural scenery, as well as some of the most well-known Hebridean/Scottish castles: either the Eilean Castle or Dunvegan Castle. Lucky visitors may see seals, whales or dolphins surrounding the island.

• Aberdeen, Scotland – Visit beautiful, history-laden Aberdeen, moving from bustling city to the magnificent valley of the River Dee, affectionately nicknamed the Royal Deeside as it houses the summer home of the Royal Family: the stunning Balmoral Castle. There are other castles to visit there as well: Braemar, Drum and Crathes, with its world-famous gardens.

• York Minster, England – Walk the charming, cobblestone streets of York and step inside the incredible York Minster, a glorious Gothic cathedral and the largest of its kind in Europe, dating back to the 13th century, AD (but not completed until the 15th century). London, England –We'll take a panoramic tour of London and enjoy an evening reception at the Royal Geographical Society's Headquarters in Kensington, the leading center for geographical learning.

• Enjoy an evening ashore in the Orkney Islands and sample local food while story-tellers and a local band (including a dance caller) will entertain the guests.

• Birds of note: Corncrakes (mainly heard, but difficult to see) at Iona, Guillemots, Atlantic Puffins, Manx Shearwater, Black-legged Kittiwakes, Razorbills, Northern Gannets, Herring Gulls, Black Guillemots,

• Sea mammals: porpoises and grey seals Expedition highlights and wildlife listed here are possible experiences only and cannot be guaranteed.