8 days from
£2250
* Current p/p indicative rate.
Overview
Highlights
Dates & Prices
Itinerary
Map
Ship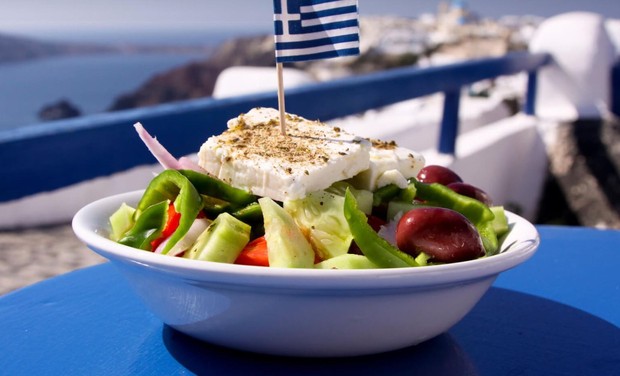 Enjoy a harmonious balance between conventional cruising and private yachting, along with an exciting voyage of discovery, unraveling the wonders of Classical Greece. The beautiful Cyclades, Kea, Santorini, Mykonos and the neighboring UNESCO-protected archaeological isle of Delos. Crete, the largest and southern most Greek island. The crystal blue waters of the island of Kythira, a hidden gem of the Aegean sea. The Peloponnese with Monemvassia and Nafplion historical treasures. Hydra, an off-the-beaten track island with her picturesque harbor. Each day you will discover a new port of call, a hidden cove with crystal blue waters to cool you, a glimpse of ancient history to amaze you and rich cultural diversity to intrigue you.
• Santorini with her famous sunsets, sugar cube villages and the historical site of Akrotiri • Mykonos, the queen of the Aegean and nearby Delos, Apollo's sacred island, a breath-taking open air museum and UNESCO World Heritage site. • Hydra, a truly authentic, unknown island. • Crete, the largest island in Greece. • Monemvassia, a "stone about to set sail"
show reverse itinerary
DAY 1 ATHENS KEA GREECE
Embarkation at Marina Zea in Athens, between 2-3 pm. Enjoy a welcome drink and meet your crew and fellow passengers. Depart via Cape Sounion to Kea. Time at leisure to explore Kea's tiny port, Korrisia after dinner. Departure in the early hours for Delos. Overnight at sea.
DAY 2 DELOS MYKONOS GREECE
Optional morning tour to the unique archaeological site of Delos, antiquity's most sacred island. On to the port of Mykonos, with a swim stop on the way. Free afternoon and evening to enjoy the island's cosmopolitan lifestyle. Overnight in Mykonos.
DAY 3 SANTORINI GREECE
Noon arrival in Santorini (anchorage at Fira). Experience the stunning natural drama of the volcanic caldera. Optional tour to archaeological sites and typical villages with unique views over the Aegean Sea. Overnight sailing to Crete.
DAY 4 RETHYMNON CRETE GREECE
Morning arrival at Crete's famous and lively port of Rethymnon. Optional tour to the ancient city of Knossos near Heraklion. Late departure for Kythira. Overnight at sea.
DAY 5 KYTHIRA GREECE
Late morning swim stop and afternoon arrival to Kythira, a less known island gem now fast becoming a favourite among visitors to Greece. Evening at leisure to visit the picturesque main town of Chora and experience the subdued charms of this peaceful island. Overnight in Kythira.
DAY 6 MONEMVASSIA NAFPLION, GREECE
Early morning sailing to Monemvassia. Discover a remarkable medieval fortified town, with time at leisure to explore the uniquely preserved Byzantine and Venetian architecture and experience the beauty of the natural setting. Depart for Nafplion in the early afternoon, with a swim stop on the way. Evening arrival at Nafplion. The old quarter is charming, with narrow streets and characteristic period architecture. Also, impressive medieval fortifications can be seen in the port and crowning the hills above. Overnight in Nafplion.
DAY 7 HYDRA, GREECE
Optional tour to Mycenae, the powerful walled palace of Agamemnon, the Homeric Achaean king. Early afternoon departure for the islands of Hydra. Time at leisure to explore this picturesque port town. Overnight in port.
DAY 8 MARINA ZEA ATHENS GREECE
Departure in the early hours for Marina Zea, Piraeus. Arrival and disembarkation after breakfast.
Please Note:
Itineraries are subject to change.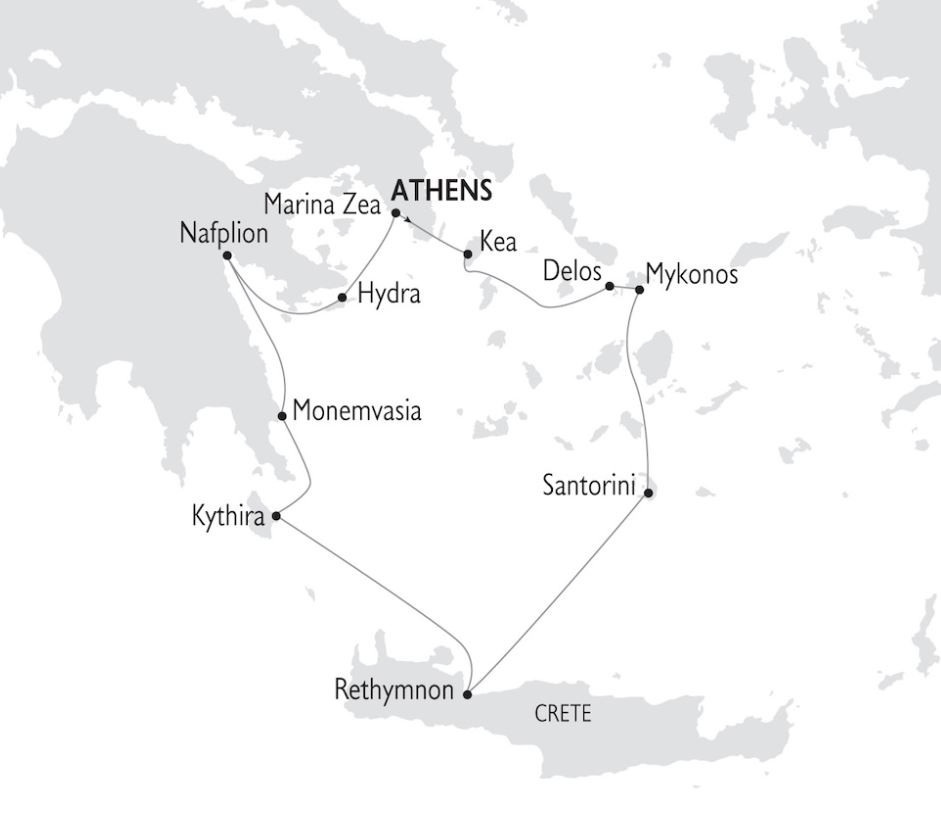 Harmony V is a modern vessel with a sleek high-tech look very similar to the private yachts to be found in the famous ports of the world.
The 55m long/ 8.2m wide Mega Yacht was launched in June 2009 and refurbished in 2019.  A spacious lounge with classy seating and an American Bar leads into a dining area decorated with warm colors. Both areas offer large windows providing for the most beautiful views of all destinations the ship cruises to.
The 200 m2 sundeck offers a shaded outdoor area for all day dining and a bar as well as sun chairs and loungers. The swimming platform on Harmony V stern allows for easy access to the ship and for a wide range of sea related activities.
The Harmony V cabins are all located on the Upper and Main Decks and all of them have windows. The 25 cabins can sleep a maximum of 49 passengers and feature twin or queen sizes beds. Upper Deck cabins feature flexible (twin or double) bed configuration, flat screen TVs, music channels, mini fridge, direct dial telephone (for internal use), safe deposit boxes, hair dryer. The en suite bathrooms have shower and W/C and toiletries. Harmony V has state of the art twin stabilizers to provide for safe and comfortable cruising.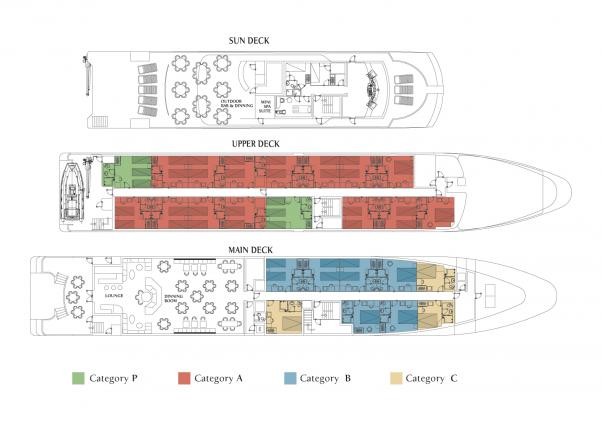 Overview
Highlights
Dates & Prices
Itinerary
Map
Ship