8 days from
£1635.0
* Current p/p indicative rate.
Overview
Highlights
Dates & Prices
Itinerary
Map
Ships
What's Included
You'll fall in love with the unexpected beauty of the bays and beaches of Montenegro. Here, history
comes alive in picturesque coastal cities that welcome you before a backdrop of dramatic mountains.
Enjoy chef-prepared meals served onboard a richly- appointed gulet as our expert crew attends to every
detail, taking you on an unforgettable cruise across the crystalline Adriatic Sea. Climb aboard—your passport to adventure awaits.
Discover Cavtat, known for its charming old town and scenic waterfront
Visit Perast, a picturesque town with stunning Baroque architecture and views of the Bay of Kotor
Explore Kotor, a UNESCO World Heritage Site, famous for its medieval old town
Admire the island of Sveti Stefan, known for its sandy beaches and crystal-clear waters
Sightsee in ancient Budva
Relax and recharge in tranquil Bigova Bay
Explore stunning Porto Montenegro village marina
show reverse itinerary
Day 1 - Start Your Journey In Cavtat
Welcome aboard! Boarding will commence at 5:00 PM in Cavtat. Once you've settled into your cabin, please join us for a friendly drink. We'll set sail towards Tiha Bay, where you can take a refreshing swim before indulging in a delectable dinner, meticulously prepared by our chef. We'll spend the night anchored in the tranquil waters of Tiha Bay. Cavtat is just 10 minutes from Dubrovnik Airport and is 20 kilometres south of Dubrovnik. A lovely, gentle and quiet place to stay away from the crowds of Dubrovnik.
Day 2 - Discover Perast, An Idyllic Village On The Breathing Bay Of Kotor
After a delightful breakfast and a refreshing swim, we embark on our sailing adventure towards Montenegro. As we approach the Bay of Kotor, we take a moment to soak in the serene surroundings and pause for a rejuvenating break in Morinj Bay. Finally, we reach the charming town of Perast, where you can enjoy a lovely dinner on your own before retiring for the night at the peaceful dock.
Day 3 - Explore Medieval Town Kotor
After a delightful breakfast, we will have the pleasure of exploring the charming island of Our Lady of the Rocks with a knowledgeable guide. Following this, we will break for lunch and a refreshing dip in the tranquil waters of Risan Bay. As the day draws to a close, we will sail into the breathtaking Bay of Kotor and arrive at our destination of Kotor. Take a leisurely stroll through this picturesque town and savor a delicious dinner at your own pace. We will spend the night docked in Kotor.
Day 4 - Experience Peaceful Atmosphere And Scenic Views In Bigova Bay
As we start the day with a delicious breakfast, we will embark on an enchanting, guided tour of the beautiful old town Kotor, which has been deemed a Unesco site. Our journey continues as we set sail and make a stop at Mirista Bay for a delightful lunch before reaching the charming fishing village of Bigova. Here, you can indulge in the exquisite flavours of traditional Adriatic cuisine. We will spend the night docked in the tranquil waters of Bigova Bay.
Day 5 - Relax Like Royalty Near Sveti Stefan And Sightsee In Ancient Budva
After enjoying a delicious breakfast, we will embark on a sailing journey towards the breathtaking Sveti Stefan island. Here, we will take a break for a refreshing swim and indulge in a scrumptious lunch while admiring the stunning views of the island. Continuing our voyage, we will make a stop at Saint Nicola island for another opportunity to swim. Once we arrive in Budva, you will have the pleasure of exploring this ancient old town and treating yourselves to a delightful dinner. We will spend the night at anchor in Budva.
Day 6 - Visit Luxury Porto Montenegro Village Marina
Following breakfast, we will be setting sail towards the beautiful Jaz Bay, where you can enjoy the sandy beach. Afterwards, we will make our way to the tranquil Dobra Luka Bay for lunch on board. Our destination for the day is Tivat, where you will have the opportunity to explore the luxurious village marina or the historic Donja Lastva. For dinner, you will be dining out and spending the night at anchor.
Day 7 - Discover The Enduring Charm Of Cavtat
On the last day of our cruise, we will be returning to Croatia and enjoying a delightful lunch on board. In the afternoon, we will make a stop at Tiha Bay for swimming before docking for the evening at the lovely port of Cavtat. We invite you to savour your dinner and unwind in this charming town.
Day 8 - Disembarkation
After a send-off breakfast on board, check-out at 09:00.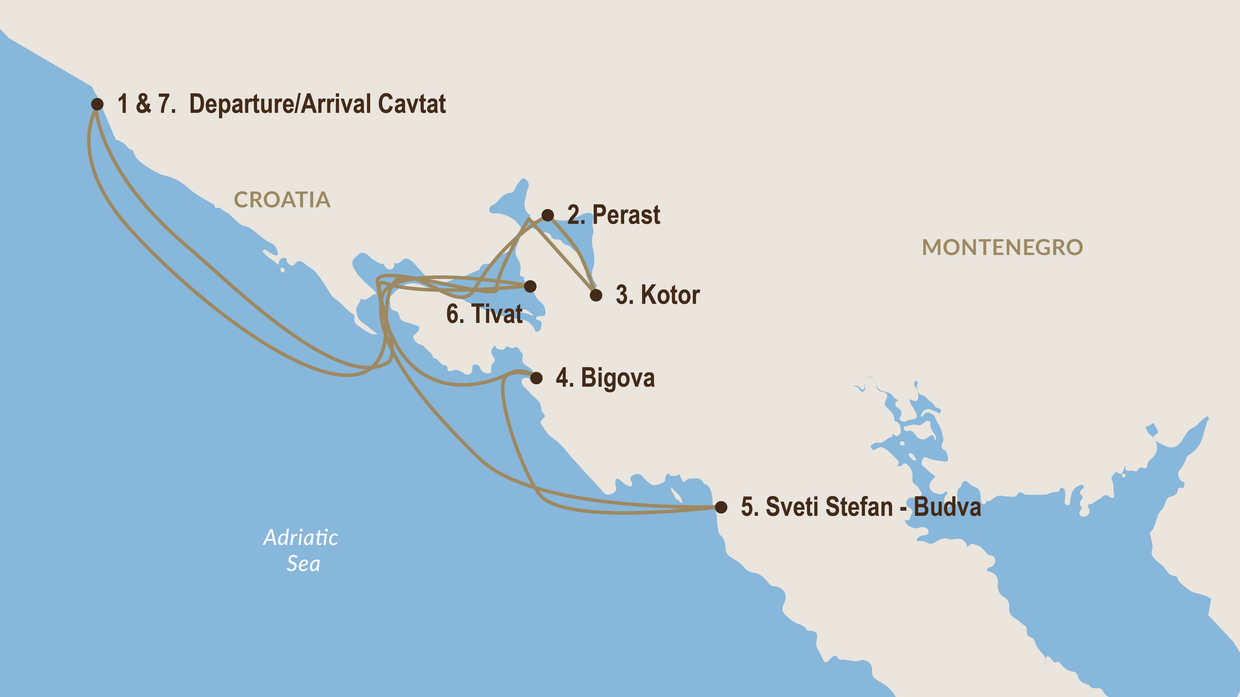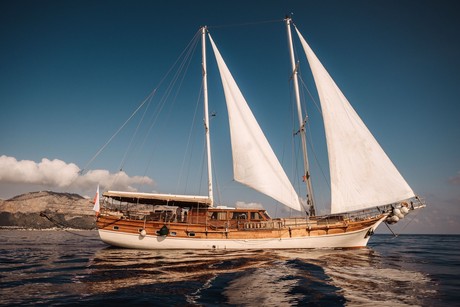 | | |
| --- | --- |
| Length | 32m |
| Built/refit | 2005/2021 |
| Cabins | 6 |
| Crew | 4 |
The artful craftsmanship of Turkish gulets is renowned throughout the world. Our six-cabins gulet elegantly handcrafted from wood by the artisans from Turkey, raised in the family tradition of skillful artisans, combining classical hand-tooled workmanship with state-of-the-art building techniques.
The six spacious double/twin cabins carry up to 12 passengers in stylish comfort. Each cabin is smartly designed with private shower and toilet, air conditioning, and all of the amenities to surround you with gleaming comfort.
On the back deck, the wooden dining table hosts elegant dinners, while a posh cushioned seating area invites enchanting conversations.
The main room holds a fully-equipped kitchen, dining table, and cozy seating, along with a TV, mini library, and fully stocked bar.
The front deck features a tiled sunbathing area where you can soak up the sunshine on your own personal sunbathing cushion. Then relax and rejuvenate in the perfectly plush outdoor lounge, enjoying a drink by a captivating sunset. Your friendly captain, chef, steward and deckhand are on board at all times, ready to attend to every last detail, ensuring that your cruise experience is absolutely perfect.

Cabins: 6 double bed en-suite cabins
A/C: air conditioning is availble 6 hours/day
wi-fi: available with download limits.
Amenities: Sailing equipment, snorkeling sets, kayaks, fishing rods, paddle boards, TV, DVD, music system, card games
Crew: Captain, Chef, Deckhand & Steward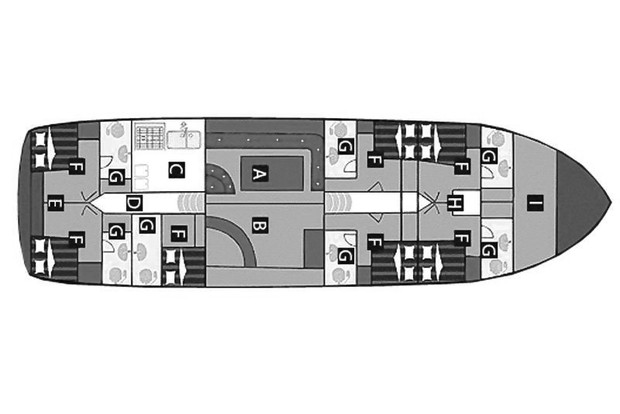 Includes
7-night cruise aboard a first-class traditional gulet superior category
Double cabin with private facilities
Full service from a five-star crew (captain, chef, deckhand and steward)
Chef-prepared meals including 7 breakfasts, 6 lunches with 3 courses, 1 dinner with 3 courses
Complimentary fresh fruit and water throughout all day
Bed linens, bathroom towels, and beach towels included and changed twice
Complimentary Wi-Fi on board (with download limits)
Part-time air conditioning (up to 6 hours daily until midnight)
Recreational equipment: snorkeling sets, kayaks, fishing rods, paddle boards, TV, DVD, music system, card games
Guided tours of Old Town Kotor and island "Our Lady of the Rocks" in Perast
VAT
Excludes
Beverages on board
Meals on shore (6 dinners on your own)
Private transfers from/to Dubrovnik airport to/from Cavtat
Personal extras or other items not mentioned above
Port fees of €100 Euro per person per week are payable on board in cash.
Overview
Highlights
Dates & Prices
Itinerary
Map
Ship
What's Included