Caribbean and South American Nature and Culture
Immerse yourself in Caribbean and South American nature and culture, all thanks to the connection created by the Panama Canal. This incredible voyage will leave from Fort Lauderdale, Florida, USA and transport us immediately to the paradise offered by Harbour and Provencia Islands. After crossing the Panama Canal, go birding at magical Isla de la Plata in Ecuador (compared to the Galapagos Islands for its wildlife). Explore ancient ruins in Peru at the Temples of the Sun and Moon to learn about Moche culture. Hike Costa Rica's Manuel Antonio National Park to view rare flora and fauna, as well as three other national reserves in Machala, Ecuador. This trip is a birdwatcher's dream, with over 20 species endemic and visible in these regions, including Blue- and Red-footed boobies, Toucans, Egrets, Kingbirds, Magnficent Frigatebirds, among many others. Go snorkelling to visit the diverse sea life at Conception Island, Providencia, San Andres and Isla de la Plata. Throughout the voyage, learn about the geology, wildlife and botany of these locations from lecture presentations offered by your knowledgeable on-board Expedition Team.
Caribbean and South American Nature and Culture itinerary:
show reverse itinerary
Day 1 - FORT LAUDERDALE, FLORIDA
Day 3 - CONCEPTION ISLAND
Day 6 - PROVIDENCIA ISLAND
Day 7 - SAN ANDRES ISLAND
Day 10 - PANAMA CANAL TRANSIT
Day 15 - ISLA DE LA PLATA
Day 18 - CRUISE ISLA LOBOS DE TIERRA
Caribbean and South American Nature and Culture reverse itinerary:
show main itinerary
*
= Indicative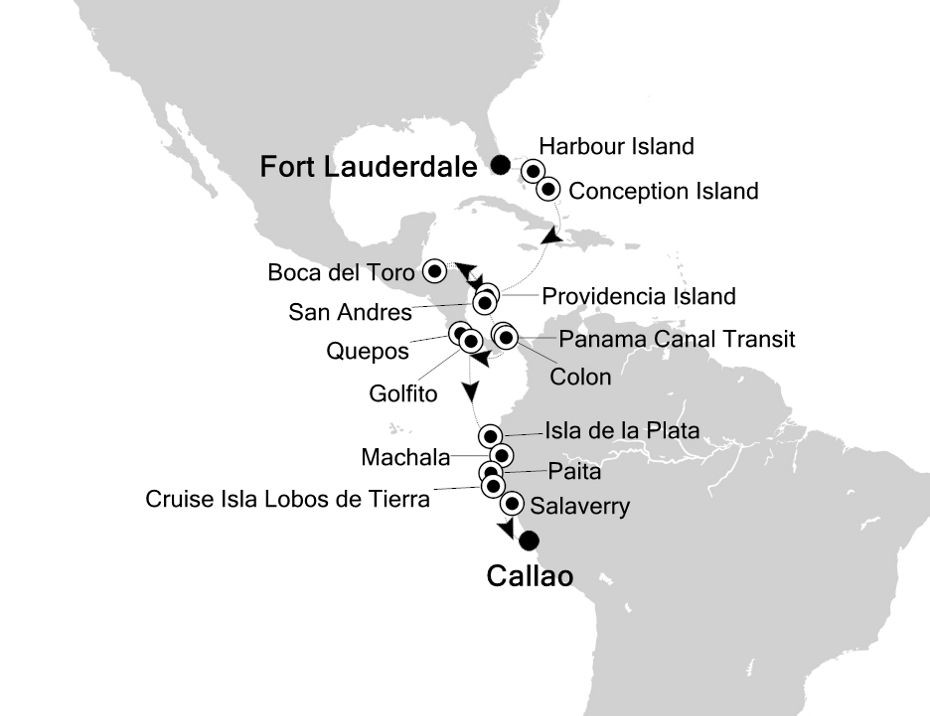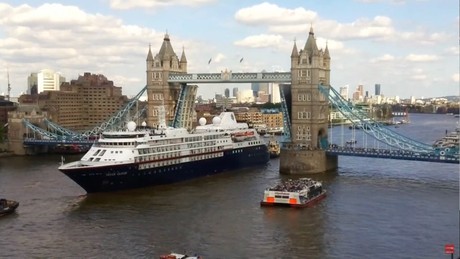 Silver Cloud
Vessel Type: Luxury
Passenger Capacity:296
Refurbished: 2017
With 18-brand new Zodiacs, four superlative restaurants in Antarctica and a pole to pole expedition itinerary, Silver Cloud really does break the ice between expedition and luxury. Spacious yet intimate, designed to cross oceans and yet able to slip up rivers and into hidden harbours with ease, the yacht-like Silver Cloud carries just 296 guests in incomparable comfort and style. Combining spacious ocean-view suites and private verandas with stunning dining and entertainment options, Silver Cloud provides world-class cruise accommodations, service and amenities.
After extensive refurbishment, Silver Cloud is the most spacious and comfortable ice class vessel in expedition cruising. Her large suites, her destination itineraries and her unparalleled service make her truly special. Her four dining options will tantalise your taste buds and as 80% of her suites include a veranda, watching a breaching whale or a few cavorting penguins has never been so personal. She carries a limited number of guests in polar waters, meaning that Silver Cloud has the highest space to guest and crew to guest ratios in expedition cruising. With her 18 zodiacs, 10 kayaks, possibilities are almost limitless with ship-wide simultaneous explorations.
• Harbour Island, Bahamas – Harbour Island charms every visitor, with its colorful Colonial houses and wild horses occasionally spotted running along the serene beaches. The unusual Harbour Island beaches are known for their pink sands. The pink color actually comes from a microscopic organism (foraminifera) with a reddish-pink shell, and looks stunning against the azure blues of the Bahamian waters.

• Providencia Island, Columbia – Providencia Island boasts hike-worthy views and a stunningly bright blue lagoon noted for the vibrancy of its waters even on a cloudy day. It is a Columbian island with a distinctly Caribbean atmosphere, yet the residents of this special destination speak predominantly English and an English-based Creole.

• Panama Canal, Panama – In daylight we will traverse the 48-mile Panama Canal, a manmade waterway that connects the Atlantic and Pacific Oceans, and one of the most challenging engineering projects ever undertaken. We will have the unique opportunity to view the Canal from both sea and land on this voyage.

• Manuel Antonio National Park, Costa Rica – Visit Manuel Antonio, Costa Rica's emblematic national park and a crucial wildlife sanctuary, home to many of Costa Rica's endangered species. While this is Costa Rica's "smallest" national park, it spans 1,700 acres of land and 136,000 acres of ocean! The site is known for its wildlife-rich hiking trails and gorgeous white sand beaches.

• Isla de la Plata, Ecuador – Spend time on Isla de la Plata, or the Island of Silver, where legend says that hundreds of tons of silver and gold were hidden and never recovered by Sir Francis Drake. Hike across the spectacular island, compared to the Galapagos Islands for its fauna, making it ideal for bird-watching and snorkelling.

• Visit the archaelogical remains of the Huaca of the Sun and Huaca of the Moon, scaled temples built by the Moche civilization of northern Peru in approximately 500 AD.

• Learn about the Moche culture through the rich iconography and monumental architecture that remain.

• Wildlife Watch List: Toucans, Black-necked Stilt, Cattle and Great Egrets, Turkey and Black Vulture, Tropical Kingbird, Lemon-rumped, Blue-grey, White-shouldered, Beryl-spangled and Palm Tanager, Rufous-tailed and Violet-bellied Hummingbird, White-necked Jacobin, Long-tailed Mockingbird, Rufous Motmot, Chestnut-mandibled Toucan, Long-wattled Umbrellabird, Ornate, Boat-billed and Olive-striped Flycatcher, White-bearded Manakin. Magnificent Frigatebirds, Brown Pelicans, Brown, Blue-footed, Red-footed and Nazca Boobies, Red-billed Tropicbirds. Sloths, dart frogs, spider and howler monkeys