The British Isles and Ireland
Join us to experience the British Isles and Ireland on a magic-filled journey that highlights the natural beauty of this region as much as its rich ancient history. We will sail from capital to capital, London to Dublin, over 10 days, starting at the historic Tower of London. Experience the English Channel as it has been travelled for centuries, stopping first at St. Peter's Port on Guernsey Isle, one of the world's most beautiful ports. See the incredible Tresco Abbey Gardens at the Isles of Scilly off Cornwall and stop to visit ancient medieval castles in Pembroke, Wales. Most of your time will be spent in Ireland, where we will find the massive and ornate Kylemore Abbey with its 6-acre Victorian Walled Gardens nestled in Druchruach Mountain. We will also enjoy an evening ashore on Clare Island to experience traditional Irish fare, music, drinks and dancing. This trip will delight nature-lovers: see for yourself why the Cliffs of Moher are Ireland's most popular natural attraction, view thousands of flowers and plants at Tresco Abbey, and observe over 27,000 pairs of northern gannets and other birds at Skellig Islands. Throughout the voyage, learn about the geology, wildlife and botany of these naturally beautiful locations from lecture presentations offered by your knowledgeable on-board Expedition Team.
The British Isles and Ireland itinerary:
show reverse itinerary
Day 3 - ST PETER PORT, GUERNSEY
Day 4 - TRESCO & ST MARY'S, ISLES OF SCILLY
Day 5 - PEMBROKE & SKOMER ISLAND
Day 6 - SKELLIG ISLANDS & KNIGHTS TOWN, VALENTIA ISLAND
Day 7 - CLIFFS OF MOHER & GALWAY
Day 8 - KILRONAN, AARAN ISLANDS & CLARE ISLAND
Day 10 - PORTRUSH, N. IRELAND
The British Isles and Ireland reverse itinerary:
show main itinerary
*
= Indicative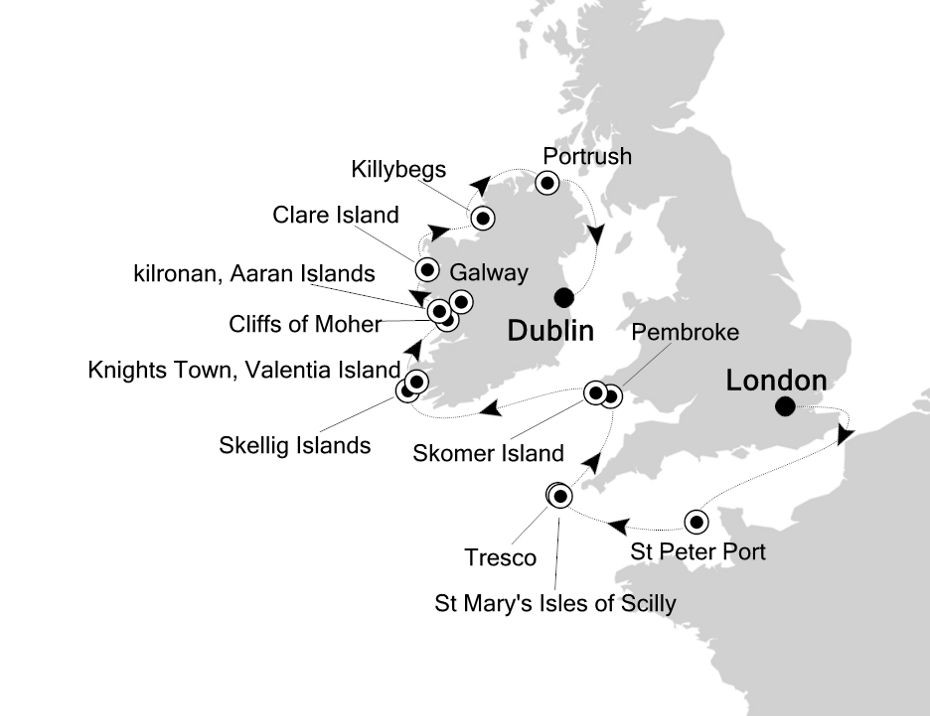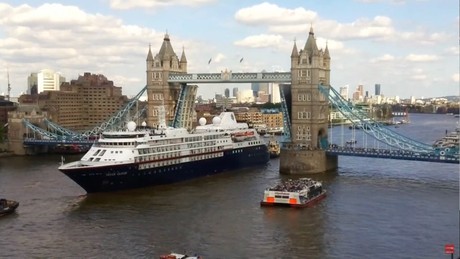 Silver Cloud
Vessel Type: Luxury
Passenger Capacity:296
Refurbished: 2017
With 18-brand new Zodiacs, four superlative restaurants in Antarctica and a pole to pole expedition itinerary, Silver Cloud really does break the ice between expedition and luxury. Spacious yet intimate, designed to cross oceans and yet able to slip up rivers and into hidden harbours with ease, the yacht-like Silver Cloud carries just 296 guests in incomparable comfort and style. Combining spacious ocean-view suites and private verandas with stunning dining and entertainment options, Silver Cloud provides world-class cruise accommodations, service and amenities.
After extensive refurbishment, Silver Cloud is the most spacious and comfortable ice class vessel in expedition cruising. Her large suites, her destination itineraries and her unparalleled service make her truly special. Her four dining options will tantalise your taste buds and as 80% of her suites include a veranda, watching a breaching whale or a few cavorting penguins has never been so personal. She carries a limited number of guests in polar waters, meaning that Silver Cloud has the highest space to guest and crew to guest ratios in expedition cruising. With her 18 zodiacs, 10 kayaks, possibilities are almost limitless with ship-wide simultaneous explorations.
• Tresco, Isles of Sicily – Visit Tresco Abbey Gardens, an astounding 17-acre sub-tropical paradise with palm trees and brilliant flora nestled amidst the ancient ruins of a Benedictine abbey (964 AD). Thousands of exotic plants thrive here that would not be possible to grow even 30 miles away on the mainland in Cornwall thanks to fingers of warm Gulf Stream water.\

• Pembroke, Wales – Visit the picturesque, history-laden Picton Castle (built in 13th century AD) or Pembroke Castle, the remains of the 11th century medieval castle that housed Henry VII, King of England in the 15th–16thcentury AD. Skellig Islands, Ireland –See the stone beehive huts (clochain) at the monastic settlement that dates as early as 6th century AD (and is a UNESCO World Heritage site). Learn why these islands have been dubbed an Important Bird Area, with over 27,000 pairs of Northern Gannets (Morus bassanus) that live here among at least nine other bird species (including the endearing Atlantic Puffin and the stalwart Peregrine Falcon).

• Kylemore Abbey and Victorian Gardens, Ireland – Tour the inside of the majestic waterfront Kylemore Abbey nestled at the base of Druchruach Mountain. View the 6-acre Victorian Walled Gardens, or hike amidst a small portion of the 1,000 acres of awe-inspiring mountainside. Galway, Ireland –Visit the dramatic and iconic Cliffs of Moher (UNESCO Global Geopark), Ireland's most often-visited natural attraction, or take a full-day excursion into the Connemara countryside.

• Enjoy an evening ashore on Clare Island that combines traditional Irish music, delicious seafood and delightful drinks that locals have enjoyed for generations.

• Birds of note: Northern Gannets, Manx Shearwaters, Razorbills, Common Guillemots, Great Cormorants, Common Shags, Black-legged Kittiwakes, Atlantic Puffins, European Storm Petrels, Eurasian Oystercatchers, Short-eared Owls, Common Kestrels and Peregrine Falcon

• Sea mammals: Harbor porpoises and grey seals Expedition highlights and wildlife listed here are possible experiences only and cannot be guaranteed. Your Expedition Leader and Captain will work together to ensure opportunities for adventure and exploration are the best possible, taking into account the prevailing weather, wildlife activity and ice conditions. Expedition Team members scheduled for this voyage are subject to change or cancellation.