Around the Kuril and Aleutian Islands
Join us for a journey around the Kuril and Aleutian Islands. This is an incredible opportunity to witness the people and wildlife that thrive in this desolate and wild part of the world. Experience distinctive cultural presentations in Korsakov on Sakhalin Island and in Petropavlovsk on the Kamchatka Peninsula. Take Zodiac cruises to find whales, seals, and brown bears. Observe Bald Eagles up close in Dutch Harbor, Alaska. Hike the side of Yankicha Island to see the magnificent caldera. Enjoy landscapes that have barely been touched by human hands and take in sulphur springs and fumaroles that will remind you of just how active the ground is beneath your feet. Throughout the voyage, learn about the geology, wildlife and botany of this spectacular area from lecture presentations offered by your knowledgeable on board Expedition Team.
Around the Kuril and Aleutian Islands itinerary:
show reverse itinerary
Day 7 - Petropavlovsk (Kamchatsky)
Day 8 - Date Line gain a day - Attu Island
Day 12 - Dutch Harbour & Baby Islands
Day 13 - Unga Village & The Haystacks, Alaska
Day 14 - Chignik & Aghiyuk Island, Semedi Islands
Day 16 - Geographic Harbor & Kukak Bay
Day 18 - Seward (Anchorage)
Around the Kuril and Aleutian Islands reverse itinerary:
show main itinerary
*
= Indicative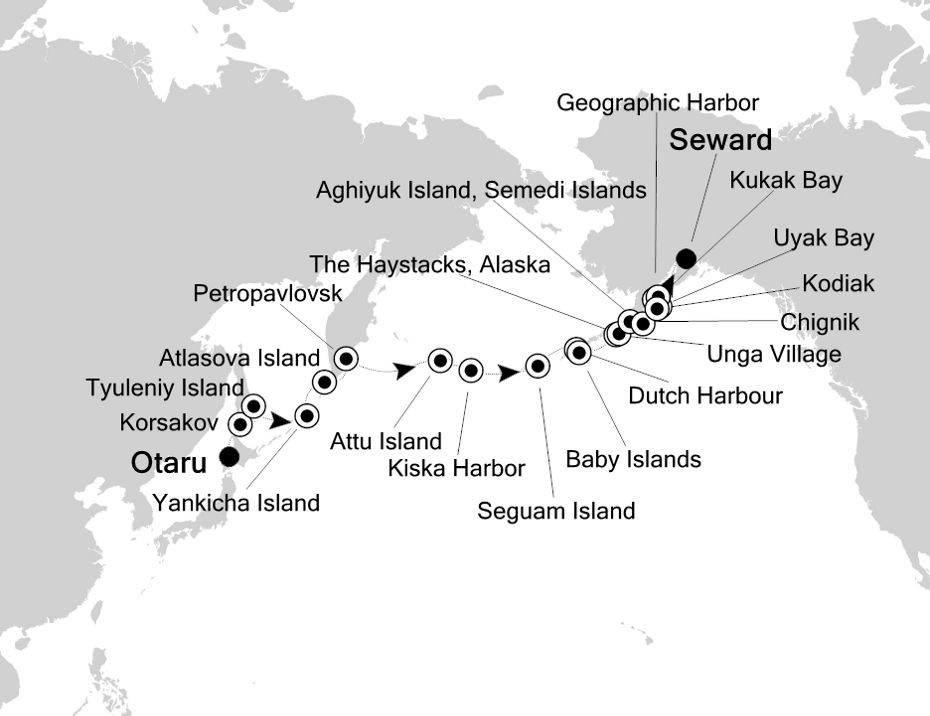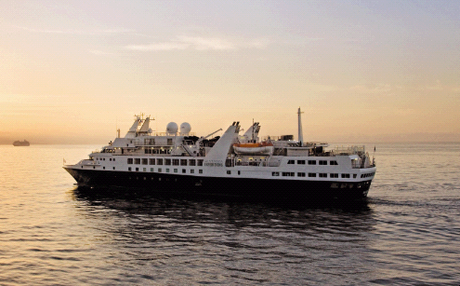 Silver Explorer
Vessel Type: Luxury Expedition
Length: 108 metres
Passenger Capacity: 132
Built / refurbished: 1989 / 2008
The purpose-built Silver Explorer expedition ship (formerly the Prince Albert II) has been designed specifically for navigating waters in some of the world's most remote destinations, including both of earth's polar regions. A strengthened hull with a Lloyd's Register ice-class notation (1A) for passenger vessels enables Silver Explorer to safely push through ice floes with ease.
A fleet of Zodiac boats allows guests to visit even the most off-the-beaten path locations and an expert Expedition Team provides insight and understanding to each unforgettable Silver Explorer cruise adventure.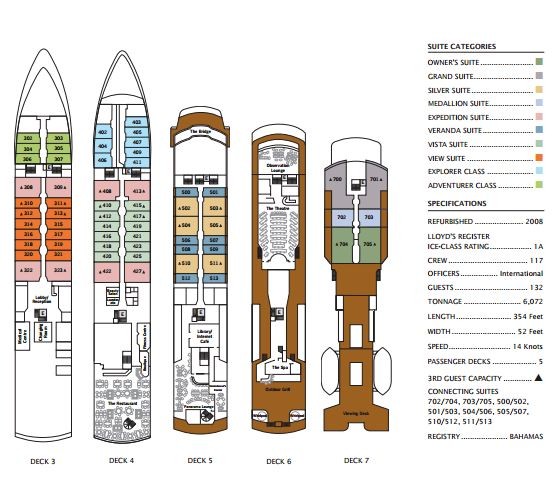 • Tyuleniy Island, Russia – Located in the Sea of Okhotsk, this island is home to a massive fur seal haul-out and was a site of much illegal seal hunting in the late 1800s. Cruise around the island by Zodiac and enjoy watching the prolific Northern fur seals, Stellar sea lions and Common Guillemots.

• Yankicha Island, Russia – Yankicha Island is the southernmost islet that makes up Ushishir Island. A caldera formed at its center is accessible by Zodiac at high tide. Here, it is possible to hike to the highest point of the island and take in impressive views of the sea and caldera below. Near the landing site there are fumaroles and hot springs that bubble up from the tectonic plates moving beneath the island. Lucky and observant visitors to the island might even spot an Artic fox.

• Dutch Harbor, Alaska – Bald eagles are plentiful in Dutch Harbor, a settlement ringed by gracious mountains. This area is frequented by eagles for the abundant fish present in the harbour and for the salmon running in local streams. The island was originally inhabited by Aleut people, and the town's culture is also influenced by the Russian traders who frequented the area in search of sea otter and seal pelts. Dutch Harbor is an important fishing port made famous in the Discovery Channel television series, "The Deadliest Catch." In addition, the effects of WW2 can still be felt in this dynamic and remote port town.

• Unga Island, Alaska – This 15-mile-long island is home to a ghost town that was once a mining village established in 1888. The last family left Unga in 1969 and now only the brilliant stalks of fireweed flowers poke out between the bleached beams and abandoned doorways of the buildings slowly being overtaken by nature.

• Geographic Harbor, Alaska – Located at the head of Amalik Bay in the Katmai National Park, this is an ideal habitat for brown bears. These massive mammals forage for berries, fish for salmon and dig for clams at low tide. The waters around the bay are ideal fishing grounds frequented by otters, seabirds and whales searching for food.

• Visit Russian Orthodox Churches and museums

• Experience cultural presentations in Korsakov on Sakhalin Island and in the mainland Russian town of Petropavlovsk

• Wildlife Watch List: Stellar Sea Lions, Northern fur seals. Crested and Whiskered Auklets, Brünnich's, Pidgeon and Common Guillemots, Black-Legged kittiwakes, Northern Fulmar, Tufted and Horned Puffins, Short-tailed Shearwater, Black Oystercatcher, Red-face Cormorant. American Pipit, Savannah Sparrow, Long-tailed Duck, White Wagtails, Buff-bellied Pipits, Red-breasted Merganser, Harlequin Duck, Bald Eagles, Snow Bunting, Lapland Longspur, Redpoll, Song Sparrow, Winter Wren, Bank Swallow, American Dipper, Gray-crowned Rosy-finch, Common Raven, Rough-legged Hawk, Peregrine Falcon, Belted Kingfisher. Red and Artic Fox