18 days from
£18476
* Current p/p indicative rate.
Overview
Highlights
Dates & Prices
Itinerary
Map
Ship
Antarctica, South Georgia & the Falkland Islands (Le Lyrial)
Join this panoramic Luxury Expedition Cruise and explore the colorful Falkland Islands, unspoiled South Georgia with its rookeries of king penguins, and epic Antarctica — an 18-day adventure taking in the vast riches of the Southern Ocean.
Please note: 2021 voyage rates include internal airfare.
Antarctica, South Georgia & the Falkland Islands (Le Lyrial) Highlights
• Cruise for 15 nights aboard luxurious 'Le Lyrial' with guaranteed balcony accommodations for all guests, an included amenity exclusively offered by A&K • Begin your journey with two nights at the luxurious Palacio Duhau - Park Hyatt on elegant, historic Alvear Avenue in Buenos Aires • Sail with an exceptional team curated by A&K, featuring our award-winning Expedition Team, an experienced service staff and crew, and one of the best personnel-to-guest ratios at 1 to 1.3 • Enjoy all-inclusive cruising with included gratuities, unlimited house drinks, onboard meals, all Zodiac rides and excursions, expedition gear, port charges, and — our newest offerings — complimentary Wi-Fi and Traveller's Valet laundry service • Explore historic, wildlife-rich South Georgia, where you visit with abundant king penguin colonies and the gravesite of one of Antarctica's greatest explorers, Sir Ernest Shackleton • Celebrate New Year's Eve before our January 1 departure with an optional, festive two-night package at Palacio Duhau — Park Hyatt Buenos Aires (December 30-31) or a special group extension in lguazu Falls (December 29-Jan 1) • Discover special family programming on our December 17 departure with exciting youth-focused workshops, events and excursions led by dedicated Young Explorers Guides, who are also experienced educators • Take advantage of A&K internal flights to and from Ushuaia, guaranteeing timely arrival to your ship
Antarctica, South Georgia & the Falkland Islands (Le Lyrial) Dates & Prices
Antarctica, South Georgia & the Falkland Islands (Le Lyrial) Itinerary
show reverse itinerary
Day 1 ARRIVE BUENOS AIRES, ARGENTINA
Arrive in Argentina's capital city and transfer to your hotel. Enjoy time at leisure before joining fellow travellers tonight for a welcome reception.
Day 2 BUENOS AIRES | LATIN STYLE AND EUROPEAN GRANDEUR
With its wide boulevards and classical buildings, romantic and exciting Buenos Aires boasts an energy all its own. Explore its best treasures with expert A&K local guides, choosing from a selection of included excursions. Opt to explore the city on a guided tour complete with a tango demonstration; spend a full day at an authentic estancia (ranch), where you pause for an authentic lunch; or dive into a burgeoning art scene on a guided tour focused on Buenos Aires street art. Tonight, enjoy the evening at your leisure.
Day 3 USHUAIA | AT THE EDGE OF THE WORLD
Fly to the port city of Ushuaia, located at the southern tip of South America. On arrival, enjoy lunch at the Arakur resort and, time and weather permitting, take a nature walk in the Cerro Alarken Nature Reserve, or simply relax with a cappuccino and views of Ushuaia and the Beagle Channel. Later, board 'Le Lyrial' and settle into your cabin, where you can take in views right from your own private balcony. Throughout your journey, benefit from immersive insight, with incomparable enrichment programs both aboard and on shore, and an Expedition Team that is second to none. Walk the decks and explore the common spaces as you familiarize yourself with the luxury cruiser, your home for the next 15 nights at sea. You may even want to toast to your journey in the bar with your fellow guests.
Day 4 AT SEA | RICHES OF THE SOUTHERN OCEAN
As you sail east toward the Falkland Islands, your Expedition Team begins an informal series of enlightening daily discussions on the flora and fauna, geology, and history of the region. These expert lectures span diverse topics, such as seabirds and penguins of the Southern Ocean, the formation of sea ice over thousands of years, and personal accounts of living and working in Antarctica. Photography enthusiasts especially enjoy time with A&K's resident photo coach, who is on hand to share tips and answer questions. The cool waters in these parts are rich in krill, making them a favorite with local wildlife searching for food. Alongside your naturalist guides, spot various species of whales and seabirds from 'Le Lyrial's' deck.
Day 5 FALKLAND ISLANDS | REMOTE ARCHIPELAGO
Today, 'Le Lyrial' arrives in the remote Falkland Islands. Spend the day exploring the Falklands. This may include a visit to Stanley, the tiny colorful capital of the Falkland Islands, where you may stroll its charming streets and explore its surrounding wilderness areas; or the southeast Falkland islands of Sea Lion and Bleaker, home to unspoiled wildlife habitats.
Days 6 - 7 CRUISING THE SOUTH ATLANTIC | ABUNDANT WILDLIFE
As you approach South Georgia, deck-side sightings of whales and other wildlife become more frequent. Time spent cruising is once again filled with informative lectures and casual talks with your guides, leaving your knowledge of the region greatly enriched. Scan the seas to spot marine mammals and seabirds, as the ship cruises the nutrient-rich waters past the islands of Shag Rocks.
Days 8 - 10 SOUTH GEORGIA | FOOTSTEPS OF ERNEST SHACKLETON
South Georgia is a nearly submerged continuation of the Andes mountain range, and your days here are spent exploring its glacier-carved coves and rugged shores. While weather and ice conditions determine the schedule, stops may include Eleshul Bay to see nesting, wandering albatrosses as well as Salisbury Plain, St. Andrews Bay and Gold Harbour, all three of which are home to vast colonies of king penguins and Southern elephant seals. You may also visit Ernest Shackleton's gravesite in Grytviken alongside your onboard historian, an expert on the great explorer's life.
Days 11 - 12 CRUISING THE SCOTIA SEA | ANTARCTIC ANTICIPATION
During your time cruising the Scotia Sea — rich with marine mammals and fish — your enrichment specialists recap your adventures in South Georgia. During additional, enriching lectures, learn more about the Seventh Continent, from the terrain to the hardy wildlife that inhabits it. Ensuring your experience reaches far beyond that of everyday travellers, ongoing, informative discussions with your Expedition Team lend further context.
Days 13 - 15 ANTARCTICA | THE WHITE CONTINENT
Conditions permitting, your itinerary calls for landings on the Antarctic Peninsula and a number of South Shetland Islands, which may include Half Moon, Penguin and Deception. You may also visit Cuverville and Goudier islands, and sail through Paradise Bay and the Lemaire Channel, called "Kodak Alley" for its photogenic scenery. Further adventures may include a visit to Wilhelmina Bay, noted for its prolific humpback whale activity. As you cruise along Antarctica, scan the seas daily for these gentle giants, all from the comfort of your private balcony and the outer decks of your ship. Guests on our December 17 departure also enjoy an unforgettable New Year's Eve with a special onboard celebration to cap off a final day of exploration on the White Continent.
Days 16 - 17 CRUISING THE DRAKE PASSAGE | TIME FOR REFLECTION
Bid farewell to Antarctica as 'Le Lyrial' points north for her return to Ushuaia. Enjoy more opportunities to observe birds and marine life while reflecting on an incredible journey with fellow guests and new friends.
Day 18 DEPART USHUAIA
After breakfast, disembark your luxury expedition ship in Ushuaia. Transfer to the airport for your return flight to Buenos Aires, where you connect to your flight home.
Please Note:
This cruise includes regular Zodiac boat excursions, walks over uneven terrain and optional, challenging hikes. Due to the nature of expedition cruising, this itinerary is subject to change and is for guidance purposes only.
Antarctica, South Georgia & the Falkland Islands (Le Lyrial) Map
Antarctica, South Georgia & the Falkland Islands (Le Lyrial) Ship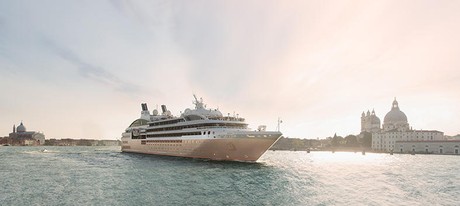 Vessel Type: Luxury Small Ship
Length: 142 metres
Passenger Capacity: 224
Launched: 2015
A sleek silhouette, a welcoming intimate atmosphere, discover aboard this new ship the philosophy that has made our sisterships such a success: the spirit of Yacht Cruises.
Sailing under the French flag, this magnificent yacht of only 122 staterooms and Suites, with balconies, will join our fleet in April 2015. You will be enchanted by the contemporary decor inspired by the our destinations and the blue light of the Vega star in the Lyra constellation. The result is a subtle variation around a palette of blues, ranging from the luminous delicate grey-blue of the Polar ice to splashes of the vivid turquoise blue found in Mediterranean coves
A refined ambiance is enhanced by the quality of the workmanship and materials: white Corian counters in the lobby contrast with the warmth of leather to recall a boat's hull, while the central sculpture of enamelled pieces takes its inspiration from the sea. In the loungebar, the carpet picks up a tennis stripe theme symbolising a certain idea of cruising, one synonymous with French elegance and a chic seaside spirit.
Please click the following links to read more about Ponant and the other Ponant cruise ships.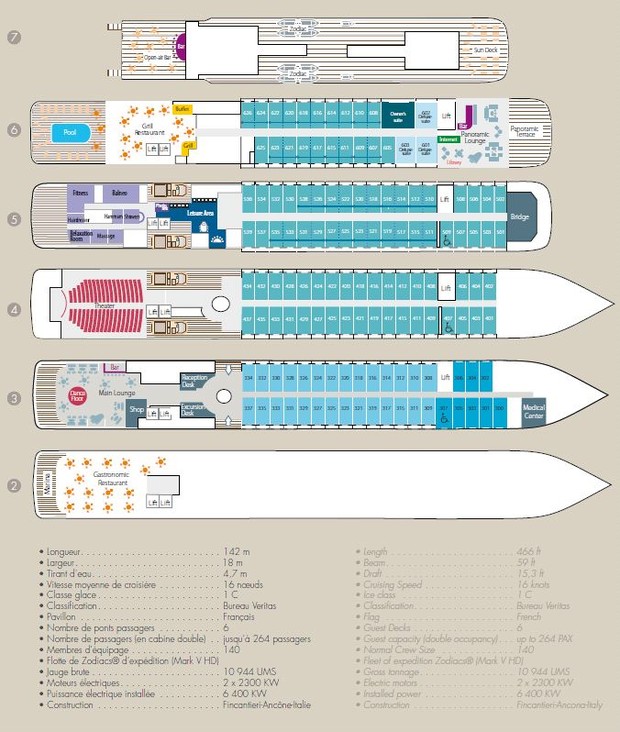 Antarctica, South Georgia & the Falkland Islands (Le Lyrial) What's Included
Overview
Highlights
Dates & Prices
Itinerary
Map
Ship