20 days from
£17844
* Current p/p indicative rate.
Overview
Highlights
Dates & Prices
Itinerary
Map
Ship
Antarctica, South Georgia & the Falkland Islands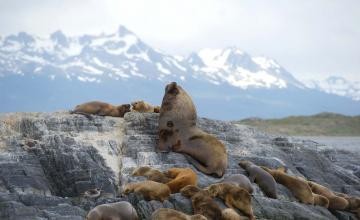 Following in Sir Ernest Shackleton's footsteps, explore the White Continent's rugged landscape, meeting vast penguin colonies in South Georgia and the South Orkney Islands, greeting albatross in the Falkland Islands, and enjoying every long moment of daylight in the austral summer.
Antarctica, South Georgia & the Falkland Islands Highlights
• Tour the beautiful Falkland Islands to view huge populations of rockhopper, gentoo, and Magellanic penguins, as well as the regal black-browed albatross. • Witness the vast penguin colonies of South Georgia—king, macaroni, gentoo, and chinstrap—as well as large numbers of elephant and fur seals crowding the beaches. • Set foot on the Antarctic continent and revel in the incredible scenery of snowcapped peaks, mighty glaciers, and glistening icebergs—a photographer's dream. • Learn about early polar exploration and whaling history, including a visit to the burial site of Sir Ernest Shackleton.
Antarctica, South Georgia & the Falkland Islands Dates & Prices
Antarctica, South Georgia & the Falkland Islands Itinerary
show reverse itinerary
Day 1 - Ushuaia
Arrive in Ushuaia. Transfer to our hotel with the rest of the day at leisure. Gather at the hotel this evening for a welcome dinner and overnight.
Day 2 - Ushuaia / Embark Island Sky
Today, enjoy a boat trip on the Beagle Channel and disembark in Tierra del Fuego National Park for nature hikes surrounded by dramatic scenery. Or, enjoy a city tour in Ushuaia, with free time to explore on your own. Board the Island Sky this afternoon and set sail for the Falkland Islands.
Day 3 - At Sea
Attend lectures on the natural and historical highlights ahead.
Day 4 - Saunders Island, Falkland Islands
On Saunders Island, you will find colonies of gentoo, rockhopper, Magellanic penguins, as well as nesting black-browed albatross.
Days 5 - 6 - Cruising the South Scotia Sea
Lecturers recap your experiences and prepare you for your visit to South Georgia. On deck, join naturalists in search of the seabirds and marine mammals that flourish in these nutrient-rich waters.
Days 7 - 9 - South Georgia
Flexibility in this area is a must. Many of our leaders have been to South Georgia numerous times and, if the weather is in our favor, may offer a landing before breakfast or even after dinner. Call at some of the many islands, bays, and coves where you will see outstanding birdlife and elephant and fur seals close at hand. The following is a list of places we plan to visit on South Georgia; some of them are pending final government approval. Elsehul Bay – This beautiful bay is home to thousands of fur seals as well as macaroni penguins, the most numerous of all penguin species. Listen for the high-pitched trumpeting of king penguins amid the magnificent sounds of marine mammals that echo in the bay. Salisbury Plain – Two glaciers flank Salisbury Plain on South Georgia's north coast. Here, more than 200,000 king penguins congregate and breed, and you are greeted by one of the more remarkable sights—and sounds—on Earth. Stromness Bay – Site of Sir Ernest Shackleton and his party's arrival after their harrowing crossing of the island's glaciers on foot, Stromness offers views of cliffs and a glacier from which the adventurer and his companions descended. Grytviken – Go ashore to discover the ruins of this once-active whaling station. The cemetery holds a special fascination, as it is here that Shackleton is buried. Seabirds, penguins, and marine mammals can also be found here. Gold Harbour – At the foot of the Bertrab Glacier, Gold Harbour is often referred to as the "jewel in the island's crown." In addition to a large king penguin colony, you are likely to see elephant and fur seals, gentoo penguins, giant petrels, and with luck, light-mantled albatross.
Days 10 - 11 - At sea
Naturalists recap your memorable visit to South Georgia and introduce you to the history, geology, and wildlife of the Antarctic Peninsula and its surrounding islands.
Day 12 - Elephant Island
Today arrive at Elephant Island, made famous by the Shackleton expedition. Awesome glaciers, speckled with pink algae, create a dramatic backdrop. Weather permitting, enjoy a Zodiac cruise around the island and the opportunity to view a thriving chinstrap penguin colony.
Day 13 - 17 - Antarctic Peninsula
As you cruise the waters of the Antarctic Peninsula and its adjacent islands, landings are dependent upon weather and ice conditions. There is also the possibility that you may visit a research station and witness the scientific activities conducted by the multinational community of scientists working there. The expeditionary nature of this voyage precludes guaranteeing specific stops; in the past we have visited the locations below. This list serves as a guideline only of the places you may experience. Brown Bluff – Located on the Antarctic continent, Brown Bluff rises 2,450 feet above an ash beach littered with bizarrely shaped boulders. Some 20,000 pairs of Adelie, and hundreds of gentoo penguins, make their home here. Skuas and pintado petrels nest near the top of the cliff and kelp gulls fill the air with perpetual sound and motion. Deception Island – As you approach Deception through Neptune's Bellows, a channel just wide enough for the ship to navigate, southern fulmars and pintado petrels soar overhead. Weigh anchor inside a volcano whose collapsed cone was filled by rushing seawater. Lemaire Channel and Pleneau Island – Cruising the beautiful Lemaire Channel, keep watch for the humpback and minke whales frequently spotted here. This narrow channel is one of the most visually impressive areas of the Antarctic Peninsula. Steep mountain peaks jut out of the sea on both sides, and the waters are often choked with icebergs and frequented by crabeater seals. A stunning labyrinth of grounded icebergs lies in the shallow waters west of Pleneau Island, presenting a superb Zodiac cruising experience. Crabeater and leopard seals haul out on the ice, and elephant seals and gentoo penguins occupy the island itself.
Days 18 - 19 - Drake Passage
During your Drake crossing, watch for wandering and black-browed albatross, sooty shearwaters, and white-chinned petrels. Whales are also frequently seen in these waters.
Day 20 - Ushuaia, Argentina / Disembark
Disembark in Ushuaia and transfer to the airport for your flight back home.
Please Note:
We do our best to adhere to the scheduled itinerary, but in the spirit of our expeditionary style of travel we may deviate slightly to take full advantage of encounters with the destination and its people, culture, and wildlife.
Antarctica, South Georgia & the Falkland Islands Map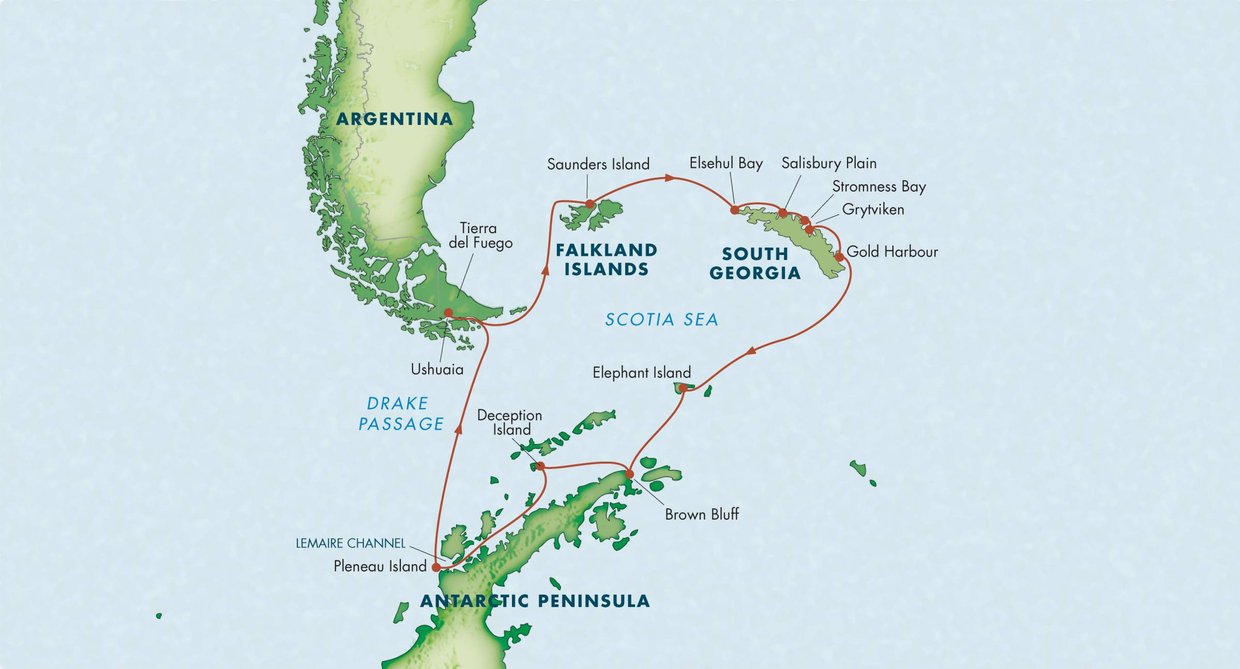 Antarctica, South Georgia & the Falkland Islands Ship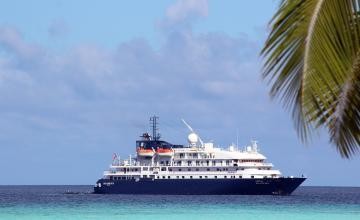 With a maximum passenger capacity of only 116, a vessel of her size is capable of carrying many more but instead the MS Island Sky has the benefit of unusually large suites, luxuriously appointed public areas and spacious outside decks.
Vessel Type:  Luxury Small Ship
Length:  90 metres
Passenger Capacity:  116 
Built:  1992 / refurbished 2018
There is a high ratio of crew to passengers- the friendly crew of 75 crew and Scandinavian captains are experienced mariners, having been in service aboard large 2000 plus passenger vessels and who now prefer a less frantic life aboard a small ship.   If, like them and us, you prefer a more peaceful life at sea, you will find the MS Island Sky the perfect ship. When choosing the vessel for your next voyage of discovery, you can select a ship with endless entertainment and impersonal service or come with us where peace, high quality service and attention to detail are the order of the day. We promise there will be no organised entertainment, fancy dress, deck games or any of the usual big ship experiences. The atmosphere on board is more akin to a private yacht or country hotel. A little music in the lounge or bar after dinner, guest speakers, informative port briefings from our cruise director and of course good food which may be enjoyed leisurely in the attractive dining room. After a day ashore you will return to the comfort and peace of a well run and exceedingly comfortable ship.
Your SuiteOnboard there are 57 exceptionally spacious and well designed suites. All feature a sitting room area and some have private balconies. The feeling of luxury is enhanced by the wood panelling and brass, which predominates throughout the vessel conveying the atmosphere of a private yacht. The passenger accommodation is arranged over five decks and all suites have outside views. Each affords considerable comfort with en-suite bathroom featuring marble-topped vanity unit with sink and walk-in shower, large wardrobes, dressing table with large mirror and stool and excellent storage. There is a mini-fridge, flat screen television with inbuilt DVD player which can also play CDs and a telephone in each suite. Bottled water, towelling dressing gowns and slippers are also provided for your comfort. Other facilities include a programmable electronic safe, hairdryer, assorted toiletries and individually controlled air-conditioning and heating. The suites on each deck have their own colour theme. Soft hues and blended tones enhance the traditional maritime style making the passenger accommodation an inviting and relaxing place to be.
Your SpaceThe spacious and finely decorated public rooms include a large lounge where daily briefings and talks will be provided throughout the voyage and an elegant bar where a pianist plays periodically throughout the day. The bar also features a 24-hour tea and coffee station. The onboard library is the perfect place to relax with a book and is stocked with reference books pertaining to the places the vessel is visiting along with a selection of games and two computers with internet access. Daily newspapers and magazines are also placed in the library depending on local availability. There is also WI-FI access throughout the vessel. Outside there is a rear sun deck where meals are served in warm weather under shade, a bar and comfortable deck furniture for sun bathing or relaxing with a book. On the top deck there is a Jacuzzi and further observation and sun deck. There is also a small hairdressers on board with appointments made on request.
Your DiningAnother benefit of a small ship is the quality of the cuisine. With only one sitting and a maximum of just over 100 passengers, the galley is able to provide delicious meals. Where possible and when it meets his high standards, the chef will obtain local produce in markets or buy the catch of the day from a passing fishing boat. Such purchases enhance the well stocked larders and bring a local touch to the varied menus.
Standard cabin                                                       
Balcony suite, Erikson Deck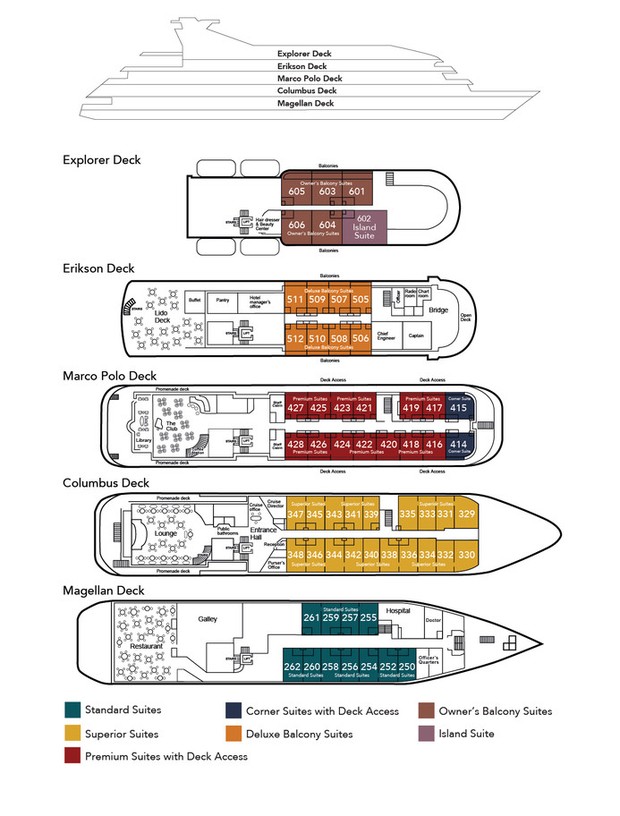 Antarctica, South Georgia & the Falkland Islands What's Included
Overview
Highlights
Dates & Prices
Itinerary
Map
Ship