From Alaska to Russia and Back Across the Bering Sea
Join us to sail from Alaska to Russia and back across the Bering Sea, experiencing all the natural wonders these starkly beautiful places have to offer. In Alaska, cruise via Zodiac looking for bears at Geographic Harbor and Kukak Bay, and see Bald Eagles up close in Dutch Harbor. See the large population of Northern fur seals at St. Paul Island before crossing the Bering Sea to search for whales in Gabriela Bay, Russia. Hike to lakes and waterfalls in Peter Bay, look for the major walrus haul-out in Anastasiya Bay, and cruise the spectacular bird cliffs at Cape Kuyveveem. Learn about the culture of Anadyr, Russia and see incredible ivory, Mammoth tusk and stone carvings at the Chukotka Museum. Throughout the voyage, learn about the geology, wildlife and botany of these locations from lecture presentations offered by your knowledgeable on board Expedition Team.
From Alaska to Russia and Back Across the Bering Sea itinerary:
show reverse itinerary
Day 1 - Seward (Anchorage)
Day 2 - Holgate Glacier & Chiswell Islands
Day 3 - Kukak Bay & Geographic Harbor
Day 8 - St.Matthew Island & Hall Island
Day 10 - Date Line lose a day
Day 12 - Gabriela Bay & Cape Navarin
Day 14 - Peter Bay, Bogoslaf Island & Pavel Bay, Natalii Bay
Day 17 - Date Line gain a day - Provideniya & Nome
From Alaska to Russia and Back Across the Bering Sea reverse itinerary:
show main itinerary
*
= Indicative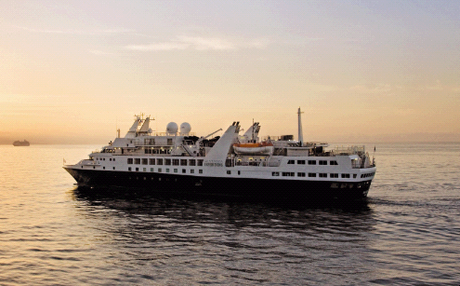 Silver Explorer
Vessel Type: Luxury Expedition
Length: 108 metres
Passenger Capacity: 132
Built / refurbished: 1989 / 2008
The purpose-built Silver Explorer expedition ship (formerly the Prince Albert II) has been designed specifically for navigating waters in some of the world's most remote destinations, including both of earth's polar regions. A strengthened hull with a Lloyd's Register ice-class notation (1A) for passenger vessels enables Silver Explorer to safely push through ice floes with ease.
A fleet of Zodiac boats allows guests to visit even the most off-the-beaten path locations and an expert Expedition Team provides insight and understanding to each unforgettable Silver Explorer cruise adventure.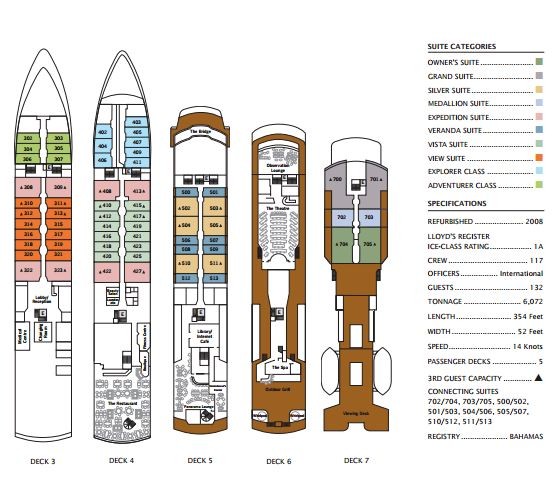 • Geographic Harbor, Alaska, US – Located at the head of Amalik Bay in the Katmai National Park, this is an ideal habitat for brown bears. These massive mammals forage for berries, fish for salmon and dig for clams at low tide. The waters around the bay are ideal fishing grounds frequented by otters, seabirds and whales searching for food.

• Dutch Harbor, Alaska, US – Bald eagles are plentiful in Dutch Harbor, a settlement ringed by gracious mountains. This area is frequented by eagles for the abundant fish present in the harbour and for the salmon running in local streams. The island was originally inhabited by Aleut people, and the town's culture is also influenced by the Russian traders who frequented the area in search of sea otter and seal pelts. Dutch Harbor is an important fishing port made famous in the Discovery Channel television series, "The Deadliest Catch." In addition, the effects of WW2 can still be felt in this dynamic and remote port town.

• St. Paul Island, Alaska, US – This ecologically diverse island is home to the Salt Lagoon and Rift Point where one of the world's largest populations of Northern fur seals haul out. At the seal rookery and bird cliffs on the eastern edge of the island it is possible to get close views of not only seals, but Tufted Puffins and Common Murres.

• Peter Bay, Russia – Visit Peter Bay, located in a small inlet at the foot of the Koryak Mountain, north of the Kamchatka Peninsula. There is a large seal haul-out at the entrance of the bay and much to see on land. The remnant of an ancient glacier and several small lakes feed a spectacular waterfall that is worth the hike to see.

• Anastasiya Bay, Russia – The U-shaped Anastasiya Bay appears to be scooped out of the mountainous cliffs that surround the tundra-like Koryak Mountains in Kamchatka Krai, Russia. The rare visitor comes to the bay hoping to find walruses and seals. Birders search for Slaty-backed Gulls, Pelagic Cormorants, Horned Puffins and Tufted Puffins, among many other species.

• Cape Kuyveveem, Russia – Cruise past the spectacular, towering bird cliffs at Kuyveveem, a large sheltered bay with streaked granite precipices and home to thousands of Tufted Puffins. This destination teems with other bird species too, including Thick-billed Murres, Glaucous and Slaty-winged Gulls, Parakeet Auklets and Red Phalaropes.

• Absorb the culture of Anadyr, Russia where the similarities of the cultures spanning the Bering Sea from Alaska to Russia become obvious.

• In both Dutch Harbor and Anadry you may choose to visit a Russian Orthodox church

• Wildlife Watch List: Spotted seals, Northern fur seals, walrus. Humpback and grey whales. Slaty-back, Glaucous and Vega Gulls, Pelagic Cormorants, Horned and Tufted Puffins, Black-legged Kittiwakes, Northern Fulmars, Common Murres, Pigeon Guillemot, Crested Auklet. White wagtails, Sandhill Crane, Harlequin Duck