8 days from
£1341
* Current p/p indicative rate.
Overview
Highlights
Dates & Prices
Itinerary
Map
Ship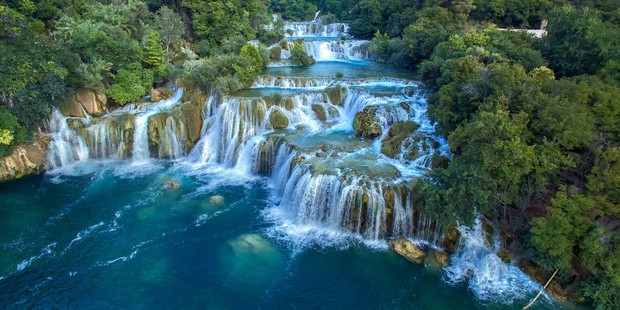 A classic cruise along Croatia's gorgeous Adriatic coast, taking in the great cities of Split and Dubrovnik as well as some of the small islands and harbour towns that have been so beautifully preserved for centuries.
Enjoy captivating landscapes, popular historical sights and fabulous gastronomic spots with a spectacular personalized service. What could be better than spending a holiday hopping from island to island
Immerse yourself in the beauty of Croatia's coastline on an 8-day luxury cruise and treat yourself to an unforgettable Adriatic holiday.
These cruises create a whole different experience, both onshore and on-board. Smaller ships allow easy access to tinier, less-trafficked, breathtaking bays and coves that bigger vessels just can't get to, leading to a refreshingly unique experience.
Krka National Park, which delights with its attractions. Šibenik, a city of exceptional cultural and historical sights Split and Dubrovnik Eating ashore every night
show reverse itinerary
DAY 1 (Saturday) SPLIT - WELCOME!
Welcome to Split! Upon arrival at the airport you will be greeted by our representative and they will get you settled aboard your transfer and you'll be on your way to Split harbour. Once you reach the harbour, you will be able to check in. Cabins will be ready for you from 2 p.m. However, if arriving early, you will be able to safely deposit your luggage aboard the ship. After settling in, join our local guide for a tour of Split's old town to get acquainted with emperor Diocletian's Palace and learn about the rich heritage of Split's millennial history. In the evening, we will serve the Welcome dinner aboard the ship and your cruise manager will introduce you to the entire crew. Overnight in Split.
DAY 2 (Sunday) SPLIT - SIBENIK
This morning we will leave Split behind and sail towards Šibenik. After a swim stop and lunch served on the way, your bus will be waiting for you in Šibenik to take you to visit Krka National Park, one of Croatia's most famous national parks. The top attractions of the Park are its magnificent waterfalls, including the famous Skradinski Buk falls which are one of Croatia's most famous sights. A boat trip through the park is a great way to explore and enjoy beautiful waterfall in a green environment. Best of all, it is possible to swim in some locations in Krka National Park! (So be sure to bring your swimming costume along!). After this amazing experience we will go to Šibenik, a city of exceptional history and rich cultural heritage. Your night is free to explore the city by yourself. Overnight in Šibenik.
DAY 3 (Monday) ŠIBENIK - HVAR
Early in the morning we set sail for Hvar, the longest island in Croatia, the sunniest in all Europe (2724 sunny hours on average yearly) and undeniably among the most beautiful islands in the world. Swim stop along the way. Upon arrival join the guided tour of Hvar and learn why this amazing town is a must see on the historical map of the Croatia. Your evening is free to explore this amazing holiday spot by yourself. We suggest you to take a jeep safari which will take you away from the popular tourist resorts, on an intoxicating voyage of discovery through the aromatic hills of rosemary and lavender, through the various hilltop villages of the island, and along tracks off-limits to most vehicles. Note: Occasionally due to overcrowding at Hvar the overnight port of call can be Stari Grad - This is at the discretion of the harbour master and we will not know in advance. In that case a transfer to and from Hvar will be organized by the cruise manager.
DAY 4 (Tuesday) Hvar - Korcula
Early in the morning we set sail for the island of Korčula, rich in vineyards, olive groves and small villages with numerous bays and coves. Swim stop in one of the peaceful bays, perfect to enjoy the beautiful atmosphere of the unspoiled nature, lush vegetation and crystal-clear sea. Lunch on board. Afternoon arrival in Korčula. This medieval "little Dubrovnik", said to be the birthplace of Marco Polo, has an ancient atmosphere and we will enjoy getting to know it on an interesting tour along its winding streets (only in case you have purchased our excursion package). After the tour, make the best of some free time and sip a glass of local wine or coffee at an outdoor café, take a dip in the sea or just continue walking the streets. Overnight in Korčula.
DAY 5 (Wednesday) Korcula - Mljet
Early in the morning, we depart for Mljet, one of the most beautiful and the most densely forested islands of the Adriatic. Isolated and untouched, the island is known for its mysticism, olive groves, vineyards and rich forests. Take in the rich flora and fauna, and peacefully enjoy the pristine beauty of natural surroundings. Upon arrival in Pomena, a visit to a national park encompassing most of the island is planned (optional). The park's highlights are the two saltwater lakes – the Little Lake and the Big Lake with its Benedictine monastery on the Isle of St. Mary. This evening you are invited to the Captain's dinner aboard the ship. Overnight in Pomena.
DAY 6 (Thursday) MLJET - Slano
Early in the morning we depart to Slano, a small town indented into a 2km long bay. From here we will start our gastro adventure towards Ston, the gastronomic center of the county. This town with the longest walls in Europe is situated near Dubrovnik and is surrounded by breath-taking scenery which, together with the picturesque city architecture, forms a harmonic entity. Once there we will visit an oyster farm where you will learn how oysters and mussels are cultivated in this region, and why they are so delicious. You will enjoy a rustic oyster and mussel tasting with local wine under the shade of the trees. Overnight in Slano.
DAY 7 (Friday) SLANO - DUBROVNIK
The last stop on our trip is Dubrovnik, a city that will welcome you with open arms, as it does for visitors from all parts of the world. Surrounded by its fabled medieval walls, Dubrovnik is widely known as the "Pearl of the Adriatic". Upon arrival we will partake in a sightseeing tour of the UNESCO protected old town, acquainting you with the its most important monuments and hidden spots. After the walking tour, you will have free time to explore the city on your own Overnight in Dubrovnik.
DAY 8 (Saturday) DUBROVNIK
After breakfast, it will be time to check out and enjoy your complementary transfer to the airport. We hope to see you soon on board again! Check-out by 9 a.m.
Please Note:
Itineraries are subject to change.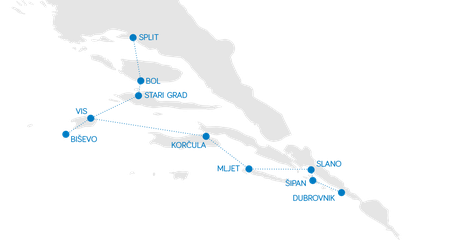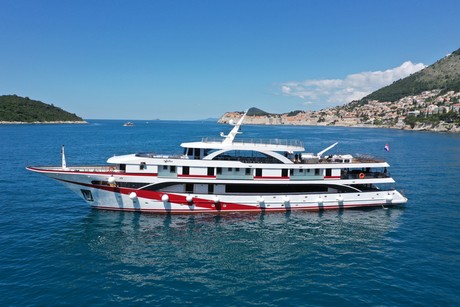 Antaris - Read more about Antaris
Length: 54.54 metres
Passenger Capacity: 38
Built / refurbished: 2019
MV Antaris is a deluxe vessel. Its maiden voyage was in May 2019. This unique boat has 19 cabins, 11 of which have private balconies from which you can enjoy the beautiful vistas along the coast, simple lazy afternoons or romantic evenings. Come and be the first to have this incomparable experience!
Fenix
Length: 51.87 metres
Passenger Capacity: 36
Built / refurbished: 2020
Proudly presenting our new luxury cruise ship Fenix which is about to be born in 2020 like the legendary bird. Carefully designed to make your dream holiday come true, our latest ship is scheduled to be launched in late October 2020. On two decks, lower and main deck, counting total of 18 state of the art, design and comfort vice, cabins can accommodate up to 36 passengers. Voluptuous meals will be served in spacious restaurant on the upper deck where you can also relax at breath-taking saloon or enjoy sunbathing before hopping on adrenaline pumping jet skis – you are just few clicks from it.
Symphony - Read more about Symphony
Length: 50.60 metres
Passenger Capacity: 36
Built / refurbished: 2021
Looking for a dream holiday? Our new MV Symphony will bring symphony in your holiday experience. She bears three separate decks counting total of 18 cabins, including six cabins with private balconies on the balcony deck and sundeck on the top floor. With total length of more than 50 meters you will have exquisite journey while also be able to explore beautiful hidden coves, gems of Adriatic. Symphony is scheduled for first voyage in summer of 2021, come and join us!
Cristal - Read more about Cristal
Length: 48,79 m
Passengers: 38
Built: 2018
Built in 2018, MS Cristal has 19 spacious cabins which can accommodate up to 38 passengers. On Cristal you will feel like at home. While waiting for our delicious food in restaurant you can enjoy the sun on the sundeck or drink coffee with your friends in the lounge bar. The friendly staff is 24/7 at your service. Cruise where the wind brings you and enjoy the views and ultimate freedom. Cristal is waiting for you to start a journey that you will never forget.
New Star - Read more about New Star here
Length: 46 m
Built: 2018
Passengers: 38
MS New Star was launched in 2018 and was designed purely to cruise the coast of Croatia. A luxury vessel she has a crew of 8 and has modern equipment and amenities including en-suite shower and W/C in every cabin and air conditioning. New Star has a large sun deck with some shade and a jacuzzi tub, a large restaurant and covered outdoor lounge, and a swim platform and ladder so you can easily access the sea at the many swim stops.
Symphony Deck Plan: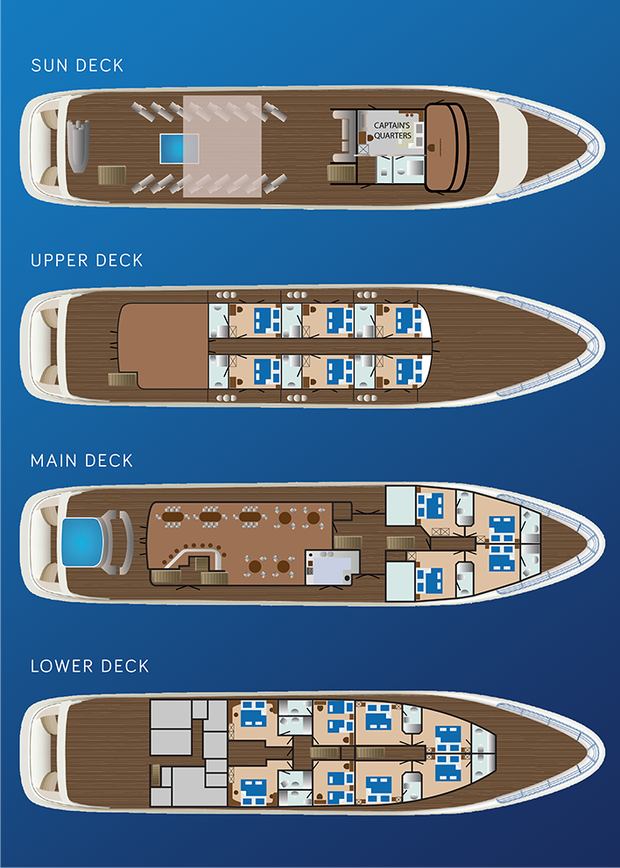 Overview
Highlights
Dates & Prices
Itinerary
Map
Ship