Across the Arctic Sea
Travel across the Arctic Sea from Greenland to Canada, experiencing stark natural beauty, Inuit art and culture, and rich history dating back to 2200 BC. Starting from Kangerlussuaq, Greenland, we will travel down the stark yet serene Evighedsfjord to the Evigheds Glacier and south to Greenland's capital of Nuuk before crossing the Arctic Sea to land in Canada. We will explore the culturally rich Iqaluit, which is bursting with Inuit art, from the museum, to the streets, to the interior of a municipal building. We will search for polar bears at Akpatok Island during one of several Zodiac cruises and witness the unforgiving landscape of the Tablelands at Gros Morne National Park, a UNESCO World Heritage Site formed by glaciers and continents clashing together ages ago. This trip is steeped in history, including a visit to the first site of European settlement (1000 AD) in L'Anse aux Meadows and the 15th century Qilakitsoq mummies in Nuuk. We will cruise scenic passages and search for walrus, polar bear and multiple whale species at various places along the way. Throughout the voyage, learn about the geology, wildlife and botany of these starkly beautiful locations from lecture presentations offered by your knowledgeable on board Expedition Team.
Across the Arctic Sea itinerary:
show reverse itinerary
Day 2 - EVIGHEDSFJORD, EVIGHEIDS GLACIER & KANGAAMIUT
Day 6 - LADY FRANKLIN ISLAND & MONUMENTAL ISLAND
Day 8 - TORNGAT MOUNTAINS NATIONAL PARK
Day 10 - L'ANSE AUX MEADOWS
Day 11 - WOODY POINT, NEWFOUNDLAND
Day 12 - HAVRE ST. PIERRE
Day 13 - BONAVENTURE ISLAND & PERCE
Across the Arctic Sea reverse itinerary:
show main itinerary
*
= Indicative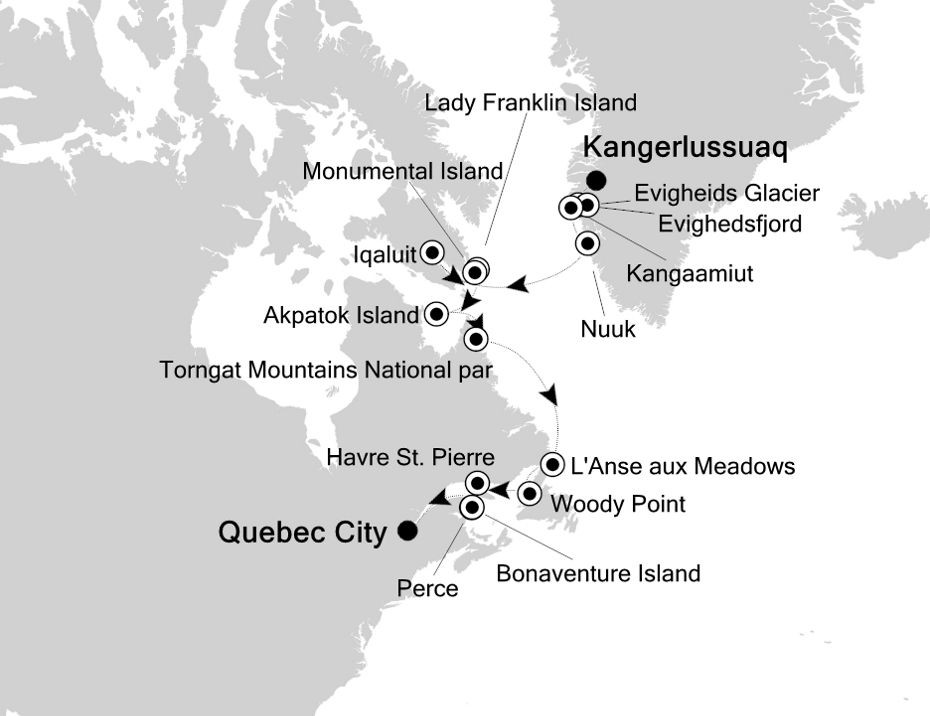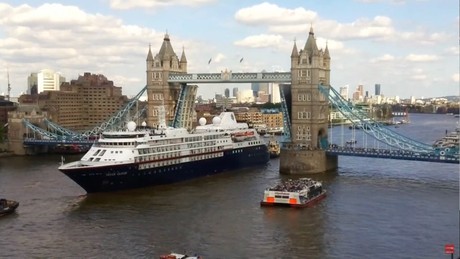 Silver Cloud
Vessel Type: Luxury
Passenger Capacity:296
Refurbished: 2017
With 18-brand new Zodiacs, four superlative restaurants in Antarctica and a pole to pole expedition itinerary, Silver Cloud really does break the ice between expedition and luxury. Spacious yet intimate, designed to cross oceans and yet able to slip up rivers and into hidden harbours with ease, the yacht-like Silver Cloud carries just 296 guests in incomparable comfort and style. Combining spacious ocean-view suites and private verandas with stunning dining and entertainment options, Silver Cloud provides world-class cruise accommodations, service and amenities.
After extensive refurbishment, Silver Cloud is the most spacious and comfortable ice class vessel in expedition cruising. Her large suites, her destination itineraries and her unparalleled service make her truly special. Her four dining options will tantalise your taste buds and as 80% of her suites include a veranda, watching a breaching whale or a few cavorting penguins has never been so personal. She carries a limited number of guests in polar waters, meaning that Silver Cloud has the highest space to guest and crew to guest ratios in expedition cruising. With her 18 zodiacs, 10 kayaks, possibilities are almost limitless with ship-wide simultaneous explorations.
• Evigheds Fjord/Evigheds Glacier, Greenland – Nicknamed 'Forever Fjord' thanks to its length (100km, or 62 miles), the impressive Evigheds Fjord seems to go on forever! Take a Zodiac cruise through a portion of the beautiful, serene fjord to the Evighed Glacier, which visitors have described as appearing out of a painting.

• Nuuk, Greenland – Nuuk is the economic and cultural center of Greenland (and its capital). It is both the largest city in Greenland and one of the smallest capitals in the world. The city of 18,000 boasts colorful buildings and the majestic, snow-covered Sermitsiaq Mountain in the background. Nuuk has been inhabited as far back as 2200 BC by the Paleo-Eskimo people of the Saqqaq culture.

• Iqaluit, Nunavut, Canada – Experience the capital (and only city) of the Canadian Arctic territory Nunuvut. See the exceptional artwork featured in the Nunatta Sunakkutaangit Museum, as well as at the interior of the Nunavut Legislative Assemble Building, which has been covered with some of the best-known Inuit art. Even the streets are covered in colorful Inuit murals.

• L'Anse aux Meadows – Visit another incredible UNESCO World Heritage Site. L'Anse aux Meadows is the first European settlement in North America. Discovered in 1960, the archaeological site is believed to be settled by either Vikings or the Norse around 1000 AD as evidence of pre-Columbian overseas contact.

• Gros Morne National Park, Newfoundland, Canada – Experience the biodiversity and unforgiving landscape of The Tablelands in Gros Morne National Park, a UNESCO World Heritage Site. Shaped by continents and glaciers that clashed together eons ago, the park is filled with vast fjords and mountains that tower over barren cliffs, bogs and forests.

• See the Qilakitsoq mummies in Nuuk's National Museum. The four mummies provide evidence of Inuit life in 1475 AD.

• View authentic Inuit art in three locations: Kangaamiut, Nuuk and Iqaluit.

• See the site of the first Norse settlement in North America (UNESCO World heritage) and have a look at the replicas of ancient buildings nearby.

• Wildlife Watch List: Blue, humpback, Minke and Sei whale, Polar bear, seals and walrus, Brünnich's Guillemots, Glaucous Gulls, Northern Fulmars, Northern Gannets