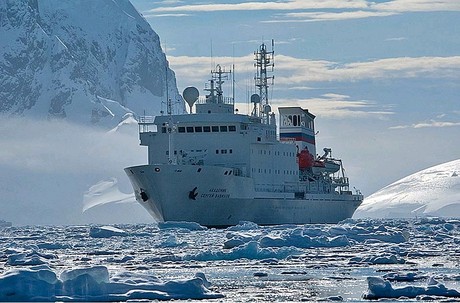 Akademik Sergey Vavilov
Vessel Type: Ice - Strengthened
Length: 117 metres
Passenger Capacity: 92
Built: 1988
Scandinavian built for the Russian Academy of Science, this ship was designed to travel quietly, during hydro-acoustic research. The ship is exceptionally stable, yet maneuverable. External stabilizers and a built-in trimming system provide exceptional stability.
Features on the ship include:
Dining Room, Gift Shop, Fitness & Fitness Room,
Wellness Centre,
Infirmary, Library, Lounge,
Mud Room,
Presentation Room, Multimedia Room, Top Deck and Observatory
also /

Sauna and Polar Salt Water Plunge Pool
Following a day of excursions, a sauna with complimentary aromatic oils can be a wonderful way to unwind. Located on Deck 5, the sauna and adjacent plunge pool is open each afternoon and evening. The sauna seats approximately six people and the plunge pool can be filled with polar water on demand or for special events. There is a change room with towels and a shower room between the sauna and the plunge pool.

Elevator
A lift (or elevator) services Deck 1 through 5, allowing access to and from the presentation room on Deck 1. The bridge and bar/lounge on Deck 6 are not accessible by lift. Access to the zodiacs is by way of gangway stairs from the main deck (Deck 3).
Akademik Sergey Vavilov has an ice-strengthened hull and a cruising speed in open water of 14.5 knots.
Cabins: All cabins have exterior views. Cabins have either shared, semi-private or private facilities.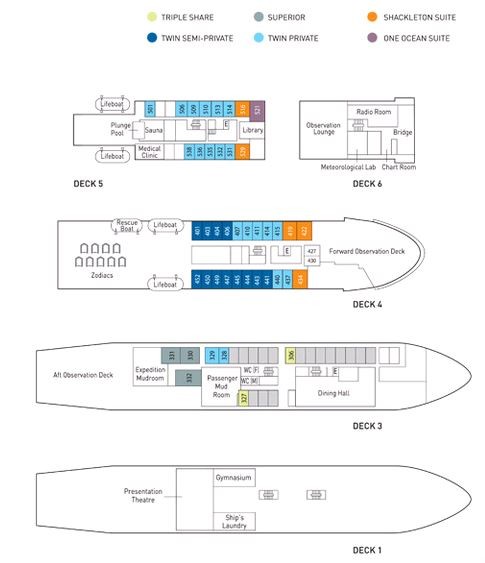 You may be interested in...